The harsh effects of Trump's Iran sanctions, and why Iranians worry the worst is still to come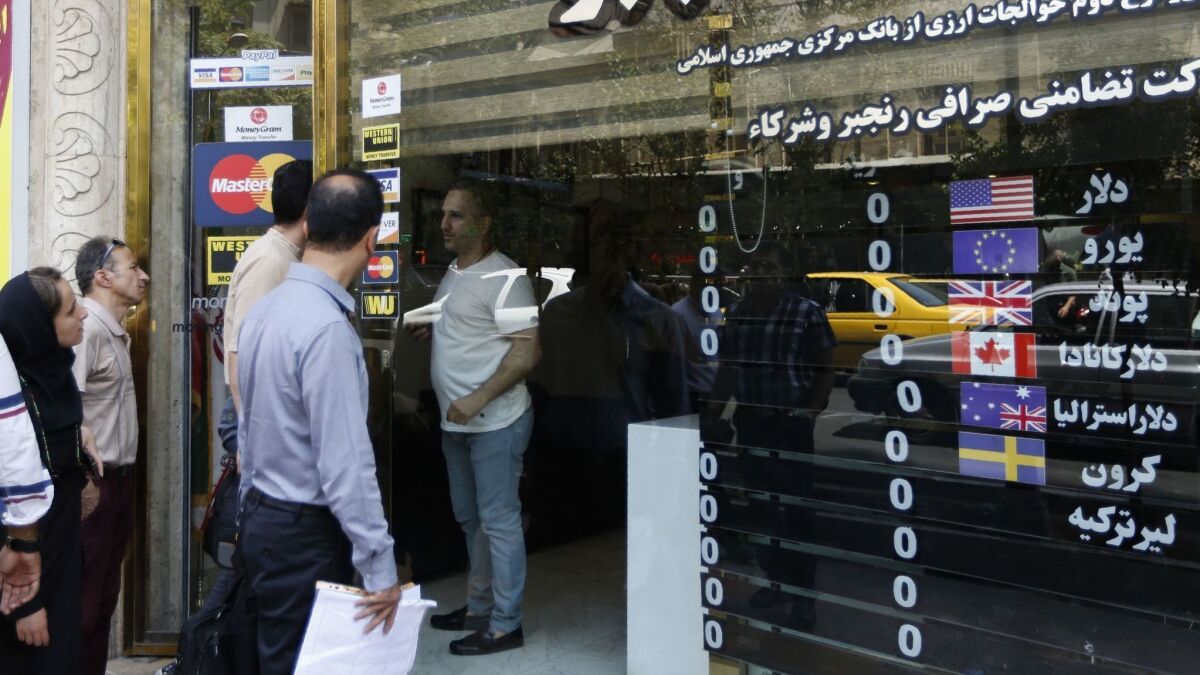 In the days since some U.S. sanctions on Iran snapped back into place, the signs of misery have been everywhere in Tehran's commercial districts.
Stores are open but empty. Shopkeepers pass the time on their cellphones and exchange tales of economic woe: prices soaring, workers laid off, inventory going stale.
President Trump has said his goal is to place "maximum economic pressure" on a country he accuses of fomenting instability and backing U.S. adversaries across the Middle East.
But many Iranians believe the Trump administration wants to topple the theocracy in place since the 1979 Islamic Revolution — a risky policy that Iran's deeply entrenched clerical establishment has many ways to survive.
Meanwhile, the sanctions are falling hardest on ordinary Iranians, with the toughest restrictions yet to come.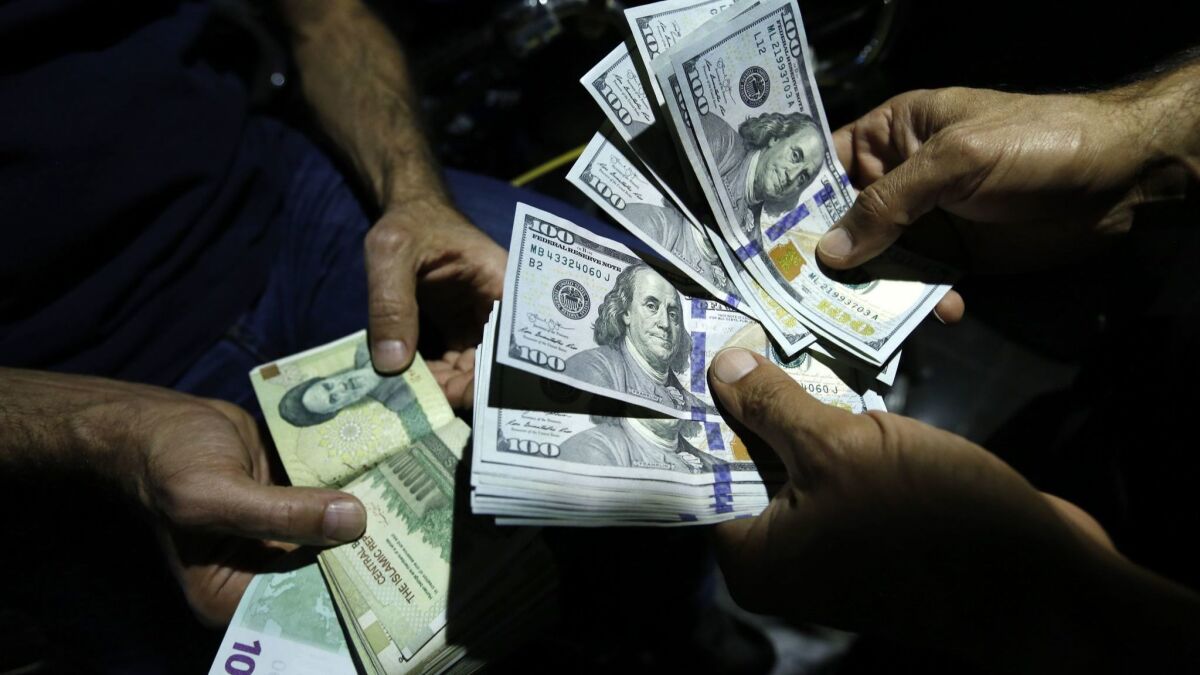 Two phases of renewed U.S. sanctions
When Trump withdrew in May from a multilateral agreement governing Iran's nuclear program, he set in motion a 180-day plan to reinstate U.S. sanctions that were in place before the deal was struck in 2015 between Iran and six other nations: the United States, Britain, China, France, Germany and Russia. Anyone trading with Iran in violation of the sanctions risks being barred from the U.S. financial system and losing access to dollars.
The sanctions go back into effect in two stages.
The first phase blocks Iran from purchasing U.S. dollars and imposes penalties on companies for selling Iran auto parts and commercial planes, which Trump administration officials allege Tehran could use to smuggle weapons to Syria.
The second phase is expected to deliver more pain because it targets oil exports, which account for one-fifth of Iran's economy. But the effect was felt even before the first phase went into place this month.
What changing prices say about Iran's economic troubles
As the Trump administration edged closer to leaving the nuclear deal, Iranians fearing an economic crash rushed to stockpile foreign currency.
The Iranian rial has lost more than half its value since January, and this month the dollar climbed to an all-time high of more than 100,000 rials on the unofficial market.
Prices of cars, cellphones and many other products have at least doubled. Vendors of appliances and other nonessential goods say customers are forgoing purchases or parking their money in safer investments, like gold.
Although U.S. officials say they have exempted medicines from the sanctions regime, Iranian health officials say that imported drugs are in short supply and that the declining currency has raised costs by 40% to 50%.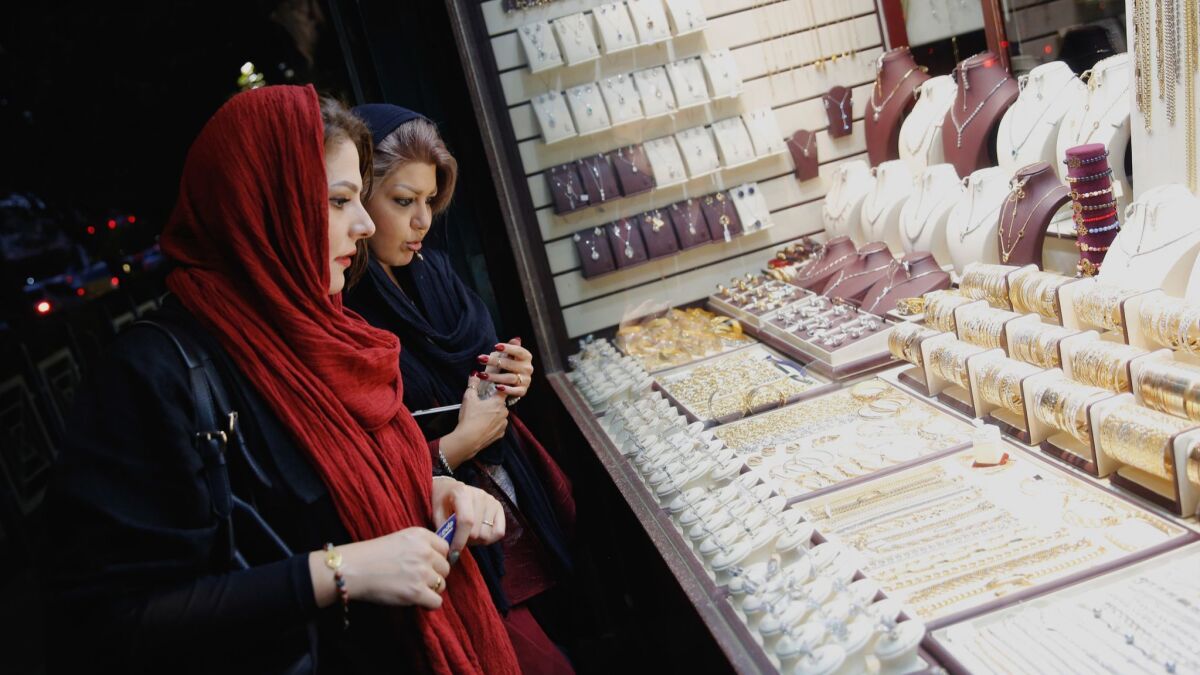 The monthly cash subsidy the government provides to Iranian households, which last year was worth about $10, now buys less than $4 worth of goods because the official exchange rate has not been adjusted.
Iranians lamented bitterly on social media recently that the subsidy was not even enough to purchase 2 pounds of grapes.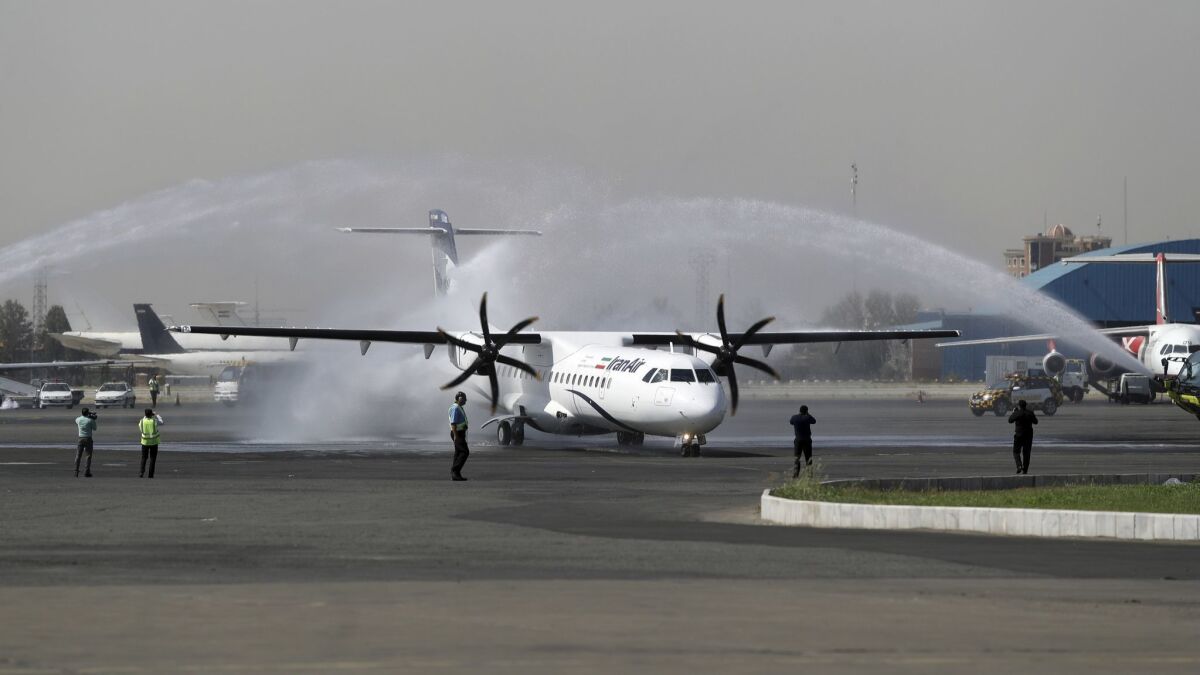 Foreign investors apply the brakes
President Hassan Rouhani, who had campaigned for the nuclear agreement, promised that the return of foreign investors would accelerate an economic recovery.
But after the deal went into effect in 2016, many Iranians complained the economy didn't improve fast enough. The U.S. left in place banking restrictions that made it hard for multinational companies to enter Iran without risking penalties on their American businesses.
With the reintroduction of sanctions, most of the major Western companies that struck deals in Iran since 2016 have backed out:
— German automaker Daimler halted a plan to manufacture Mercedes-Benz trucks in Iran.
— French energy company Total said it would withdraw from a $2-billion project to develop a major Iranian gas field.
— Before the sanctions were announced, U.S. plane manufacturer Boeing canceled a deal worth an estimated $20 billion to sell Iran dozens of badly needed commercial aircraft.
Oil sector to see biggest effect
Iran's oil exports plunged from 2013 to 2015, when the Obama administration persuaded the European Union — buyer of one-fourth of Iran's oil — to impose an embargo and pressured countries such as China, India and South Korea to reduce their purchases.
The declining revenue was one of the reasons Iranian officials felt they had to reach the nuclear deal, which ended the restrictions.
Exports have since ticked back up, though not to the levels of a decade ago.
Analysts say it's unclear how much of a reduction Iran will see in its oil revenue after Nov. 5. Although European countries have pledged to resist Trump's sanctions, their companies and banks are vulnerable to U.S. pressure.
And the potential for less Iranian oil on the market has sparked a rise in global oil prices — meaning Iran could earn more for selling less crude.
Trump has signaled that the U.S. won't issue waivers to countries that reduce their oil purchases from Iran as the Obama administration did in an effort to invite cooperation and minimize volatility in world energy markets.
"Trump's uncompromising sanctions enforcement will deepen Washington's falling-out with allies in Europe … and it sets the stage for a risky showdown over sanctions enforcement with China, India and other Asian importers of Iranian crude," Suzanne Maloney of the Brookings Institution wrote in a recent report.
Some of Iran's trading partners signal support — for now
India and China have signaled they don't want to make major cuts in their oil purchases from Iran. New Delhi is reportedly considering resuming its purchases in rupees, its own currency, avoiding U.S. dollar markets that fall under the sanctions regime.
Turkey, locked in a trade war with the Trump administration, says it won't be bound by the U.S. sanctions. While Ankara and Tehran have been on opposing sides in the Syrian war, authoritarian Turkish President Recep Tayyip Erdogan sees supporting Iran as a way to undermine two adversaries, Israel and Saudi Arabia, both major proponents of the Trump administration's sanctions.
Iraqi Prime Minister Haider Abadi said he opposed the sanctions but would comply with them — then quickly backtracked this week after intense criticism among Iraqis who reject Trump's policies. Abadi said he meant only that Iraq would not use dollars in its transactions with Iran — which are plentiful. Iraq relies on its neighbor for natural gas, water and agricultural products.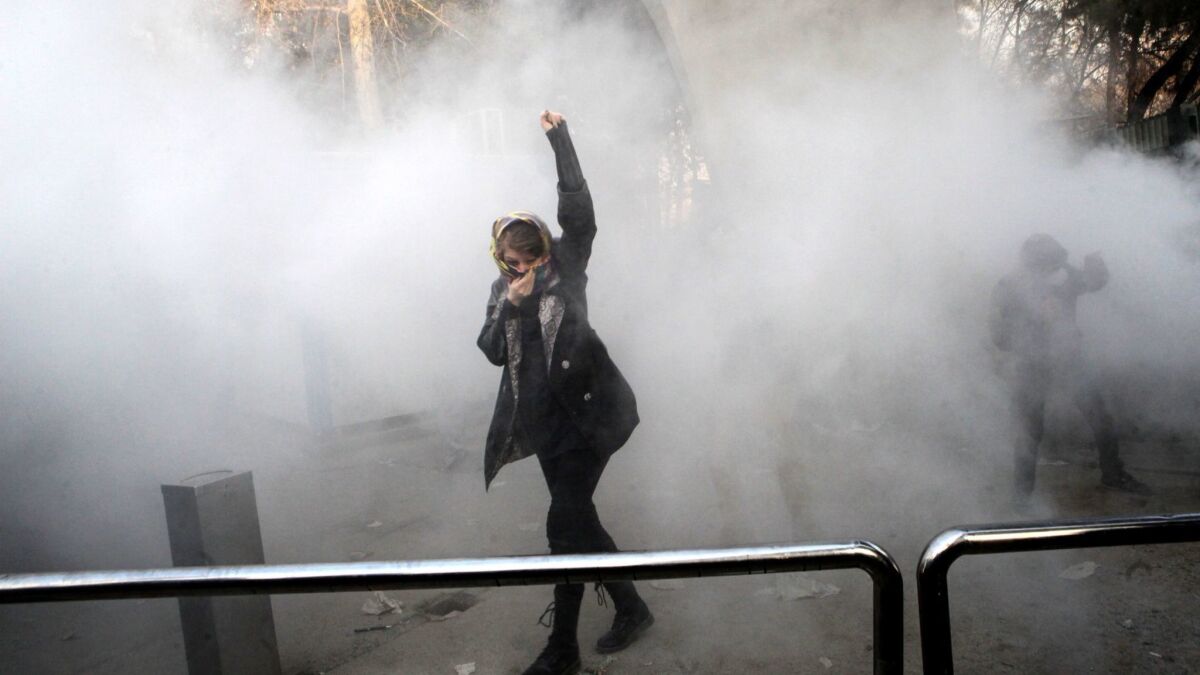 Will sanctions exacerbate antigovernment sentiment in Iran?
In recent months, Iran has been shaken by the most significant antigovernment protests in years, most driven by anger over the theocracy's mismanagement of the economy.
The Trump administration has tried to fan that sentiment, adding to speculation that it is seeking to overthrow Iran's leadership. Secretary of State Michael R. Pompeo told an audience in Simi Valley last month that "the Trump administration dreams the same dreams for the people of Iran as you do."
But Trump also included Iran in his travel ban affecting several majority-Muslim countries. Iranians generally reject Trump's policies and believe the sanctions will harm ordinary people the most.
"While Iranians are rightfully deeply frustrated with the clerical government, that doesn't automatically translate into an embrace of Trump's policies," wrote Trita Parsi, president of the National Iranian American Council, an advocacy group. "Iranians are capable of rejecting both at the same time."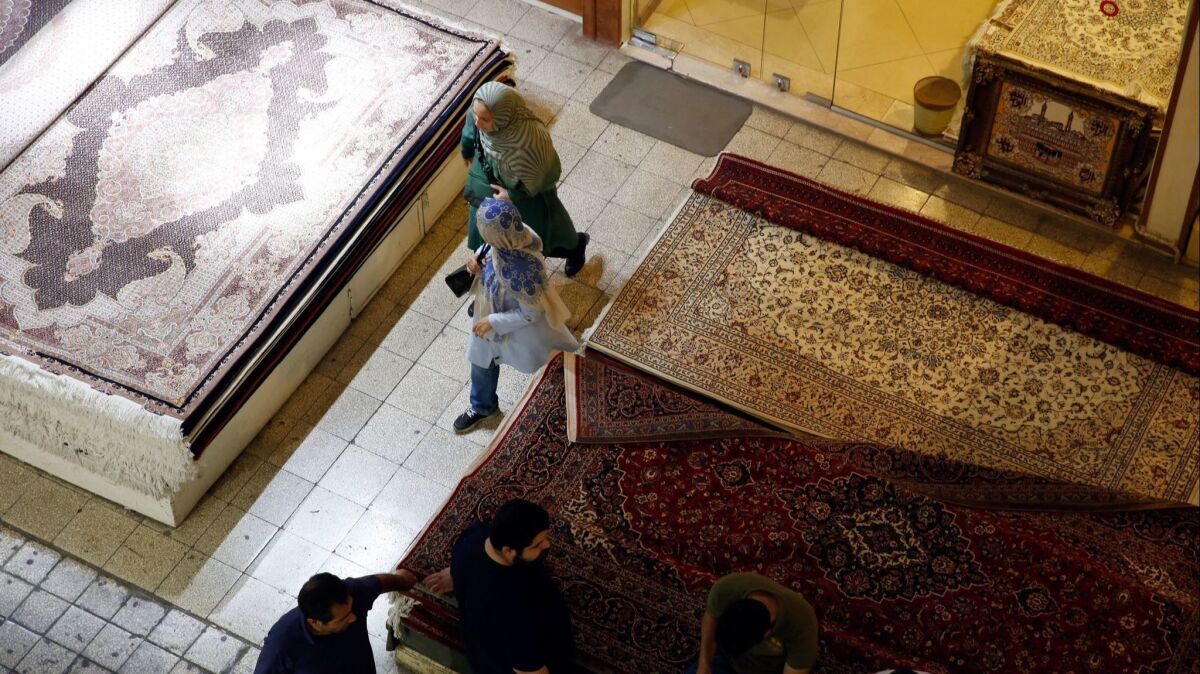 Special correspondent Ramin Mostaghim in Tehran contributed to this report.
Shashank Bengali covers Iran for The Times. Follow him on Twitter at @SBengali
Must-read stories from the L.A. Times
Get the day's top news with our Today's Headlines newsletter, sent every weekday morning.
You may occasionally receive promotional content from the Los Angeles Times.