Why Iran is desperate for U.S. passenger planes, but can't have them
Reporting from TEHRAN —
Behrooz Ghamari recalled flying in Iran aboard a moldering, Russian-made Tupolev jet, a workhorse of the country's beleaguered passenger fleet.
"When you're taking off, the pilot says, 'Ladies and gentlemen, trembling and shaking is normal,'" said Ghamari, a history professor at the University of Illinois.
"And when it's taking off, the whole plane shakes like mad. It was so scary. The planes are so heavy, it's like they are made of steel. It was bizarre to think these machines fly."
They weren't airborne in Iran for much longer. That flight was in 2009. Two years later, Iran grounded the country's 23 Tupolev jets after a series of crashes.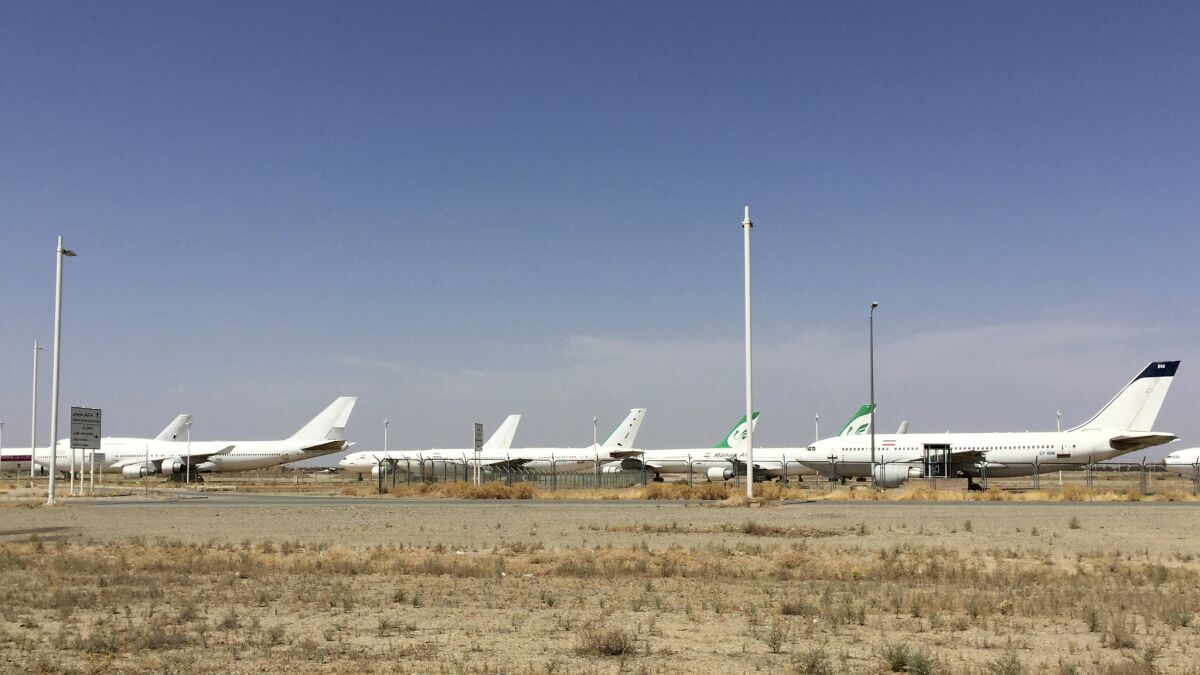 Iran's reliance on an aircraft that has been banned from Western airports for years — in part because of its engine noise, which one enthusiast described as "vacuum-cleaner-meets-rotary-phone-ringing" — showed how badly its commercial aviation sector was hobbled by U.S. sanctions.
Since the 1979 hostage crisis in Tehran, U.S. trade restrictions have barred the sale of American-made aircraft and parts to Iran. European sanctions instituted more recently to discourage Iran's nuclear program further limited what Iran could purchase. Today, Iran operates one of the world's oldest passenger fleets and has managed to keep flying mainly with aging Russian jets and some U.S.-made planes it purchased through third-party dealers in Eastern Europe and Southeast Asia — probably in violation of U.S. laws.
When sanctions were eased in January after Iran certified that it had shelved its nuclear program, Tehran immediately opened talks with Boeing Co. and the European manufacturer Airbus to buy hundreds of aircraft. The deals — potentially worth tens of billions of dollars — represent the biggest commercial result of the nuclear accord.
"Airplanes have real political and symbolic significance for the Iranian government," Ghamari said. "Whenever ordinary people and politicians referred to how immoral and cruel these sanctions are, they brought up the example of the Iranian airlines and their aging commercial fleet."
Iranian officials have long argued that U.S. sanctions forced its aviation industry to rely on outdated jets, making air travel less safe for civilians. Iran has one of the world's worst air safety records; since 1979, 1,672 people have died in 92 aircraft-related accidents in the country, according to the Flight Safety Foundation.
Whenever ordinary people and politicians referred to how immoral and cruel these sanctions are, they brought up the example of the Iranian airlines.
— Behrooz Ghamari, a history professor at the University of Illinois
In June, Iran announced that it had reached a $25-billion agreement to purchase or lease more than 100 aircraft from Chicago-based Boeing — the biggest U.S. business deal with Iran since Washington cut diplomatic ties with Tehran in 1979.
But Republican opponents of the nuclear deal in the House of Representatives approved legislation in July to block the sale. In a letter to Boeing, two Republican lawmakers cited accusations that Iran's commercial aviation sector has been used to funnel troops and weapons to terrorist organizations and dictators such as Syrian President Bashar Assad.
"These terrorist groups and rogue regimes have American blood on their hands," the letter said. "Your potential customers do as well."
Although President Obama has said he would veto any attempt to stop the sale, in the heat of an election campaign in which Republicans are eager to paint Democrats as soft on Iran, it seems unlikely that any planes will be delivered before November.
Boeing representatives continue to travel to Tehran for meetings with Iranian aviation officials, most recently in early August at the former Sheraton hotel. Iranian officials say they have an agreement in principle, but cite the delay as evidence that the U.S. isn't living up to its end of the nuclear pact.
"It is certainly a violation of [the agreement] and we will confront it," Iran's nuclear negotiator, Hamid Baeidinejad, said in July.
Some analysts say Iran can't afford the planes and lacks the technicians and airport space to operate them.
Patrick Clawson, director of research at the Washington Institute for Near East Policy, wrote last month that the more than 100 Boeing aircraft, plus a similar number Iran wants to purchase from Airbus, together exceed the entire fleet of Air France — which operates in a country that has seven times the number of air travelers as Iran.
But the Boeing deal is important symbolically for moderate President Hassan Rouhani, who is expected to seek reelection next year in part by arguing that he has improved Iran's relations with the West.
"They are using this to strengthen connections with the U.S.," said Fariborz Raisdana, an independent economic analyst in Tehran.
"But I hope they come to their senses. They need to find a solution that is pro-people, not pro-West."
Iran's aviation industry says the deal would stabilize the country by bringing jobs, stimulating a moribund economy and promoting tourism across a land four times the size of California, with a roster of historic and religious sites.
Iran Airtour, a quasi-private airline, is down to half a dozen aircraft after its Tupolevs were grounded. Its remaining planes are all McDonnell Douglas jets more than two decades old. Still, the carrier manages to squeeze out 800 flights a month, an average of four per plane per day.
Managing director Mehdi Hamidanpour called the Boeing delay "illogical."
"They're prolonging a process that is very simple," Hamidanpour said. "There's a buyer and there's a seller. When Washington wants to pass new sanctions, they do it in 10 minutes. So why is buying a plane so hard?"
Follow @SBengali on Twitter for more news from South Asia
ALSO
Apple must pay $14.5 billion in back taxes to Ireland, the EU says
Juan Gabriel was Mexico's gay icon — but he never spoke of his sexuality
Brazilian President Dilma Rousseff: My impeachment threatens democracy
Must-read stories from the L.A. Times
Get the day's top news with our Today's Headlines newsletter, sent every weekday morning.
You may occasionally receive promotional content from the Los Angeles Times.