Building by booby-trapped building, students work to reclaim Iraq's Mosul University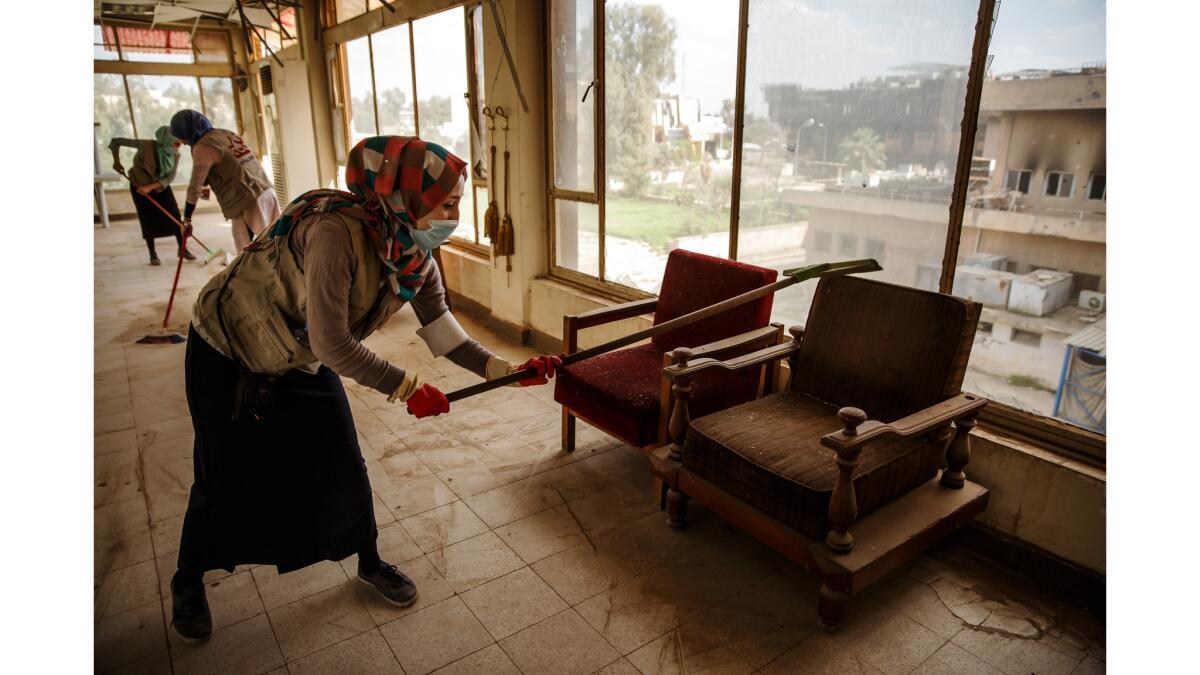 Sura Hussein Abdulmaged was in her last year of high school and taking her final exams with hopes of winning admittance to Mosul University. She dreamed of being an engineer.
But then Islamic State came to town. Abdulmaged was at home that day in 2014 when she got the news that the jihadists had conquered the city. "I was studying," she recalled. "And I stopped studying. I was just shocked."
Abdulmaged had long viewed Zaha Hadid, the trailblazing Iraqi-born British architect, as a role model; Hadid was the first woman to win the Pritzker Prize, architecture's highest honor. But now Abdulmaged had to put her dream on hold.
"Girls can't study engineering with ISIS," Abdulmaged said, using an acronym for the group. "It's impossible. It's only for men."
Three years would pass before Iraqi forces mounted an effective counteroffensive against the group. The battle for Mosul's Old City still rages, but the military has driven Islamic State from key portions of the city, including the group's former outpost at Mosul University.
Now, the 21-year-old Abdulmaged and hundreds of other young volunteers are trying to repair the university scarred by war. Some are university students who gave up their studies when Islamic State took over. Others are young people like Abdulmaged, who hope to attend some day.
---
But first they must help restore what once had been one of the finest institutions of higher learning in Iraq. The Sunni Islamic State fighters looted the campus for anything valuable: ancient manuscripts, rare books, computers and cash. The militants smeared black tar on walls and torched most of the buildings as they were driven out by Iraqi forces this year. The heavy fighting left buildings and streets pockmarked by mortar shells. Some buildings collapsed.
---
As the Islamic State fighters gave up the campus, they also left booby traps.
"Bombs — the university was full of bombs," said Talal Kasim Takay, a professor of forestry. "So after the army liberated it and cleared it, they said it was safe to go back. We came."
But the cleanup work can be perilous, and warnings left by the military in red paint mark buildings yet to be cleared of explosives.
Undeterred, the young volunteers keep coming to reclaim their campus. One day this spring, Abdulmaged was among a dozen women and twice as many men who cleared rubble from an administrative building, kicking up a dust cloud so thick that they had to wear masks. The sound of glass crunching, metal clinking and debris dragging on the ground was constant.
The women dragged debris and furniture — Abdulmaged helped lug a large table — toward the windows, where men heaved the objects out the windows five stories up. The process often finished with a loud thud. The sound was jarring. An eerie silence hangs over the campus that once served 30,000 students.
"We're trying to forward our lives," Abdulmaged said, in English, of the cleanup work. Abdulmaged, who learned English by watching TV, recalled what happened when Islamic State took the city. "Time was stopped in that moment," she said.
Living under Islamic State, she said, was hell.
"It was like a life in a cage," Abdulmaged said as she paused from her work. "You can't move, you can't do anything. You have to wear a black thing from head to feet. I wasn't free. I was going out of the house … everything was OK, but not free. Normal life, but not free."
Takay, the professor, recalled that even during Islamic State's occupation, some of students and teachers returned to the university to retain a sense of normalcy. The jihadists made Takay and other faculty continue teaching some courses, he said, "but they had their own teachers, and they were teaching their own subjects related to faith and religious stuff."
Eventually, Takay said, people stopped coming and the university essentially shut down. Classes have yet to resume, though students are taking courses in the nearby town of Bartella. Portions of the university have reopened to conduct examinations.
Some pockets of the campus got by unscathed. In one classroom in an otherwise damaged building, chairs were in perfect rows and "congratulations" in Arabic was plastered on the wall.
---
Still, risks remain.
"There are families that are not letting their kids come back to the university because they fear for their safety," said Mohammed Hamed Abdullah, a chemistry student who still has a year left to finish before graduating.
When asked about the threats of IEDs and booby traps, Abdullah replied, "We are worried about it. But what can we do? We have to do something. We cannot just sit. This is how our lives are. Someone has to help, not just sit."
Abdulmaged, who also volunteers with groups that help Mosul residents left homeless by the war, said her parents are resigned to her working to clean the campus. Her father was a professor in the university's department of agriculture and forestry.
Abdulmaged occasionally hears of fellow student volunteers dying from booby traps. "Yesterday a girl and a man were hurt," she said. "I heard about that. They died. That's sad. They got something weird, they touched it and they explode."
Like so many residents of Mosul hardened by war, she speaks matter-of-factly about the dangers of their city.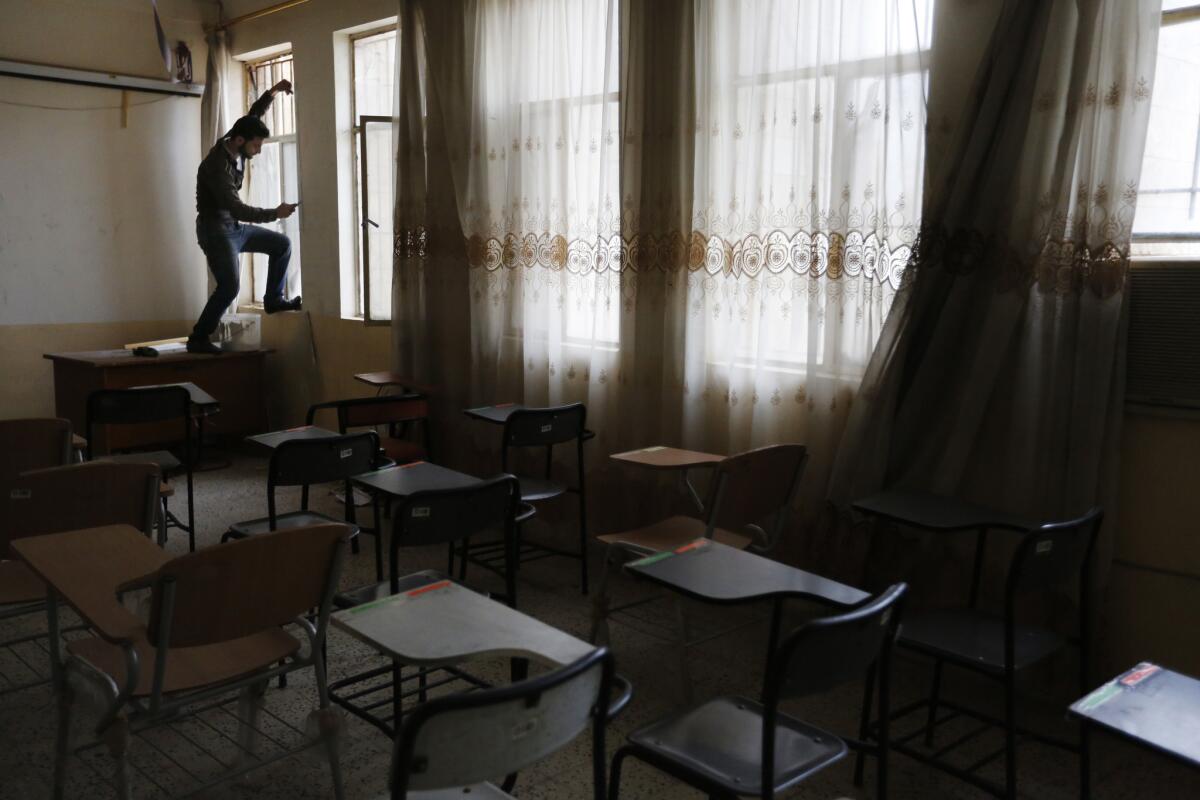 "We are used to it. I don't know how I can explain, but it's sudden. You can die in every minute. With ISIS you can die in every minute … they pretend you do something bad, they take you and kill you," she said.
She has no plans to stop her work on campus.
"I'm not afraid if I die," she said. "This is an honor for me to do something as good as this. It's OK if I die."
Twitter: @yamphoto
Sign up for Essential California for the L.A. Times biggest news, features and recommendations in your inbox six days a week.
You may occasionally receive promotional content from the Los Angeles Times.