Shhh! The back story of EPA chief Scott Pruitt's highly secret, on-and-off, official non-visit to Israel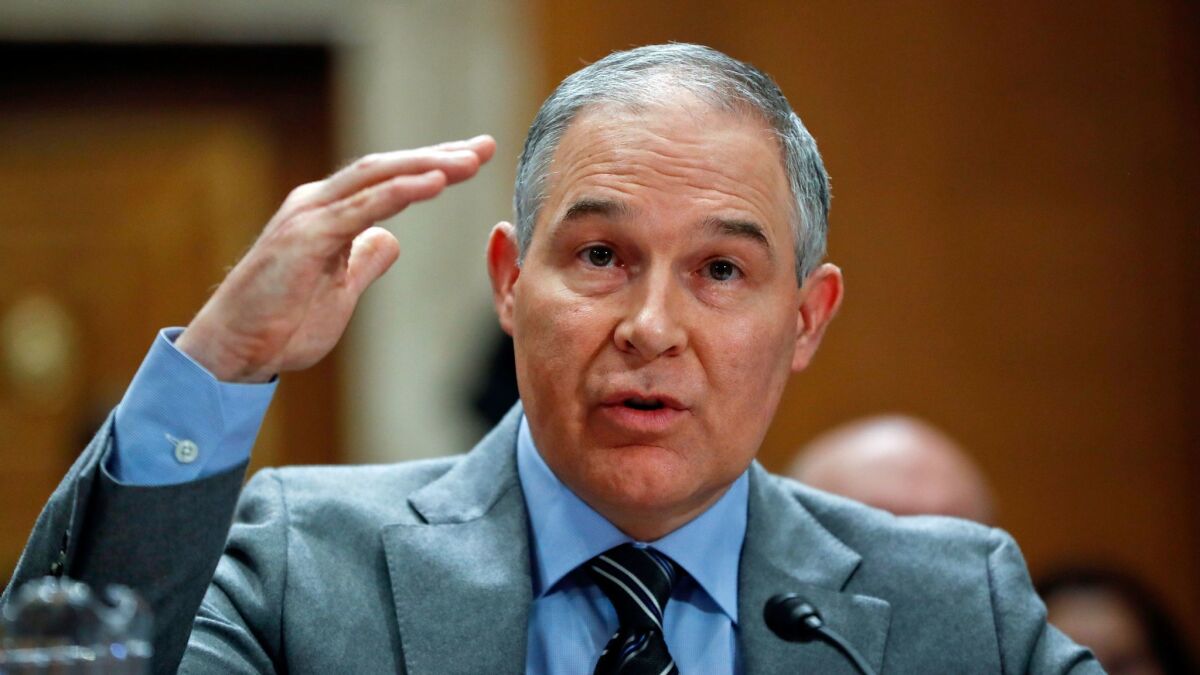 Reporting from Jerusalem —
At the start of every month, the Israeli Foreign Ministry sends journalists a list of scheduled official visits.
On Jan. 1, the name of Environmental Protection Agency Administrator Scott Pruitt appeared. He was expected from Jan. 26-28.
Those dates came and went, with no Pruitt and no explanation for why he hadn't arrived, although it coincided with an uproar over his travel expenses and penchant for flying first class.
Pruitt's name did not appear on the February list, but a Foreign Ministry official, who was not authorized to speak publicly, revealed last week that Pruitt was expected to arrive on Sunday.
Breaking with established protocol, the Israeli Government Press Office did not send out his schedule or any information regarding his stay, which was never officially announced.
All attempts to get a schedule, discover his arrival time or the members of his entourage — all information usually made available — failed. Nor were officials forthcoming about why the visit was so hush-hush.
Was he planning on meeting with any Palestinians? No answer.
To all questions, Israel's Foreign Ministry replied: "Ask the [U.S.] Embassy."
On the record, the embassy declined so much as to acknowledge Pruitt's plans. One embassy employee, speaking on condition of anonymity to discuss such an inexplicably secretive topic, said: "We're not talking about this. Off the record, I can tell you he is expected to sign two memoranda, one apparently with the Energy Ministry and another about methane gas."
Asked if he'd be meeting Israeli Prime Minister Benjamin Netanyahu, the embassy official replied, "It would make sense."
Asked about a Netanyahu meeting, the senior foreign press coordinator for the prime minister's office, David Baker, said in an email: "Check with me on Sunday."
Sunday arrived — and no Pruitt. Baker did not respond to a query asking why. EPA spokeswoman Liz Bowman acknowledged in an email that the trip had been postponed, the Associated Press reported. She also did not explain why.
Tarnopolsky is a special correspondent.
---
Must-read stories from the L.A. Times
Get the day's top news with our Today's Headlines newsletter, sent every weekday morning.
You may occasionally receive promotional content from the Los Angeles Times.