Heat wave aggravates chronic water problems in occupied West Bank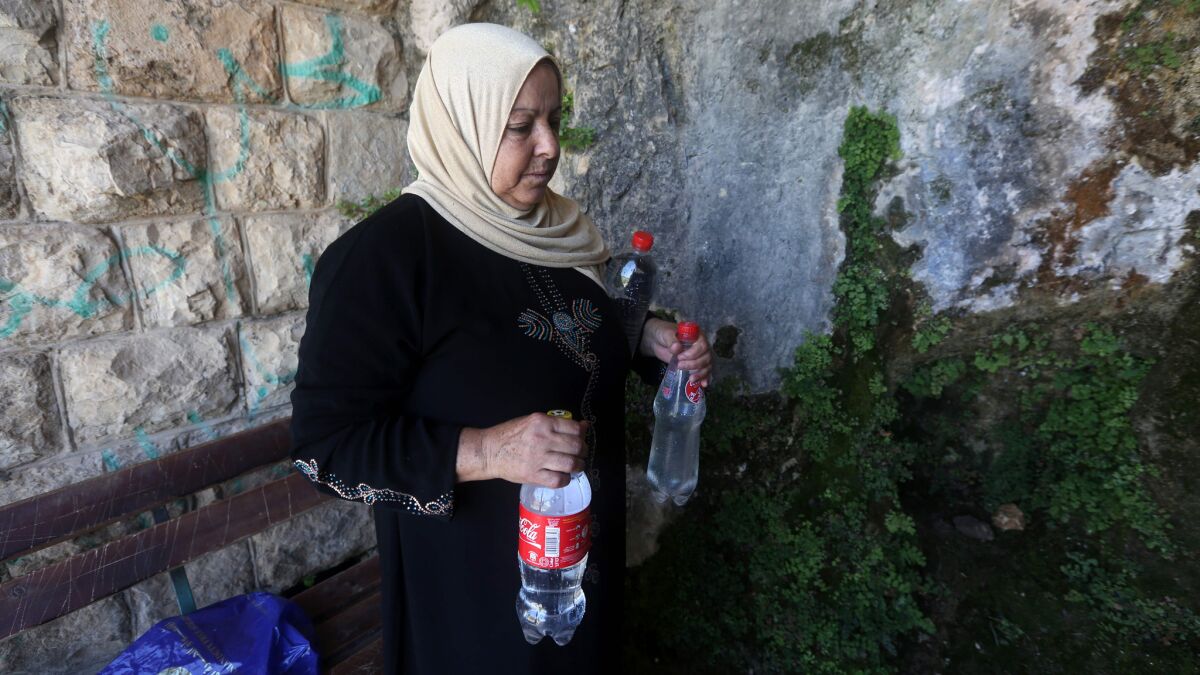 Reporting from Qarawat Bani Hassan —
To compensate for the lack of running water in his West Bank home, Waheed Maree pumps groundwater from a rancid well under his house to his bathroom toilet.
Drinking water is store bought, as evidenced by his courtyard littered with empty bottles.
"Without water you can't do anything," Maree said recently while turning the knob of a courtyard faucet to show that no water would come out. "Just smell my body, you can see how much we are suffering."
Up the road from Maree, the leaves on Nizal Rayan's zucchini crops were brown and the soil parched in pots of flowers he would normally sell. A chicken coop was mostly empty because dozens of birds recently died because of the lack of water.
"I'm thinking of stopping this business because it's very hard to keep it running without water," Rayan said.
A heat wave in recent weeks has led Israel's government-owned water utility to cut supply, aggravating chronic water strains in some Palestinian areas such as the village of Qarawat Bani Hassan in the occupied West Bank.
Tens of thousands of people, mostly Palestinians, have been scrambling for water in regions south and south west of Nablus. Israelis in a number of settlements nearby have also grappled with water problems.
Some residents have hauled water from local cisterns, but many more have bought water from independent truck operators to make sure they have enough water during the Muslim holy month of Ramadan.
The shortages are sowing tensions among some Palestinian villagers who accuse municipalities of distribution mismanagement and neighbors of hoarding. They are also stirring up longstanding political recriminations between Israelis and Palestinians — as peace efforts remain stalled — about what's to blame for the ongoing gap in water consumption between Arab municipalities and neighboring Israeli settlements in the West Bank.
"The main thing is discrimination — and the feeling is very bad among the people,'' said Eyad Yakob, who lives in the village of Bidya and is a regional Palestinian director for wastewater and solid waste. "The Israeli kids have swimming pools and landscaping… and the Palestinians don't have water to wash their face."
Uri Schor, a spokesman for Israel's Water Authority, said in a statement that increased demand amid the summer heat has forced interruptions in some Palestinian towns in the northern West Bank as well as a string of Jewish settlements.
In the Israeli settlement of Shiloh, residents have struggled with supply interruptions and low water pressure for nearly two weeks, and authorities have advised locals to stock up on mineral water.
Schor said Israel supplies Palestinian areas more than double its commitment under a 1995 water deal, and he accused Palestinians of boycotting discussions on water issues that could result in an upgraded supply network for the villages. Israel's Civil Administration in the West Bank said water levels are low in part because some Palestinians are stealing from the network and damaging water pipelines.
Gidon Bromberg, Israeli co-director of EcoPeace Middle East, said Israel's construction of desalination plants has yielded surpluses that could be sold to avoid shortages, but that Israeli and Palestinian leaders refuse to consider a new deal.
See the most-read stories in World News this hour >>
"It's an absolute crime that water continues to be held hostage to the broader peace process," Bromberg said.
In Palestinian West Bank towns, giant, privately owned plastic tanks sit on rooftops as a sign of intermittent access: Even in the winter, water network taps flow for a limited time, forcing residents to store extra quantities before the flow is shut off and other neighborhoods get a turn.
In the Qarawat Bani Hassan village center last week, women in headscarves poked their heads out of windows as a noisy pump on the back of a water truck struggled to send water through a fire hose to the roof of a four story building. The truck operator said he was selling the water at about $10 per cubic meter, compared to network supplies that cost 90 cents per cubic meter.
Qarawat Bani Hassan Mayor Aziz Assi said criticism of the municipality is pointed on social networks and there's growing unrest among villagers. Water shortages last year led to street protests in Nablus and forced the resignation of the mayor.
"Relations between families are starting to get bad because when someone sees a neighbor watering their garden, they get in fights,'' he said.
Mitnick is a special correspondent.
MORE WORLD NEWS
President Trump? Among U.S. allies, Japan may be one of the most anxious about that idea
Heat wave aggravates chronic water problems in occupied West Bank
Must-read stories from the L.A. Times
Get the day's top news with our Today's Headlines newsletter, sent every weekday morning.
You may occasionally receive promotional content from the Los Angeles Times.