Battle for Mosul could spark 'one of the largest man-made disasters' in years, U.N. warns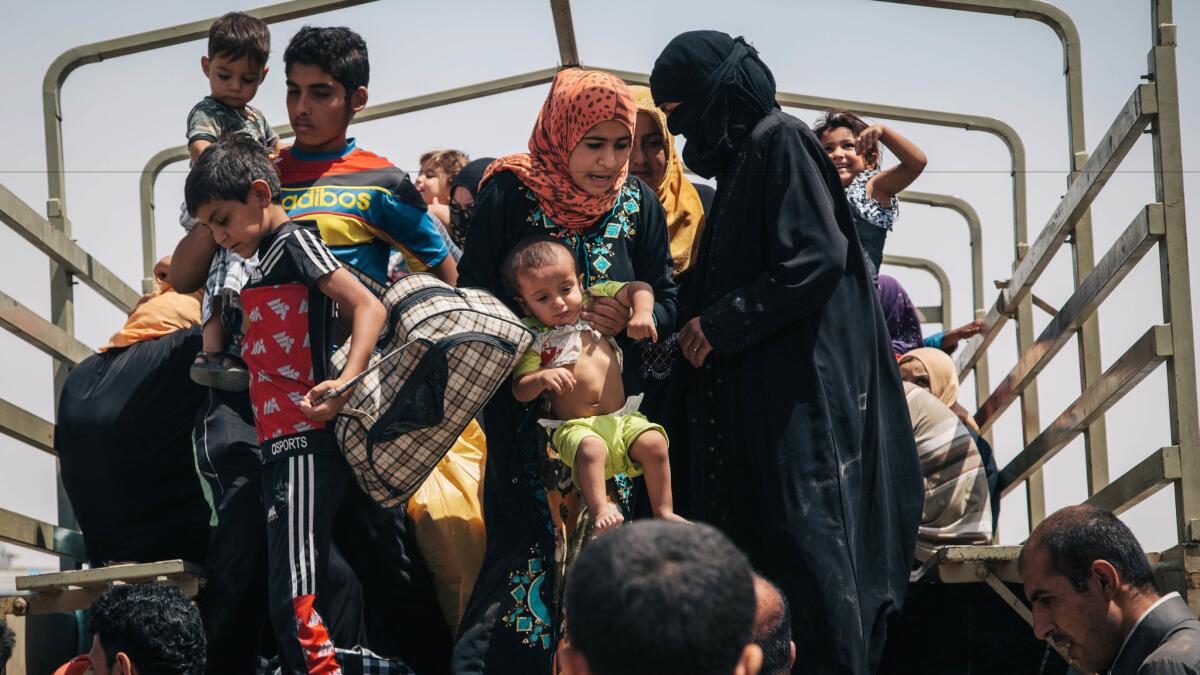 Reporting from CAIRO —
Aid groups are racing to prepare for what they are predicting will be the largest humanitarian crisis in recent memory, with a million people expected to flee the northern Iraqi metropolis of Mosul once the country's military and its foreign allies launch their offensive to seize the city from Islamic State militants.
The planned operation to take back Iraq's second-biggest city could trigger "one of the largest man-made disasters" in years, Bruno Geddo, the United Nations refugee agency representative in Iraq, told reporters recently.
The conflict in neighboring Syria has affected more people, leaving 13.5 million in need of humanitarian assistance. But the Mosul offensive is unique in that aid agencies know roughly when it will start and that it will displace a massive number of people at once.
Representatives of the various forces have said the operation will start between mid-October and mid-December, with Turkish President Recep Tayyip Erdogan recently specifying Oct. 19.
The U.N. made an emergency appeal this summer for $284 million to deal with the crisis but so far has received less than half. The United States has pledged $130 million, said Lise Grande, the U.N. humanitarian coordinator for Iraq.
"We're facing this enormous tsunami coming at us," Grande said. "We're racing against the clock to be as ready for it as we can be, knowing that we have funding constraints, capacity constraints, and that we still need to get more supplies into the country."
If a million people were displaced for a year, the cost of caring for them would be $1.8 billion, she said.
Islamic State seized control of Mosul in June 2014 during a campaign that soon put the militants in control of a third of Iraq and Syria. Iraq's army has been fighting to recover. Backed by U.S.-led coalition warplanes and tens of thousands of paramilitary fighters — some supported by Iran — Iraqi troops this year reduced the militant group's territory by a quarter, according to the group IHS Conflict Monitor.
Across Iraq, about 3.3 million are already displaced, including 1.2 million from the area surrounding Mosul. Of the more than 1.2 million who remain in the city, nearly a third are children, and a fifth are single mothers, people with disabilities and other vulnerable groups, Grande said.
Many are expected to flee on foot, leaving most of their possessions behind.
Matthew Nowery, Iraq country director for the U.S. relief group Samaritan's Purse, compared the anticipated exodus to the flight of more than 2 million Rwandans into surrounding countries during and after the African nation's 1994 genocide.
"This is going to be a very large-scale catastrophe," Nowery said. "A huge number of people will be moving into a system that's already stretched."
Already, 66 camps throughout Iraq house nearly 700,000 people displaced by violence.
Camps near Mosul are already overwhelmed as new arrivals wait in fenced-off areas to be screened and camp workers try to keep out the Sunni tribal militias that arrive with trucks to recruit child soldiers to fight Islamic State.
Dibaga, one of the larger camps south of the city of Irbil, was built to house 20,000 families and is home to twice as many.
The Office of the U.N. High Commissioner for Refugees is building three camps in the Mosul area to house 36,000 people but is unlikely to complete them before the offensive, Grande said.
With little public land in northern Iraq, it can be difficult to buy or rent space to expand camps, said Frederic Cussigh, who leads the U.N. refugee agency's office in Irbil.
There are other challenges: Cussigh said that the opening of two camps was delayed last week after the Iraqi military had to be called in to remove unexploded ordnance.
Many of the people who flee Mosul are expected to receive assistance at 20 emergency sites that the U.N. is rushing to open near the city and stock with tents, food, water and latrines for thousands of people, Grande said.
The Iraqi military wants Mosul residents to stay put when the offensive begins and has been airdropping leaflets advising them not to leave.
"The thinking of the Iraqi security forces is that they will be trying to protect people in their homes," Grande said. During offensives this year in the Iraqi cities of Hit, Qayyarah and Sharqat, the military succeeded in doing just that.
But aid officials believe an exodus from Mosul is inevitable. In the aftermath of offensives during the last two years in the cities of Fallujah and Ramadi, more than 200,000 people were displaced.
Grande said Iraqi forces are preparing to direct civilians to escape routes and on to the camps. As they exit the city, they would be checked by soldiers for weapons and screened in an attempt to prevent Islamic State fighters from slipping away with the masses.
Aid workers plan to provide food and water along the way as well as medical assistance from mobile units on flatbed trucks.
Violence is expected, based on other mass departures this year in which fleeing civilians were attacked by Islamic State fighters. In Fallujah and surrounding areas, which saw about 100,000 people leave after an offensive in May, some were killed by improvised explosive devices and others drowned trying to escape across a river.
"When the populations move, Daesh destroys the cities," Grande said, using the Arabic acronym for Islamic State. "They booby-trap and destroy them."
About 150,000 families have fled the Mosul area since fighting intensified there in June. Most forgo the camps to live together in apartments or take refuge in abandoned schools, churches and other buildings.
Becky Bakr Abdulla, a spokeswoman for the Norwegian Refugee Council in Irbil, a hub for humanitarian agencies about 50 miles east of Mosul, said many of those families are trying to help remaining relatives escape the city and join them before the offensive.
"They really want to get out before the fighting begins, but it's very difficult for them to find safe routes out," Bakr Abdulla said. "We are in a race against time to try to protect the civilians of Mosul."
Under Islamic State rule, Mosul residents live with the constant threat of summary execution for offenses that include using the Internet and cellphones, making it difficult to know what is happening there.
The majority of Mosul residents are Sunni Muslims, which is likely to pose its own set of problems. The surrounding area includes the semiautonomous Kurdish region where officials have said they will not accept displaced people from Mosul. The Iraqi government is dominated by Shiite Muslims.
Mayor Hussein Ali Khajem said tribal fighters and Iraqi forces will enter Mosul while Shiite militias conduct operations outside the city, although he said the militias would not screen those who flee.
"The official plan is that the Shiite militias will not participate in this fight. That's the official order from the prime minister. Still, the people inside fear that some of these militias will not agree," said Atheel Nujaifi, governor of the surrounding Nineveh province, who was forced to flee Mosul when the city fell to Islamic State but who remains in touch with former neighbors.
"There is some resistance inside Mosul" lately, he said, with residents raising the Iraqi flag in public squares, painting "M" for muqawama, Arabic for "resistance," on walls and parallel stripes of red and black, for the Iraqi flag.
Nujaifi said that without assistance for 100,000 of those fleeing the city, let alone a million, it makes sense for residents to initially shelter in place.
"If it is a quick fight, the people will stay" for several days, he said, but "if there is bombing for a long time, they will leave."
Retired Lt. Col. Daniel Davis, a fellow with Washington-based Defense Priorities, said he expects sectarian militias will complicate the offensive.
"I just can't see how this is going to work well," said Davis, who recently visited the Dibaga camp and met with Kurdish officials. "… You're going to have hundreds of thousands of people just hanging out in the desert. And how are you going to feed the people?"
Remaining in Mosul may be even more dangerous as Islamic State fighters dig in, he said.
"Do they say this is our Alamo, we are not going to leave, we're going to die in place here?" Davis said.
Aleksandar Milutinovic, who heads Iraq operations for the International Rescue Committee, said he worries the offensive will become a sectarian battle that tears the country apart, leaving hundreds of thousands displaced for months in a region where winters are cold and snowy and many people already depend on aid agencies for blankets and kerosene heaters.
In Irbil, his organization has mobilized 534 staff members for the crisis and plans to hire 200 more people in the next few weeks and work round the clock to train them. But as funding is delayed, he said, "it's just going to get more difficult to hire people, stock our warehouses."
"It is going to be too late," he said.
molly.hennessy-fiske@latimes.com
ALSO
U.S. breaks off diplomatic talks with Russia to end bloodshed in Syria
After defeat of the FARC peace deal, Colombians wonder what's next
Wealthy nations could do more to help alleviate the global refugee crisis, new report says
Sign up for Essential California for news, features and recommendations from the L.A. Times and beyond in your inbox six days a week.
You may occasionally receive promotional content from the Los Angeles Times.