U.S. breaks off diplomatic talks with Russia to end bloodshed in Syria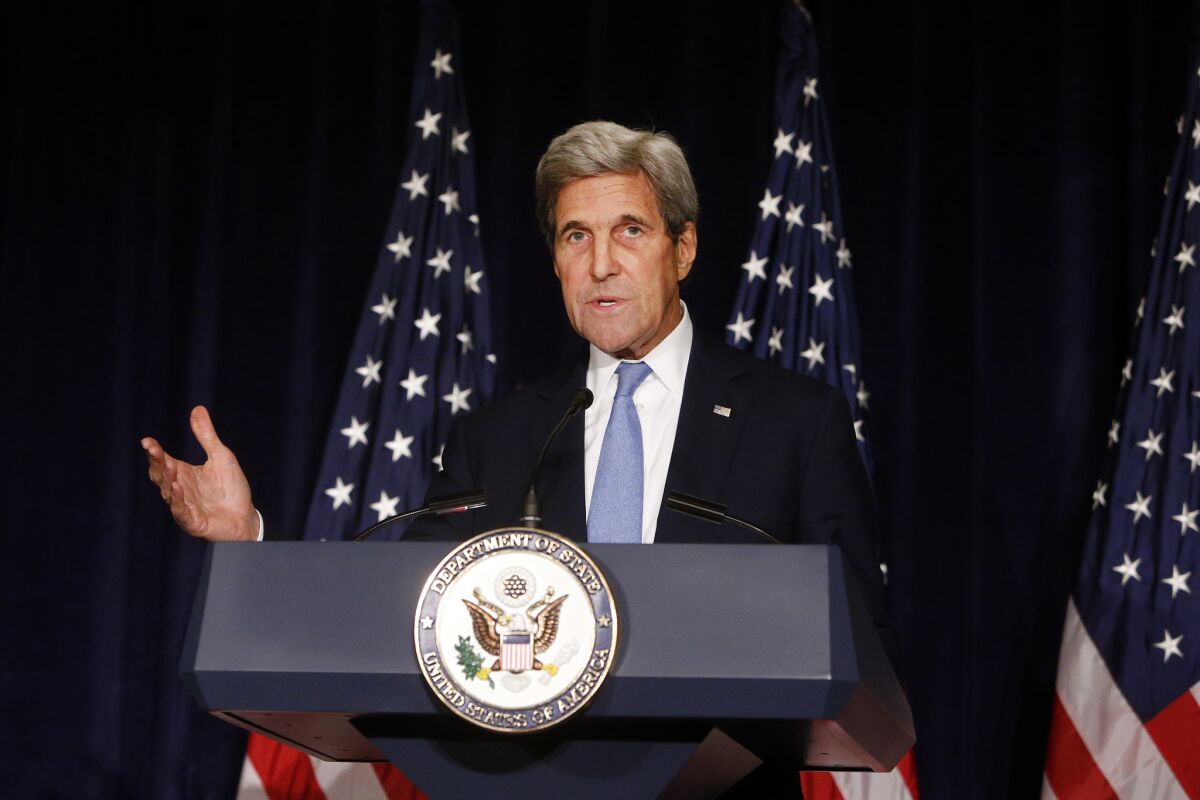 Reporting from WASHINGTON —
The Obama administration made good on an ultimatum Monday and withdrew its cooperation with Russia over Syria, while Moscow suspended a key nuclear weapons treaty it had signed with Washington more than a decade ago.
With the two governments signaling their anger at each other, U.S.-Russia ties hit one of their lowest points since the 1991 collapse of the Soviet Union.
Exasperated over relentless Russian and Syrian airstrikes on the battered city of Aleppo, Washington announced it was breaking off bilateral talks with Russia over Syria's fate and canceling plans to share military intelligence and operations-related information with Moscow.
"This is not a decision that was taken lightly," State Department spokesman John Kirby said in a statement.
The decision came after continuous negotiations, including near-daily telephone conversations between Secretary of State John F. Kerry and Russian Foreign Minister Sergei Lavrov, aimed at reducing violence and opening up routes for desperately needed food and medicine for besieged enclaves. They last spoke Saturday, and the Obama administration's decision was conveyed to Russian negotiators in Geneva.
"Unfortunately, Russia failed to live up to its own commitments," Kirby said, "and was also either unwilling or unable to ensure Syrian regime adherence to the arrangements to which Moscow agreed."
Instead, the U.S. alleges, Russia and its ally, the government of Syrian President Bashar Assad, used the time to pound rebel-held portions of Aleppo and numerous civilian neighborhoods with barrel bombs and other indiscriminate attacks. Hundreds of people have been killed in the last week.
Russia had agreed to a cease-fire last month, but that fell apart quickly. Russia argues that the United States has failed in its commitment to separate the moderate rebel groups it supports from more radical factions such as the Syrian branch of Al Qaeda.
Kirby said the United States will withdraw a team that had been dispatched to open a so-called joint implementation center, in which Russian and American armed forces were going to join efforts to fight Islamic State and other jihadi groups.
Also Monday, Russian President Vladimir Putin signed a decree suspending his country's participation in a treaty with the U.S. designed to eliminate nuclear weapons.
Putin cited "a threat to strategic stability as a result of USA's unfriendly acts toward Russia." This was a reference to a deepening diplomatic spat between the Kremlin and the White House over Syria, as well as tensions and sanctions that followed Russia's 2014 takeover of Crimea and its support to separatists in eastern Ukraine.
It is the latest action by Russia that serves to unwind the nuclear-cooperation and weapons treaties that have governed the relationship between the U.S. and Russia in the years after the Soviet dissolution.
The nuclear deal suspended Monday was to process 34 tons of weapons-grade plutonium — enough to make 17,000 nuclear warheads; it was signed in 2000 by the outgoing administration of President Clinton and Putin's first government. Expanded in 2006 and 2010, it was among the last strategic accords that put an end to the arms race and were enforced despite the ups and downs of U.S.-Russia relations after the 1991 Soviet collapse.
Putin's decree stipulates that Moscow will resume its participation in the accord only if the U.S. fulfills a list of demands, many of which run contrary to security policies the U.S. has pursued for decades. The White House would have to lift all anti-Russian sanctions, "compensate" Russia for the sanctions-related losses and reduce the U.S. military presence in Eastern Europe to pre-2000 levels. In 2015, the North Atlantic Treaty Organization opened command points in six Eastern European nations allowing a swift deployment of troops and arms.
The Obama administration said it "regretted" Putin's action and accused Russia of being the main destabilizing power in the region.
In the decree, Moscow also claims that Washington is training ultranationalist militants in Ukraine and "openly stands up to protect economic crimes" in Russia. It also wants the U.S. to remove personal sanctions and travel bans against Russian officials — a targeted move that hurt some of Putin's oldest and closest allies whose family members live or study in Western Europe or the United States.
"The decision we made is a signal to Washington," Lavrov said in a statement posted on his ministry's website. "Attempts to talk to Russia from the position of power — to use the language of sanctions and ultimatums, and at the same time, to continue a selective partnership with our country only in the areas that are beneficial to the U.S. — are not going to work."
Although the two dramatic announcements — the break over Syria and the suspension of the nuclear treaty — occurred within hours of each other, U.S. officials cautioned against seeing the events as tit-for-tat.
The U.S. said it would continue to participate in multilateral talks over Syria, aimed at achieving a cessation of hostilities and the delivery of aid, and would communicate with Russia regarding airstrikes to avoid collisions.
Last week, when it first threatened to suspend Syria talks with Russia, Washington said it would consider other options, including additional financial sanctions or even military operations.
State Department spokeswoman Elizabeth Trudeau would not pinpoint what the final straw was that forced the administration decision, although there were numerous reports over the weekend of Russian-backed Syrian forces bombing hospitals and using chemical weapons.
"This is a grave decision," she said. "We are very much considering the next step…. Clearly [the Russians] have not pulled back. Clearly they have not ceased their attacks. Nor has the regime…. We came to a point with Russia where we weren't [pursuing] the same goal."
Putin's decree, meanwhile, also calls on the U.S. to provide a detailed plan for the destruction of the 34 tons of plutonium.
Enriched, weapons-grade plutonium or uranium can be detonated to start a spontaneous fission that leads to a nuclear explosion, and the U.S.-Russian deal prescribed the burning of the fuel in remodeled reactors that could be monitored by both sides and international inspectors.
In 2015, Russia started burning the plutonium at a nuclear power station in the Urals region. A similar facility in South Carolina remains unfinished because of high costs.
"We fulfilled our duties, we built the facility. Our American partners did not," Putin said in televised remarks.
Instead, Putin said, the U.S. opted to mix the plutonium with other, nonradioactive materials and store the mix.
"It means that they are retaining the so-called reverse potential, i.e. [the fuel] can yet again be retrieved, reprocessed and turned into weapons-grade plutonium. That's not what we agreed to."
Times staff writer Wilkinson reported from Washington and special correspondent Mirovalev from Moscow.
ALSO
Taliban fighters launch offensive against northern Afghan city of Kunduz
'I can't stay here and do this.' A harsh reality for Afghani refugees in Istanbul is masked with lies to family back home
Would you like a little salt in that shampoo? A Taiwan company has you covered
---
UPDATES:
4:00 p.m: This article was updated to include more reaction about the U.S. and Russia on Syria and add details of Moscow's suspending a nuclear-weapons treaty with Washington.
This article was originally published at 11 a.m.
Must-read stories from the L.A. Times
Get the day's top news with our Today's Headlines newsletter, sent every weekday morning.
You may occasionally receive promotional content from the Los Angeles Times.