In the battle for Mosul, everybody's taking selfies — and some of them may be incriminating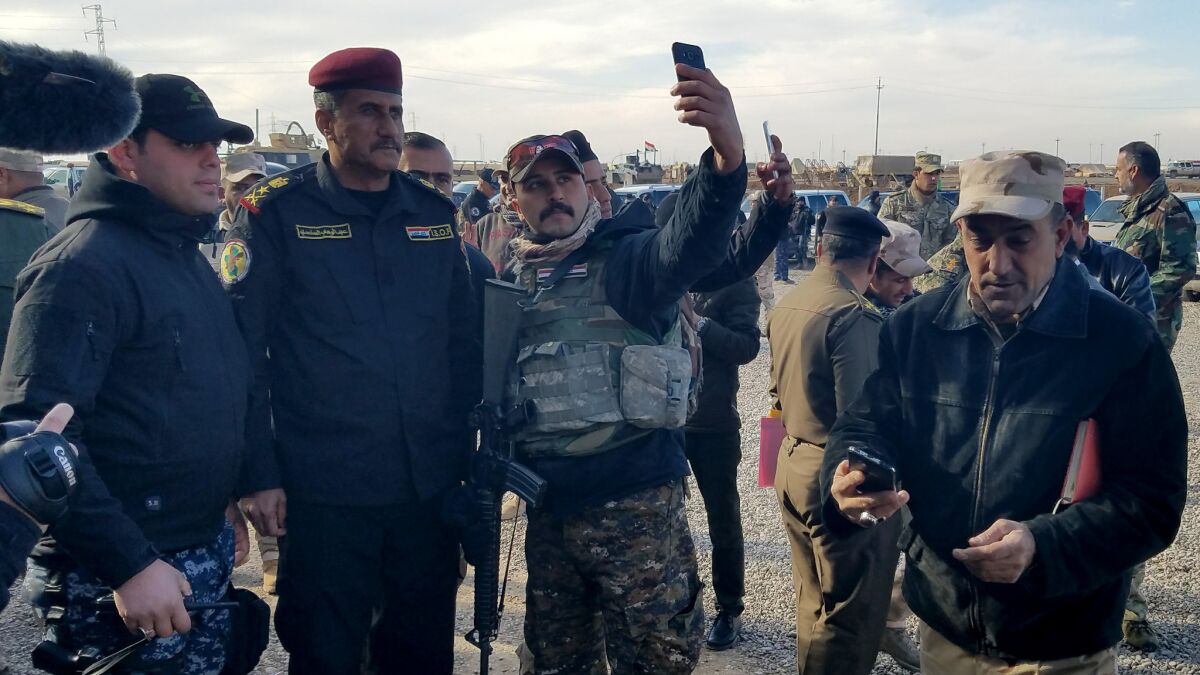 Reporting from Hamdaniya, Iraq —
With the offensive to reclaim the Iraqi city of Mosul now in its third month, smartphones are everywhere on the battlefield, where the appetite for selfie photos is proving to be irresistible — and problematic.
Troops and commanders pose atop tanks, Humvees, checkpoints and even on the front lines with bullets flying. They snap pictures of themselves with a mix of generals, civilians, reporters, priests, doctors, babies and anything associated with the Islamic State, including flags, detainees and bodies.
Times reporter Molly Hennessy-Fiske speaks with Iraqi soldiers about the popularity of selfies.
They document themselves with reality-show glee clearing Islamic State tunnels, hoisting salvaged weapons, pointing to graffiti, prisoners and corpses. The photos are far from an official archive of events. But as questions arise about the Iraqi military's treatment of detainees and the bodies of dead fighters, amateur images may become evidence.
Human Rights Watch has cited the amateur photos and videos in complaints about extrajudicial executions of prisoners and other abuses during the offensive.
The organization posted photos and video stills online in accusing Sunni militias and allied Iraqi Security Forces of dragging the bodies of at least five dead militants and executing at least one after he surrendered in Qayyarrah, about 40 miles south of Mosul, on Oct. 3. On video, a fighter could be seen stepping on the militant's body and posing for a photo, the group said. A man in an Iraqi special forces uniform calls for a razor, saying he wants the head of the dead fighter.
"It never ceases to amaze me, nor stops disturbing me, that armed forces take pleasure in photographing themselves during or after committing an abuse. Over the last year, we were able to document the most serious abuses because of forces' own photos," said Belkis Wille, senior Iraq researcher at Human Rights Watch.
This week, troops snapped selfies with the top U.S. and Iraqi commanders as the top brass arrived at an army post east of Mosul for an update on the offensive, which began Oct. 17. Among the most popular: Lt. Gen. Stephen Townsend, commander of U.S. forces in Iraq; Maj. Gen. Najim Jabouri, Iraqi commander of the Mosul offensive, and Lt. Gen. Abdul Wahab Saadi, Iraqi Special Forces commander, recognizable thanks to Facebook.
"I don't have a Facebook account, but because of the selfies they are posting, I became like a hero," Saadi said as he stood among the uniformed crowd. Many held cellphones aloft.
Saadi said the photos are good for morale, and help reassure families back home.
But they can be risky.
U.S. forces are allowed to take selfies in Iraq, as long as their commanders approve, but they may be restricted based on security classification, operational security, safety, or force protection, officials said.
Islamic State fighters monitor social media, and use it to identify and target commanders. Saadi showed video posted online by militants who recently shot at him in Mosul. The bullet lodged in a camera lens he keeps in his office.
He said Iraqi forces are advised not to take selfies in sensitive locations, including bases and areas where they're fighting in Mosul, "so the enemy will not know our position."
But judging from online posts, it's a rule that's rarely enforced. Soldiers post selfies daily from in and around Mosul, especially in recent weeks as the offensive slowed.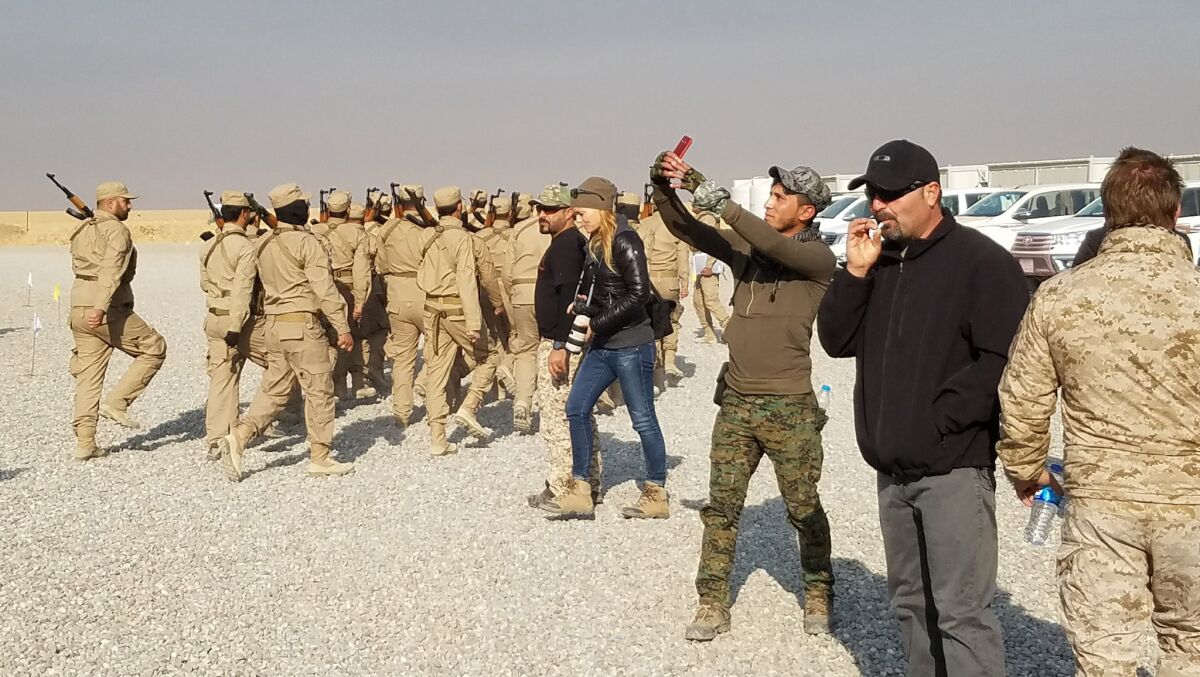 Many see the selfies as the digital continuation of a grand tradition.
Haval Mohamed is a Kurdish police special forces officer, grandson of a Peshmerga fighter whose photos he grew up admiring. They showed his grandfather armed, wearing a traditional red and white headdress and baggy pants, fighting then-President Saddam Hussein's army to free the Kurdish north, now an autonomous region.
As Mohamed guarded a displaced persons camp this week, he scrolled through photos of himself in front of sandbags on the front lines southeast of Mosul. Five soldiers in the photo were later killed in combat, he said.
Now Mohamed, 26, snaps selfies for his daughter, 4-year-old Hasti. Her wide-eyed pictures, complete with superimposed animal faces, are mixed with his. Mohamed said his daughter has seen him in uniform, but doesn't understand the significance.
"One day if I die, she will know her dad was fighting for his land and will be proud of those photos," Mohamed said.
In Shakoli, a village about 20 miles east of Mosul, Mohamed Garib, 27, showed off selfies taken with would-be Islamic State suicide bombers, who were fatally shot by his unit of Kurdish fighters before the extremists could detonate their explosive belts.
He wanted the photographs, he said, "To prove to people we had fierce and hard fighting" with Islamic State and "to show people how dirty and criminal they were."
Several miles west in the recaptured Christian city of Bartella, special forces soldier Eskander Shamary posed for a selfie atop his Humvee this week with the popular Tiger energy drink, then scrolled through other recent photos.
In one, he wore a black and white ghost mask, used to hide his face from militants, as he guarded a crumbling strip mall. In another, he distributed water to children, making the "V" for victory sign with them.
"The best selfie I took was with the bodies of Daesh," Shamary said, using the Arabic acronym for Islamic State.
In the photo — a close, intimate shot in which the backdrop of a Mosul street is barely visible — the soldier looms large in the frame above the body of a bearded militant in baggy brown shirt and pants. The man had been shot several times.
"I'm posting them on Facebook and showing my friends and family," said Shamary, 29.
A fellow special forces soldier, Safaa Sabah, joined him to compare shots.
Sabah showed off selfies taken with a tattered black and white Islamic State flag recovered in east Mosul. In another, Sabah, 29, of Baghdad, pointed his gun at the head of a shirtless detainee — an Islamic State captive, he said.
"The reason I took a selfie with Daesh was to show my people we are making progress," he said.
The Iraqi army's reputation was tarnished here two years ago when Islamic State seized Mosul, and Sabah sees the photos he takes, especially the ones of soldiers helping civilians, as a way to rebuild credibility. They want to win back not just the city, but its mostly Sunni Muslim people.
He said restrictions on selfies mostly have to do with being careful about showing too much background.
"It might be a danger to us: Daesh could figure out our position," he said.
He said selfies also pose the risk of becoming Islamic State propaganda.
Sabah's Facebook account was recently hacked, his photos stolen and used by someone who misidentified the special forces as sectarian Shiite militias who had come to the mostly Sunni city "to kill our people."
As they prepared to return to the front line, the soldiers said they planned to continue taking selfies. Shamary had his sights set on the ultimate shot: "With commanders, celebrating the last neighborhood we liberate."
molly.hennessy-fiske@latimes.com
Twitter: @mollyhf
ALSO
With Christmas Eve Mass, Iraqi Assyrians reclaim church from Islamic State
Who wants what in Syria: World powers jostle for influence
The sharp rise in non-Latin American migrants trying to cross into the U.S. from Mexico
---
Must-read stories from the L.A. Times
Get the day's top news with our Today's Headlines newsletter, sent every weekday morning.
You may occasionally receive promotional content from the Los Angeles Times.