Saudi Arabia's first new cinema in decades holds its grand opening with a screening of 'Black Panther'
Saudi Arabia's first new movie theater in more than 30 years, an AMC Cinema, threw open its doors for a gala screening of the Hollywood blockbuster "Black Panther."
Reporting from Riyadh, Saudi Arabia —
Cinema lovers in this desert kingdom have long had to travel to Bahrain, the United Arab Emirates and beyond to enjoy a night at the movies.
That changed Wednesday, when the country's first new movie theater in more than 30 years, an AMC Cinema, threw open its doors for a gala screening of the Hollywood blockbuster "Black Panther."
A VIP audience of government officials, movie industry insiders and at least one princess posed for selfies on a red carpet, collected their popcorn and took their seats in front of a 40-foot screen.
"Welcome to the AMC Cinema Riyadh," the company's chief executive, Adam Aron, said to hoots and applause. "This is a historic day for AMC. This is a historic day for your country."
The return of cinemas to one of the world's most conservative Islamic nations is part of a broad modernization drive by the kingdom's 32-year-old crown prince, Mohammed bin Salman, who aims to wean the economy from its dependence on oil production and ease the stifling social strictures imposed on a mostly youthful population of about 32 million.
By developing the country's nascent entertainment industry, authorities hope to create job opportunities and make life more enjoyable. Wednesday's opening was one of the most anticipated events on a calendar that now includes concerts by American rapper Nelly and Greek-born pianist and composer Yanni, food truck and comic-con festivals, dance performances and monster-truck rallies.
Movie theaters have been barred in Saudi Arabia since the early 1980s, when the kingdom began enforcing an austere version of Islam that frowns on most forms of entertainment and believes any mixing between unrelated men and women will corrupt public morals.
The only public cinema in operation was an Imax theater housed at a science center that shows educational films. But that hasn't prevented Saudis from watching films on the internet, satellite television or DVDs. Some have built lavish home theaters, complete with popcorn machines and cinema-style seating. And many travel to theaters in nearby countries.
The Saudi authorities would prefer that they spend that money at home. They lifted the cinema ban in December and aim to have around 2,000 screens built by 2030, which they project will create more than 30,000 jobs.
International cinema owners and studios have been clamoring to get in on a market that industry experts say could generate $1 billion a year in annual box-office receipts.
"The pent-up demand for going to cinemas I think will be beyond our imagination," Aron said in an interview last week.
The company, which is based in Leawood, Kan., and is the world's largest cinema operator, was awarded the first license to run movie theaters in the kingdom two weeks ago. It plans to have up to 40 theaters in 15 Saudi cities within five years, and up to 100 theaters in 25 cities by 2030.
Aron said the biggest challenge was how quickly the Saudis wanted the first cinema to open.
"The Saudi government believes the reopening of cinemas in Saudi Arabia is an incredible, visible symbol of the modernizing and moderating of Saudi society, so they have been quite enthusiastic," he said.
Rather than attempt to build a theater from scratch, AMC converted a vacant concert hall in a partially built financial district of the capital that was under the control of its partner, Saudi Arabia's main sovereign wealth fund, the Public Investment Fund. Leather reclining seats were dispatched by air freight from the United States. The first laser projector arrived at the theater last week. Speakers were installed on Monday.
Members of the public will be able to purchase tickets online to watch movies there beginning Friday. (Ticket prices will be similar to those in major U.S. markets such as Los Angeles and New York.) Three more screens will be added over the summer, along with seating and sound upgrades.
But officials don't expect theaters to begin proliferating across the nation until next year.
"It takes about eight to 12 months either to build something from scratch or to refit a certain location within a mall, so it's going to take some time before we see the rollout of cinemas everywhere," said Redha Haidar, president of Saudi Arabia's General Commission for Audiovisual Media, the regulatory body for the movie industry.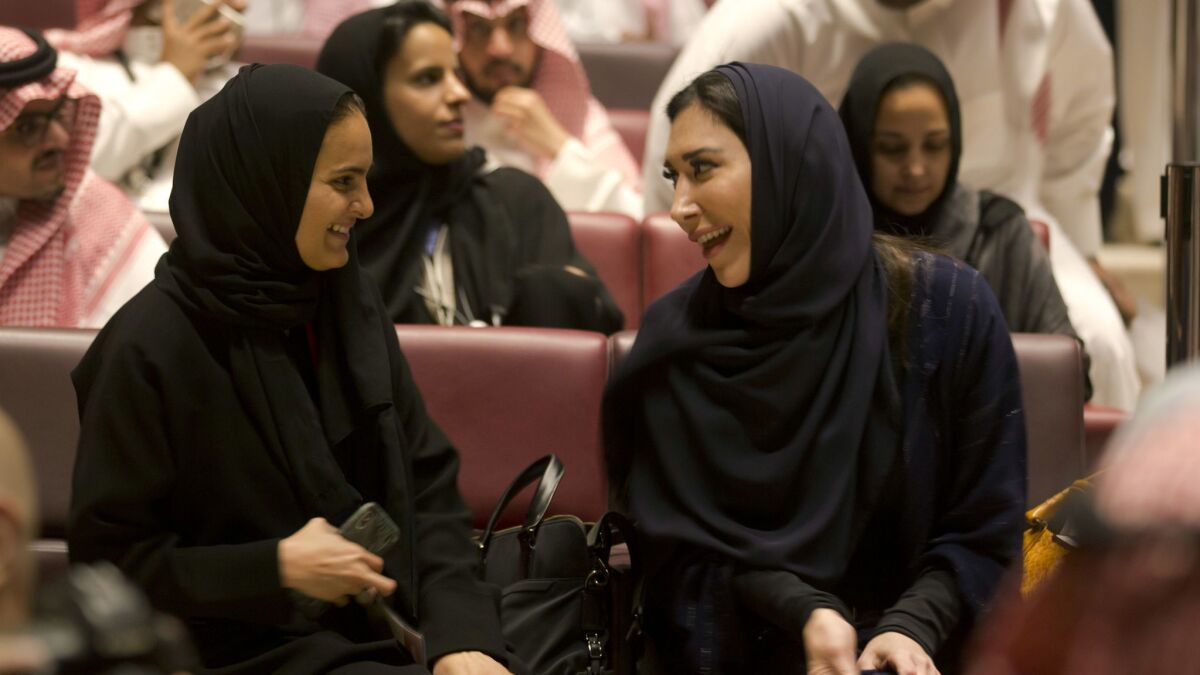 AMC has already scouted out dozens of potential locations, including in shopping malls that already had theaters built into their plans in anticipation of the lifting of the ban. But Aron said even if there might already be the shell of a theater waiting to be filled out, in most cases it is only designed for two to four screens.
"We think the sweet spot is eight- to 12-screen multiplexes," he said. "So while it's a good head start that some of those shells are there, we think for them to be optimized commercially, those are going to have to be expanded to a much larger footprint."
In other cases, mall owners will need to relocate tenants or expand their premises.
Saudi authorities plan to issue more licenses to operate cinemas in the coming weeks. Among the companies vying for a foothold in the country are the Boca Raton, Fla.-based iPic — known for its luxury dine-in cinemas — which hopes to build as many as 30 theaters over the next 10 years, and the Canadian big-screen company Imax, which aims to operate up to 20 theaters within three years.
There have been complaints from local companies who say they are being denied a chance to compete for a license.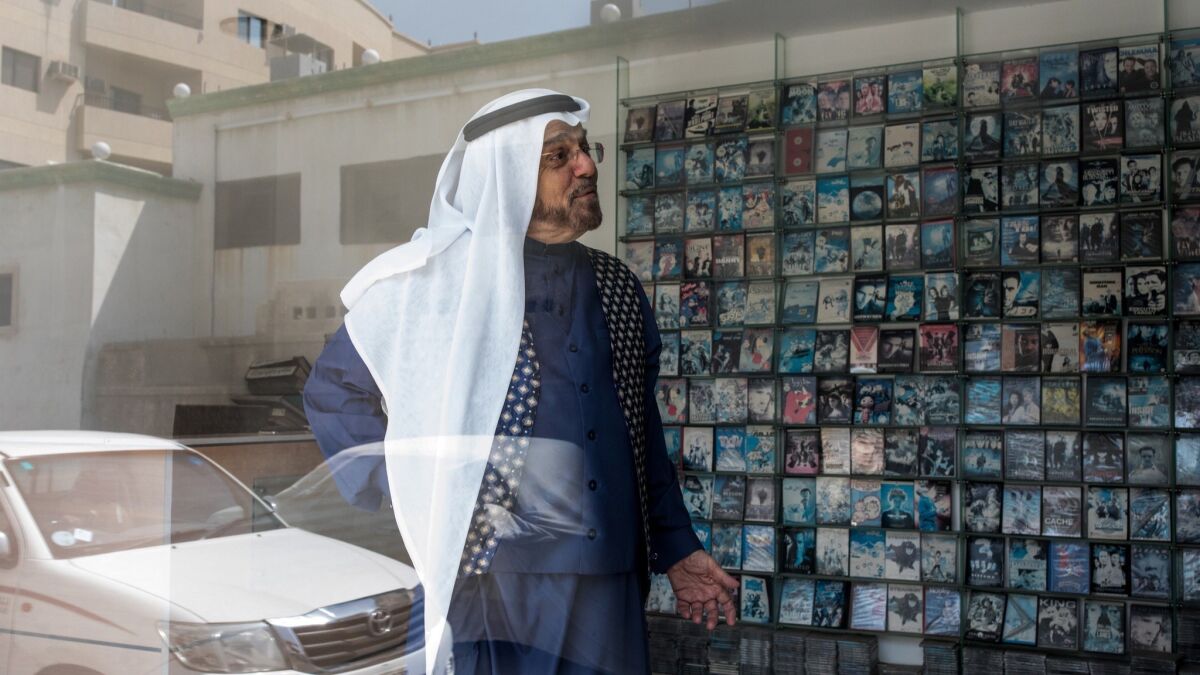 Saudi officials say they are looking for movie exhibitors who have been in the business at least 10 years, operate at least 100 screens and have the financial means to bring cinemas to communities across the country — conditions that no local company can meet, said Shihab Jamjoom, patriarch of a family that operated nine screens in the Red Sea port city of Jidda during the 1960s and 1970s.
When the country's religious authorities started cracking down on movie theaters, the Jamjooms switched to distributing videos and later DVDs. Jamjoom's late cousin, Fouad, was jailed repeatedly for smuggling the latest Hollywood movies into the country, even though he had paid for the rights to distribute them in Saudi Arabia.
The family has since expanded into film production and dubbing, but is keen to get back into the business of running cinemas.
"They should give a chance to the locals to be part of this industry," Jamjoom said, "especially those who suffered in the past."
For the government, however, the priority is to get the industry off on a strong footing.
"We're getting into this market quite late … so we're very keen on having the best know-how," Haidar said. But he said the conditions for a license aren't set in stone and there could be opportunities for smaller operators to get into the market later.
Cinema operators have also raised questions about the seating arrangements at theaters and the level of censorship that will be imposed on the films shown.
Restaurants have separate sections for families and men dining alone. No such requirements were imposed on the first movie theater in Riyadh, although there could be separate screen times for families and bachelors.
Officials say the restrictions on content will be similar to those in other Persian Gulf nations. Sex and nudity will almost certainly be out; along with anything critical of the monarchy.
One of the reasons "Black Panther" was selected for opening night was because it contains very little objectionable content, Haidar said. Less than a minute was cut from the film.
Aron also hinted at another possible reason. "It is the story of a young prince who transforms a great nation," he told the audience Wednesday. "That might sound familiar to some of you."
Audience members were thrilled with the choice.
"We want to be part of a new, more technologically advanced country" — just like the people in the fictional African nation of Wakanda, said Sara Mohammed, a human resources specialist.
She was already making plans for a girls' night out to the movies.
"Every time I travel, it's a must to go watch a movie," she said. "It's super exciting to be able to do it here."
Others in the audience had bigger plans.
"My whole life, all I wanted was to make movies," said Danya Alhamrani, who just finished working on a documentary called "Silent Revolution," about pioneering Saudi women. "Now I have an opportunity to show the fruits of my labor in my country."
She was primarily there to network Wednesday, but when the lights dimmed and a short film was shown about the history of movie making, she found herself getting surprisingly emotional.
"Now we are becoming a part of that history," she said.
Twitter: @alexzavis
Must-read stories from the L.A. Times
Get the day's top news with our Today's Headlines newsletter, sent every weekday morning.
You may occasionally receive promotional content from the Los Angeles Times.