Syrian rebels withdraw from Damascus suburb, ending long-running siege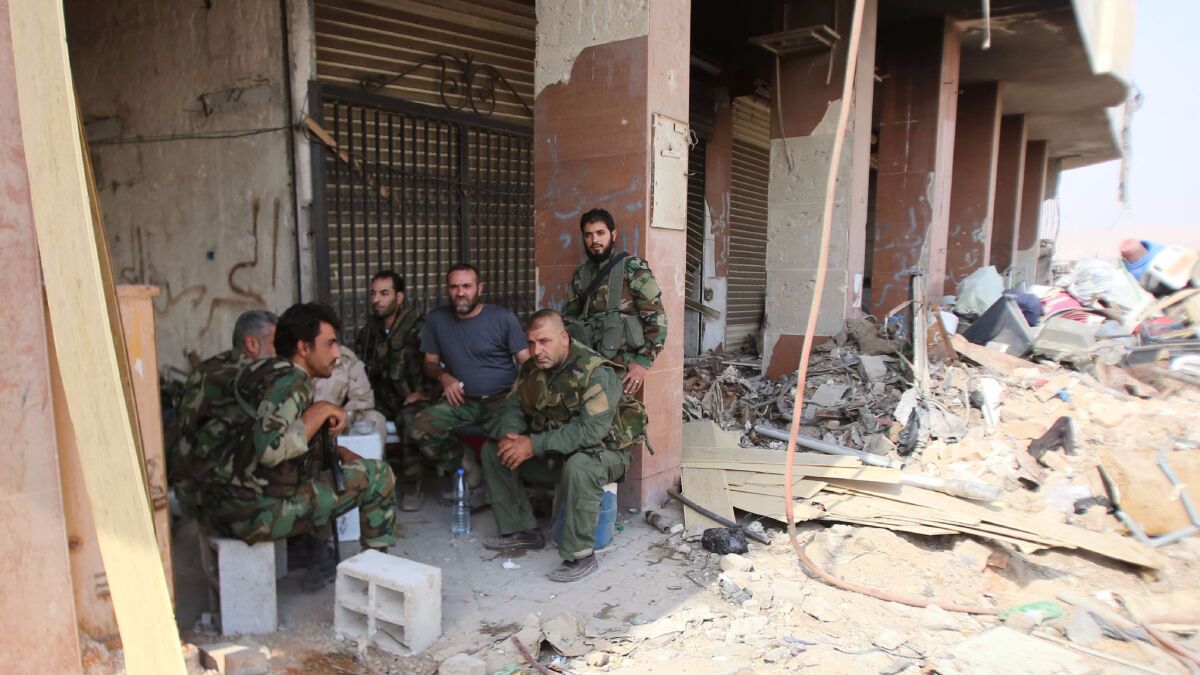 Reporting from AMMAN, Jordan —
Syrian rebel fighters evacuated the Damascus suburb of Darayya on Friday, government officials and rebel leaders said, ending one of the longest sieges in the country's devastating civil war.
Syrian state news operator SANA reported that "a reconciliation agreement" had been struck in the city of Darayya, a short 15-minute drive from the center of Damascus, "so as to empty it of arms and gunmen in preparation for the return of all state institutions and the inhabitants of the city."
Families now in the besieged suburb will be transferred to "temporary residency centers" while roughly 700 gunmen would be moved to the rebel-held province of Idlib after surrendering their medium and heavy weaponry to the Syrian government troops, Darayya's mayor, Marwan Ubeid, was quoted as saying.
An opposition activist in the city, who gave his name as Mutaz for safety reasons, confirmed the deal in an interview early Friday. He said that roughly 4,000 civilians will be taken to the Damascus suburbs of Qudsaya and Kisweh. The transfers will occur under international supervision, he said.
Al Mayadeen, a Lebanese news channel close to Assad ally Hezbollah, broadcast live images from Darayya showing government troops standing near what it said were 45 green-and-white buses prepared to move out civilians.
Meanwhile, officials were checking off names of those fighters who had chosen to leave, while those remaining behind would be evacuated over the next four days, the news agency reported.
State TV and activists reported later that buses had begun the transfer.
Another Darayya-based activist, Malek Rifaii, said that most of the fighters would be going to Idlib and had felt that the agreement was fair.
"There is a general feeling of satisfaction among the people, " said Rifaii in a phone interview Friday.
"People were tired, and they had withstood for four years. And the fighters got to leave with their weapons. This was not a surrender."
He explained that those who would go to areas near Damascus would undergo reconciliation — an amnesty the government offers to rebels as long as they lay down their arms.
Critics, however, insist that those who have undergone reconciliation have been "disappeared" by the government or punished.
The reconciliation agreement follows similar deals forged in the central city of Homs in May 2014, deals that saw fighters and their families evacuate the city's old quarter and transferred to Idlib.
The U.N.'s Special Envoy to Syria, Staffan de Mistura, issued a statement Friday saying: "The situation regarding Darayya [was] extremely grave."
"It is tragic that repeated appeals to lift the siege of Darayya, besieged since November 2012, and [to] cease the fighting have never been heeded," said Mistura, adding that he was "made aware of the agreement to evacuate the civilians and fighters" overnight.
"The U.N. was not consulted or involved in the negotiation of this agreement. It is imperative that the people of Darayya are protected in any evacuation that takes place, and that this takes place voluntarily."
He appealed to members of the International Syria Support Group, a coalition of countries, including the U.S. and Russia, working to bring about an end to the war in Syria "to ensure that the implementation of this agreement and its aftermath is in full compliance with international humanitarian law and protection standards."
Opposition activists uploaded video depicting rebel fighters embracing family members before their departure. Other photos showed women and men dragging their luggage through neighborhoods all but pulverized by almost four years of constant fighting.
The deal marks the end of one of the Syrian civil war's most punishing standoffs.
Darayya, a suburb once home to 78,000 people and thought to be the site where Paul the Apostle had his conversion on the road to Damascus, was one of the first areas near the capital to join anti-government uprisings and became a byword for opposition to the rule of Syrian President Bashar Assad.
The suburb is also close to Mezzeh military airport, which reportedly houses headquarters of the government's elite Republican Guards and the much-feared Air Force Intelligence.
In August 2012, Darayya was the site of what U.N. Secretary-General Ban Ki-moon said was "an appalling and brutal" massacre that killed more than 200 people, many of them civilians, after fierce clashes forced rebel fighters to withdraw to the suburb's outskirts. Both sides blamed the other for the killings.
Rebel factions seized control of Darayya later that year, but found themselves steadily losing a war of attrition with pro-government forces who mounted an increasingly tight siege on the area. Despite intense lobbying by the United Nations, only one food shipment had entered Darayya since June, when a fragile ceasefire deal was forged to allow the delivery of aid.
Meanwhile, activists in the town spoke of frequent bombings by government warplanes, including one they claimed took out the last remaining hospital in the suburb last week.
Images broadcast by both government and opposition supporters hinted at the scale of the destruction within, and of the bitter calculus that would count Darayya a victory for the government in Syria's vicious civil war; hardly any neighborhood escaped unscathed, with anywhere from 60% to 90% of the buildings damaged or destroyed.
Opposition supporters took to social media to condemn the agreement; they excoriated rebel factions in the country's south for not doing more to help break the siege on the city.
Yet rebel activists in Darayya insisted they would leave the city only to fight the government once again.
Abu Jaafar Al-Homsi, the nom de guerre of a commander in the Martyrs of Islam Brigade, one of the two major factions in the suburb, posted a defiant statement on Twitter, saying the deal had come after "thousands of failed incursion attempts" by pro-government forces.
"We leave the stones of Darayya in the care of Allah … and accompany with us the heroes of Darayya and their rifles," he wrote.
Yet even those who claim they no longer want to fight say they have no choice but to go to Idlib.
"If I reconcile it means I'll have to go back to compulsory military service. From Idlib I may go to Turkey," said Rifaii.
"I'm done with war. Enough."
Bulos is a special correspondent for the Los Angeles Times.
ALSO:
Syrian rebels backed by Turkey and U.S. claim major victory over Islamic State
As women are fined for wearing head scarves, French activists push back on 'burkini' ban
Crews find living among the dead as search goes on for survivors of Italy quake
---
UPDATES:
12:25 p.m.: The article was updated with additional reaction to the developments.
8:30 a.m.: This article was updated with a report of aid trucks entering Darayya.
8:05 a.m.: This article was updated throughout with additional details.
This article was originally published at 12:40 a.m.
---
Must-read stories from the L.A. Times
Get the day's top news with our Today's Headlines newsletter, sent every weekday morning.
You may occasionally receive promotional content from the Los Angeles Times.