United Arab Emirates reopens its embassy in Damascus, another sign that Assad has won Syria's civil war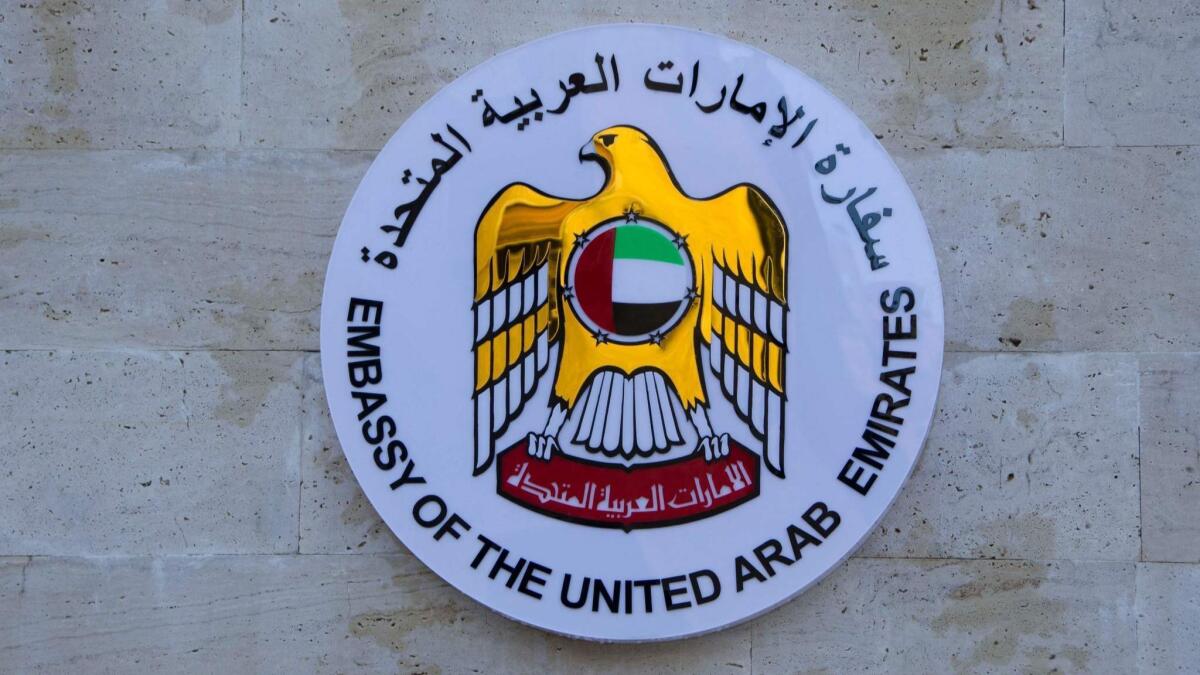 Reporting from Beirut —
The United Arab Emirates reopened its embassy in Damascus, Syria, on Thursday, marking the first official acknowledgment by regional adversaries of Syrian President Bashar Assad that he has won the almost eight-year civil war to dislodge him.
The embassy was shuttered in February 2012, almost a year into a crisis that began with "Arab Spring"-inspired protests against Assad's rule and metastasized into a sectarian conflict that killed hundreds of thousands, made millions of others refugees and laid waste to vast areas of the country.
The reopening represents a significant victory for Assad, who had fought for years against rebel factions receiving weapons and material support from Saudi Arabia, Qatar and, to a lesser degree, the UAE.
All three countries were also involved in CIA-led logistics hubs that trained and equipped opposition fighters. However, U.S. support for the rebels appears to be largely over in the wake of President Trump's announcement last week that he is pulling out all U.S. troops from Syria. Although U.S. troops were there to fight Islamic State, not Syria, their departure will presumably strengthen Assad and his Russian and Iranian allies.
There have been hints of a thaw by other countries. Sudanese President Omar Hassan Ahmed Bashir, who has strong ties with Saudi Arabia and the UAE, visited Damascus this month. Last week, Syrian intelligence chief Ali Mamlouk paid a rare visit to Cairo. And there have been reports by Syrian news outlets that Bahrain might reopen its embassy in Damascus next week.
Saudi Arabia, which vies with Iran for influence in the region, has not said whether it plans to follow the UAE lead.
A number of Arab states closed their embassies in the months following Syria's suspension from the Arab League in November 2011, with leaders calling on Assad to leave power. Others, including Oman and Egypt, kept their diplomatic missions open.
Far from leaving, Assad is now at his strongest since the crisis began. Behind that cold truth is the lure of hundreds of billions of dollars in reconstruction projects needed to rebuild the country, and a U.S. administration that's seeking to disengage itself from Syria, leaving many of its international and regional allies scrambling to realign their interests with the sides still involved in the country.
News crews congregated on the embassy's street in Damascus' upscale Abu Remmaneh district on Thursday afternoon (it too had been closed to traffic for more than six years), as diplomatic cars slid to a halt before the gates for officials to attend a ceremony that culminated with the raising of the Emirati flag on the embassy grounds.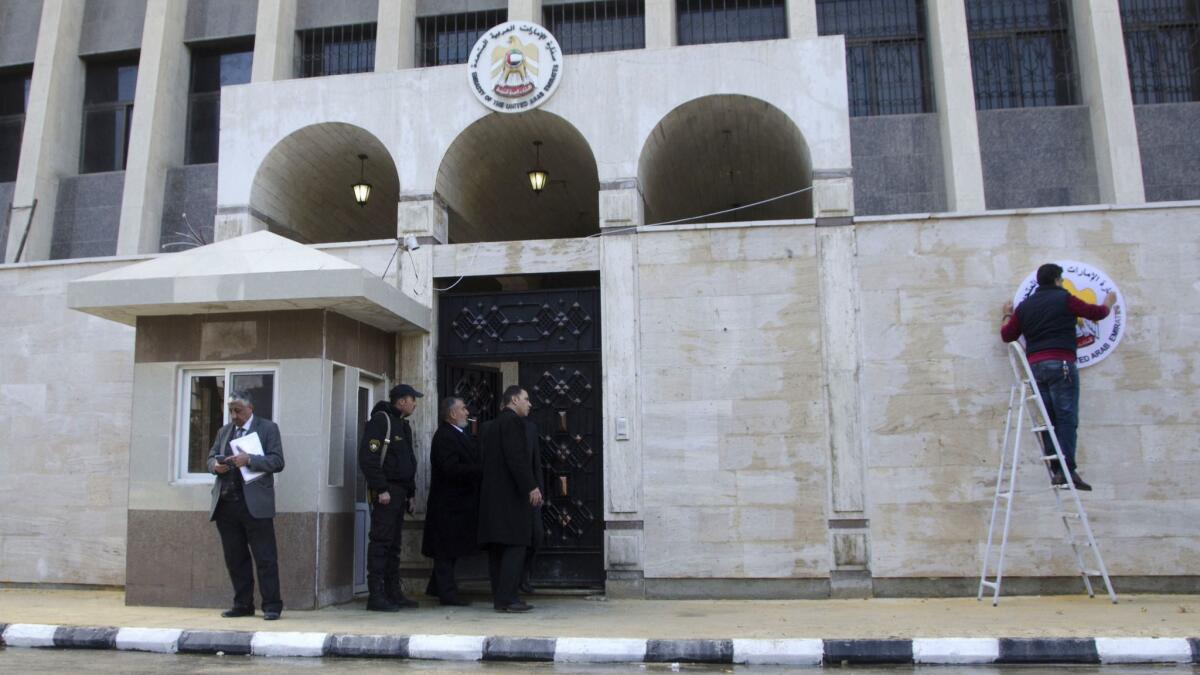 "Syria is back to the Arab world and it will return with power," said UAE Chargé d'Affaires Abdul Hakim Naimi in an interview with Syrian reporters in front of the embassy.
"This is a call to restore relations with Syria and open the embassies of other Arab nations."
Later, the UAE Foreign Ministry issued a statement saying the embassy had resumed work.
The reopening, the statement continued, confirmed the UAE's desire to "restore relations between the two brotherly nations to their natural course," with the aim of boosting Arab states' role in "supporting the independence and sovereignty of Syria" and to "avoid the risk of regional interventions."
The ambassador and other staff will be arriving in the first week of the new year, said one Syrian diplomatic official who withheld his name because he was not authorized to speak publicly on the matter.
For weeks, cleanup crews had been seen on the embassy's grounds, fueling rumors that a restoration of relations between the two countries was imminent.
The Syrian rebels seeking to overthrow Assad once had overwhelming international support, although many countries were reluctant to back that support with arms shipments or military engagement. But the rebels' backing has dwindled as they lost ground over the last two years to successive Russian- and Iranian-backed onslaughts, with Assad vowing to regain control over "every inch of Syria."
He still faces Turkish-controlled militants in the country's north as well as Kurds in the northeast backed by the U.S.
Kurdish forces, however, are now in peril in the wake of Trump's announcement of the withdrawal of roughly 2,000 U.S. troops, a decision which cedes the fight against Islamic State in the areas outside government control to Turkey.
That move has raised fears in Saudi Arabia and the Emirates; both are vying with Turkey for regional influence and want to see Iran ousted from Syria.
"The Arab role in Syria has become more necessary due to Iranian and Turkish transgressions," tweeted the UAE's foreign minister, Anwar Gargash, on Thursday.
Trump has also called for regional countries to bear a larger burden in the reconstruction bill.
On Monday, he tweeted, "Saudi Arabia has now agreed to spend the necessary money needed to help rebuild Syria, instead of the United States."
"See? Isn't it nice when immensely wealthy countries help rebuild their neighbors rather than a Great Country, the U.S., that is 5000 miles away. Thanks to Saudi A!"
The White House later explained that Trump was referring to an August pledge by Riyadh to give $100 million to stabilize areas of Syria liberated from Islamic State militants by a U.S.-led coalition.
The opening of the UAE embassy, said Abdel Bari Atwan, editor of the London-based pan-Arab news site Rai al Youm, would serve as a channel for Saudi Arabia to coordinate its reconstruction efforts with Syria.
But it also symbolized something larger, said Atwan: an acknowledgment that "Assad and his regime would continue."
"It means the Arab revolutions of seven years ago are over," he said.
Twitter: @nabihbulos
Sign up for Essential California for the L.A. Times biggest news, features and recommendations in your inbox six days a week.
You may occasionally receive promotional content from the Los Angeles Times.