Deposed strongman Ali Abdullah Saleh killed after switching sides in Yemen's war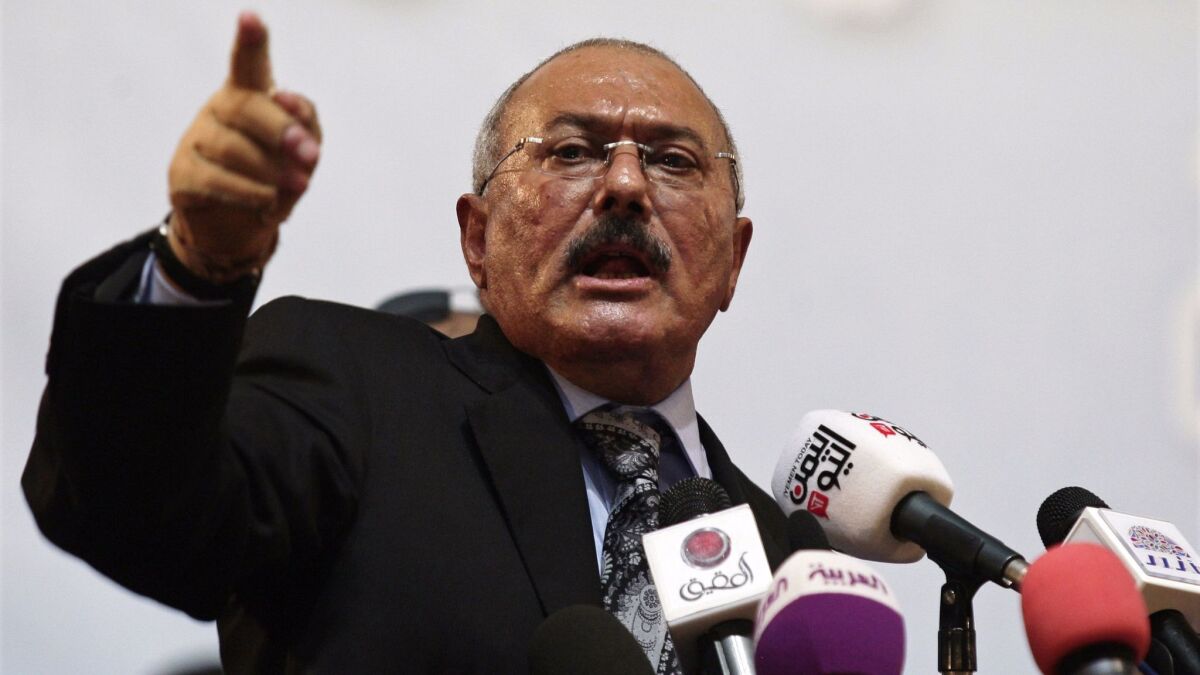 Reporting from SANA, Yemen —
Ali Abdullah Saleh, the deposed strongman who led Yemen for more than three decades and colluded with Iran-aligned rebels to topple his successor, was killed Monday as fighting raged between his followers and their former allies, according to officials on both sides.
Saleh's death removes one of the most enduring and cunning political figures in Yemen, injecting new uncertainty into a devastating civil war just days after he turned against the rebels, known as Houthis, and made overtures to the Saudi Arabia-led coalition that sided with the country's internationally recognized government.
Even after he was swept from office five years ago in an "Arab Spring" uprising, Saleh remained a force in Yemen, retaining the loyalty of the Republican Guard and other elements of the security forces.
The Houthis announced Saleh's death after reports of an explosion at his family's compound, but there were conflicting accounts about the circumstances. Houthi officials said their forces ambushed Saleh's convoy as he tried to flee the capital, Sana, but members of his political party, the General People's Congress, said a sniper shot him.
Grisly video circulating on social media purported to show gunmen loading Saleh's body, wrapped in a floral blanket, onto the back of a pickup truck and shouting, "God is great!"
Saleh appeared to have sustained a wound to the head, and his shirt was stained with blood. The authenticity of the short clip could not be independently verified.
The Houthis' leader, Abdel-Malek Houthi, hailed Saleh's death as "the fall of the conspiracy of cunning and betrayal," saying Saudi Arabia and its allies were dealt a "resounding, historic defeat."
In a televised address from the Saudi capital, Riyadh, Yemen's exiled president, Abdu Rabu Mansour Hadi, sought to rally Saleh's forces, saying his government would support any uprising in Sana.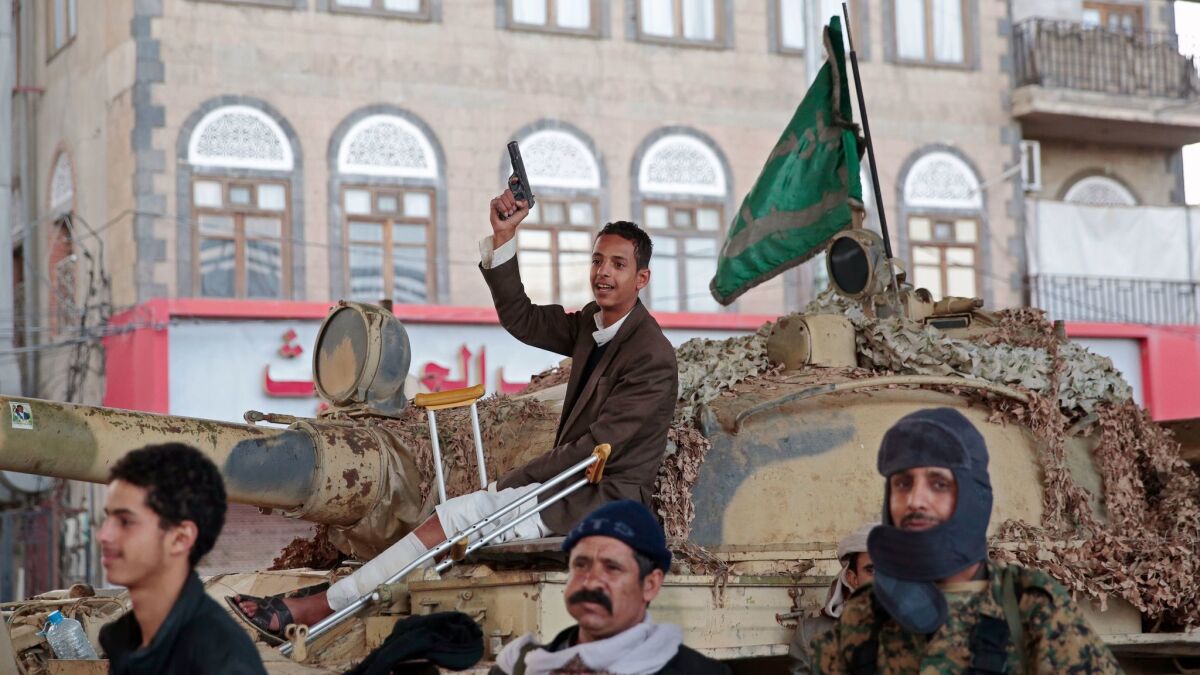 Saleh, who once compared leading Yemen to "dancing on the heads of snakes," was regarded as a supreme tactician, making and breaking alliances with ruthless skill to ensure his political survival.
As president, he was an important ally to the United States in the fight against Al Qaeda's affiliate in Yemen and clashed repeatedly with the Houthis. But after he was toppled, he struck a deal with the rebels.
Rogue elements of the military still loyal to Saleh provided critical support to the Houthis when they charged out of their northern strongholds and took over the capital in 2014.
The Houthis' sudden advance alarmed Saudi Arabia, which views the rebels as proxies of its archrival, Iran. With backing from the United States, it formed a military alliance with the United Arab Emirates and other Persian Gulf nations to restore Hadi to power.
When clashes erupted in the capital last week between the Houthis and Saleh's forces, many here assumed the coalition had a hand in the unraveling of the rebel alliance.
In a televised address Saturday, Saleh blamed the Houthis for a crippling blockade imposed by Saudi Arabia and its allies and said he was ready for talks with the coalition.
The coalition welcomed his appeal to "open a new page," raising hopes among some diplomats and analysts that it might be possible to break the deadlock that has stymied efforts to negotiate a political solution to a multi-sided war that has killed more than 10,000 people, displaced over 3 million and pushed the Arab world's poorest nation to the brink of famine.
With Saleh's death, peace in Yemen appears even further out of reach.
"The road map for peace is now obsolete," said Adam Baron, a Yemen analyst at the European Council on Foreign Relations. "It's clear there will be more conflict … and greater suffering for Yemenis is much more likely."
As coalition warplanes streaked over Sana late Monday, residents braced for what many feared would be a push by the coalition into the capital.
"Now we don't know what will happen," said Mona Saleh (a common last name here), a 30-year-old schoolteacher who recalled a time when the former president brought a measure of stability to Yemen after previous civil wars. "We have been hearing airstrikes all day, and citizens were already suffering — no salaries, not enough food, and prices have increased in an unprecedented way."
The only choices left, she added, were "to die by airstrikes, armed clashes or starve."
At least 125 people have been killed and more than 230 injured since the infighting began in the capital Wednesday, according to the International Committee of the Red Cross.
Some of the fiercest clashes have occurred in the area where the United Nations and other humanitarian organizations have their compounds, impeding the delivery of desperately needed relief.
"You can hear the gunshots, [rocket-propelled grenade] firing and the tanks meters away as we spend most of our day taking shelter in the basement," Johan Mooij, CARE International's director in Yemen, said in a statement issued with four other agencies.
Ambulances have been unable to reach the injured, and residents have been unable to buy food and other supplies, according to aid workers.
But as street fighting appeared to subside in the hours after Saleh's death was announced, some saw an opportunity for countries with influence over parties to the conflict to press for a cease-fire and a return to the negotiating table.
"I think the important thing now is to test the proposition … that reconfiguring the players creates the possibility of finding a resolution to the conflict," said Jon Alterman, who heads the Middle East Program at the Center for Strategic and International Studies in Washington.
In his final days, Saleh appeared to offer a possible way out of the catastrophic conflict he helped foment.
"The challenge now," Alterman said, "is who can play that role?"
ALSO
A Saudi prince is shaking up the Middle East — and may be pushing it toward war
Who are Sufi Muslims and why are they the target of Muslim extremists?
Gaming is flourishing in the Arab world — and governments are taking notice
Special correspondent Ahmed reported from Sana and Times staff writer Zavis from Beirut. Special correspondents Nabih Bulos in Beirut and Ramin Mostaghim in Tehran contributed to this report.
Twitter: @alexzavis
---
UPDATES:
6:55 p.m.: This article has been updated with details about the fighting in Sana, comment from a resident and aid workers and additional background.
12:40 p.m.: This article has been updated with reaction from the Houthi leader, analysis and additional background.
8:25 a.m.: This article has been updated throughout with staff reporting and additional background.
This article was originally posted at 6 a.m.
Must-read stories from the L.A. Times
Get the day's top news with our Today's Headlines newsletter, sent every weekday morning.
You may occasionally receive promotional content from the Los Angeles Times.