Gaming is flourishing in the Arab world — and governments are taking notice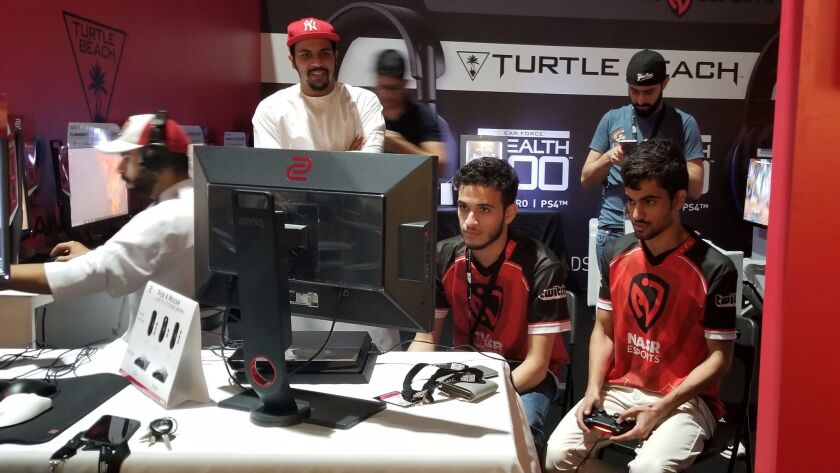 Reporting from Abu Dhabi, United Arab Emirates —
For generations of Arab children, the common refrain among parents with ambitions for their offspring has been: "doctor, engineer, lawyer — or don't bother." Now there's a push to add new titles: game developer, e-sports athlete, YouTuber.
That is the goal of a slew of governmental bodies here, including the United Arab Emirates' National Media Council, as well as tech powerhouses such as Facebook and Twitch.
They were on hand last week, along with more than 10,000 people, to take part in Games Con, a three-day event aimed at showcasing regional talents and letting attendees test-drive new technologies and participate in workshops, e-sports tournaments, even a culturally sensitive cosplay competition.
"In the past, we didn't really look at this field," said Ali Jallaaf, a media advisor with the National Media Council.
"But there's a huge community already here of gamers, artists and cosplayers. We just weren't taking advantage of them."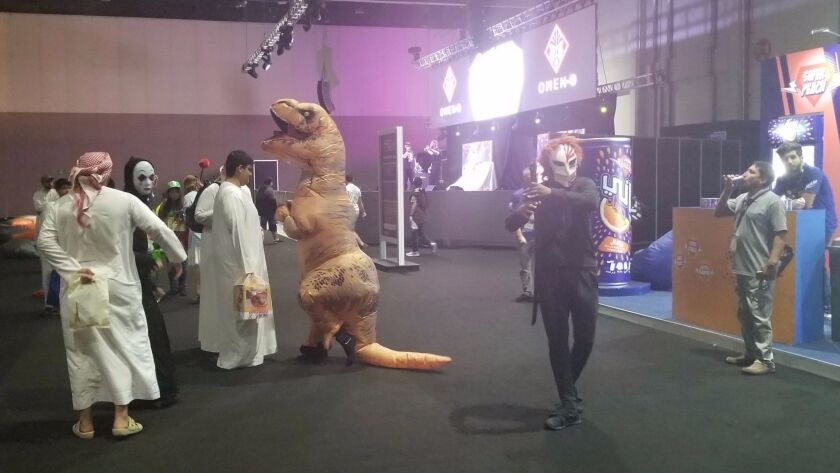 The event, the first of its kind here in the UAE, is a local edition of the video game shows that have ballooned in popularity in the last few years, with conventions in Cologne, Germany; Tokyo and elsewhere boasting attendance in the hundreds of thousands. (A record 335,000 people and almost a thousand companies took part in Gamescom, held in August in Cologne.)
It's an indication of the international appeal of the games market, which in 2017 grew 12% to breach $100 billion for the first time, according to a report from SuperData Research.
Some 665 million people annually now watch what SuperData calls Gaming Video Content, in which people watch people play games, or talk about them on YouTube and dedicated platforms such as Twitch.
Middle Eastern countries have been part of this trend, said Ahmad Nasheet, the Bahraini founder of DvLZGaME, a regional gaming website.
"Before, the region was known for its black market," he said, referring to the ubiquitous piles of pirated DVDs found in most Arab countries. There was virtually no market for legitimate copies.
For the last seven years Nasheet has worked with the likes of Sony and Disney to promote their titles here and get them past the regulators, who have banned certain shows. (For instance, "God of War," a video game published by Sony, was banned in Saudi Arabia because its title was deemed inappropriate.)
Meanwhile, he has watched an e-sports culture take root, though it's still "way behind Asia," he said, where e-sports athletes can enroll in university programs to improve their skills and engage in virtual battles before packed stadiums.
"People here are changing their perspective. Before, they thought their kids were wasting time, but it's different if you come back and tell your family you can make $200,000 from playing games," said Nasheet.
Some regional gamers are already competing at a global level, said Luciano Rahhal, a former advertising executive who founded a regional team, Nasr e-sports, in April.
He now has 28 players, including Sayed "Tekken Master" Ahmed Hashem, a laconic 22-year-old Bahraini who last year almost unseated the world's best "Mortal Kombat" player, Dominique "SonicFox" McLean, at the Evolution Championship Series, an event held around the Las Vegas area that is billed as the world's top fighting-game tournament.
"We're a pro team here, with a salary anywhere from $1,000-$5,000 [a month]. But then you also have prize pools and endorsements," said Rahhal, adding that one of his players, Adel "Big Bird" Anouche, had just scored an endorsement deal with Red Bull, the energy drink company whose marketing strategy has centered on decidedly more active endeavors such as skateboarding and high-altitude parachuting.
Rahhal takes his role as team manager seriously. Players are expected to commit to a strict training schedule, though school and university commitments get priority. He brings a nutritionist to advise his players ("No junk food before tournaments") and books his team sessions at "boot camps" where they train for weeks before big tournaments.
"It's a business, and people need to understand that," he said.
Then there are the YouTubers who rack up billions of views for what are essentially their own self-produced reality TV shows.
At Games Con, international YouTube stars such as Ali A (real name Alistair Aiken, with a whopping 13.6 million subscribers) and Vikkstar (real name Vikram Singh Barn, 8 million subscribers) made an appearance.
So did home-grown talents such as Issa Abdullah, AKA King of Madness, who boasts 1.1 million subscribers.
"I began three years ago with anywhere from one to three videos per week," he said, adding that his parents didn't know anything about his fame until he started getting recognized on the street. "They like it and support me doing it."
One recent video has him traipsing around a park in Barcelona trying to find the singer of "Despacito." It garnered almost 700,000 views.
Hovering near Abdullah was his Syrian manager, Mohammad Fattal. Abdullah is one of several YouTube talents he manages through his company, Al-Fan.
"We curate the content, so entities like Games Con and advertisers can work with our stars," he said, adding that his company's YouTube channels get some 900 million views every month.
Governments have taken notice, said Nasheet. He was to set to go to Riyadh to meet with the Saudi sports commission to discuss state-sponsored games championships.
Jallaaf, the media advisor, said the National Media Council would be establishing a specialized department for developing local talent.
"We're dealing with a different generation, where gamers can also be adults," he said. "We're saying if you're talented, come here, and we'll support you."
ALSO
If the Middle East is a chessboard, here's how the pieces line up in light of recent developments
For Black Cube, a network of for-hire ex-Israeli spies, information is big money
Islamic State has lost 90% of its territory in Iraq and Syria. Where in the world is Abu Bakr Baghdadi?
Bulos is a special correspondent.
Twitter: @nabihbulos
---
Must-read stories from the L.A. Times
Get the day's top news with our Today's Headlines newsletter, sent every weekday morning.
You may occasionally receive promotional content from the Los Angeles Times.