An arrest in Saudi Arabia could be felt as far as Silicon Valley and Wall Street
Alwaleed bin Talal and 10 other Saudi princes have been arrested in an anti-corruption dragnet.
Finance, technology, hospitality, entertainment and real estate: Prince Alwaleed bin Talal has invested substantially and with great fanfare in all of them, as befits his status as one of the world's richest men.
He is also believed to be under arrest in his native Saudi Arabia, ensnared in an anti-corruption dragnet that also pulled in 10 other Saudi princes, four sitting Cabinet members and "tens" of former Cabinet members.
The arrests, viewed as the latest move by Saudi Arabia's young crown prince to cement his hold on power by eliminating potential rivals for the throne, sent shock waves through the kingdom and international business circles, even though such high-profile individuals have been seen for decades as operating above the law.
No names were officially announced. But they reportedly include Prince Alwaleed, a billionaire investor with major stakes in top-name Western companies, and two of the late King Abdullah's sons.
Prince Alwaleed is one of the top shareholders in banking giant Citigroup. He has big stakes in Twitter, Apple, Motorola and Lyft. He owns 45% of Four Seasons Hotels & Resorts and has a substantial interest in Disneyland Paris. He's funded some of the world's largest real estate developments, including Canary Wharf in London and Jeddah Tower in Saudi Arabia, soon to be the tallest building in the world.
After his reported arrest Saturday, questions now circle about what it will mean for the future of his business holdings in the U.S. and elsewhere.
The Saudi-owned news network Al Arabiya said a new anti-corruption committee headed by Crown Prince Mohammed bin Salman was investigating the response to flooding in the city of Jeddah that killed more than 100 people in 2009, as well as an outbreak of the sometimes fatal Middle East respiratory syndrome, or MERS. But the specific accusations against those detained were not immediately clear.
"I think they are using corruption as a tool to further smooth the path towards the eventual succession of the crown prince," said Kristian Coates Ulrichsen, a Middle East fellow at Rice University's Baker Institute for Public Policy.
In less than three years, the crown prince has acquired oversight of nearly every major aspect of the country's economy, defense, internal security, social reforms and foreign policy, probably causing some resentment in a royal family unaccustomed to the concentration of so much power in the hands of one young prince.
But the prince's many supporters have applauded his ambitious plan to modernize the ultraconservative kingdom, which is home to Islam's holiest shrines, and reduce its historic dependence on oil.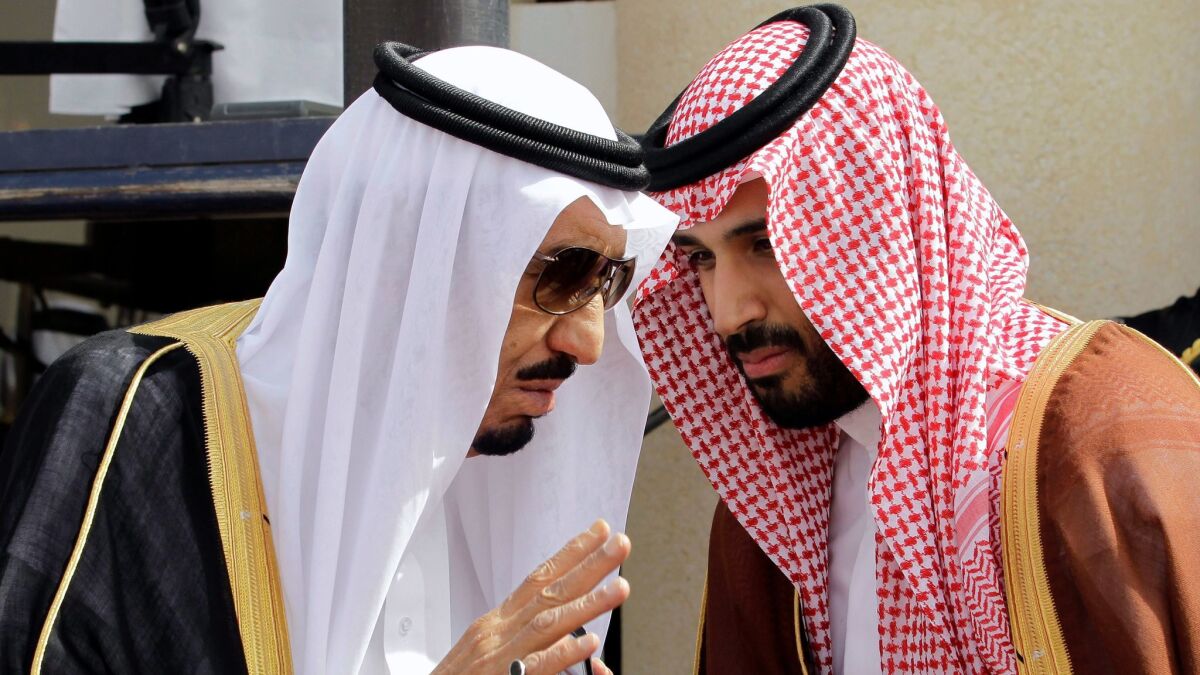 His Saudi Vision 2030 calls for liberalizing the economy and easing social restrictions in order to preserve stability in the face of lower oil prices and a burgeoning youth population in need of employment.
Saudi leaders said the launch of the corruption investigation heralds a "new era" of transparency and accountability, reforms that are needed to attract more foreign investment.
"The state will never tolerate or condone any violations of local or international business standards," Finance Minister Mohammed bin Abdullah pledged in a statement Sunday carried by the Saudi Press Agency.
Analysts, however, said the arrests are likely to rattle investors because so many of the people rounded up were key players in the Saudi business community for decades.
Besides Prince Alwaleed, those reported to have been swept up in the investigation include Adel Fakeih, minister of economy and planning; Ibrahim Assaf, a former finance minister; Amr Dabbagh, the former head of the Saudi Arabian General Investment Authority; Bakr Binladin, head of the Saudi Binladin Group, a major construction conglomerate; and lwalid Ibrahim, who runs the Arabic satellite group MBC.
Also apparently purged was a former rival for the throne, Prince Miteb bin Abdullah, who was arrested and replaced as head of the elite national guard. Prince Miteb was the last member of the late King Abdullah's branch of the family to retain high office. His brother, Prince Turki bin Abdullah, a former governor of Riyadh, was also believed to have been swept up in the investigation.
"Anti-corruption commissions in the past never targeted people that were this influential and this important," said Mohammed Khalid Alyahya, a non-resident fellow at the Atlantic Council's Rafik Hariri Center for the Middle East. "The message that was sent is this will no longer be tolerated."
Prince Alwaleed, who attended Menlo College in Atherton, Calif., burst onto the U.S. financial scene in 1991 when the then-36-year-old made the risky move of buying an $800-million stake in Citi, which was being pressured by regulators to increase its capital base. By 2005, his Citi holdings were worth $10 billion, which made him one of the 10 richest people in the world at the time, according to Forbes, and earned him a nickname he was said to encourage: "the Buffett of Arabia," after Warren Buffett.
He lived a lavish lifestyle, relishing the headlines he earned that included the purchase of Donald Trump's yacht in 1991. He lives in a palace in the capital city of Riyadh that has 420 rooms with marble swimming pools and portraits of himself, Forbes said. He also has a 120-acre resort property at the edge of town that includes five lakes, a zoo, a small-scale Grand Canyon, five homes and 60 vehicles.
He has even managed to draw attention at times when he passes on making an investment, generating buzz in 2015 by meeting bosses of Snapchat only to later decide against funding the Los Angeles social media platform.
Since his Citi gamble, subsequent investments in other high-profile companies haven't achieved such spectacular returns. The image-conscious prince objected in 2013 about being dropped from the Forbes' top 10 list. (The magazine ranked him at No. 45 this year with an estimated personal fortune of $17 billion).
It's not immediately clear how Prince Alwaleed's arrest will affect the Western companies in which he has invested.
The anti-corruption committee led by Crown Prince Salman has the right to issue arrest warrants, impose travel restrictions and freeze bank accounts, the Saudi Press Agency said. It can also trace funds, prevent the transfer of funds or the liquidation of assets, and take other precautionary measures until cases are referred to the judiciary.
Prince Alwaleed owns 95% of Kingdom Holding Co., which he uses to invest his wealth. The company was worth about $10 billion before shares closed down 7.6% in Riyadh on Sunday, a loss of about $750 million. Besides Kingdom Holding, the prince owns real estate in Saudi Arabia, the majority of Arabic-language entertainment firm Rotana, and other assets, according to Forbes.
Kingdom Holding said in a statement Sunday that it is aware of media reports about the arrest of its chairman but that it is continuing its normal business operations and still has the backing of royal leadership.
"The support of the government of the Kingdom of Saudi Arabia to Kingdom Holding is a badge of honor for us," Chief Executive Talal Ibrahim Al Maiman said. "Our company's successful strategy remains intact, and I look forward to advancing our business and create value to all our shareholders."
Through Kingdom Holding, the prince enjoys ownership in some of the world's most prestigious properties and businesses. It has a majority interest in the Savoy Hotel in London, a controlling interest in the Plaza New York hotel and owns the Four Seasons George V Hotel in Paris. It owns significant shares of major media companies News Corp. and Time Warner. It's also invested in Saks Inc., which operates Saks Fifth Avenue luxury department stores.
If Saudi officials opted to liquidate some or all of Kingdom Holding's investments, however, the effect on U.S. markets would probably be slight, USC economist Richard Green said.
Despite Prince Alwaleed's high public profile, Kingdom Holdings' $10-billion valuation is small compared with big players such as Warren Buffett's Berkshire Hathaway at $460 billion and the Vanguard Group, which has $4.5 trillion in assets under management.
"Of course, $10 billion is a big number, but in terms of context it's not so much," Green said. "If Warren Buffett starts selling everything Berkshire Hathaway owns, that would be a problem."
Although a sudden influx of trading volume can in some circumstances drive down a company's stock price, a potential sell-off is unlikely to have major market ramifications because the move would not be viewed by analysts as a vote of no-confidence in the Western companies affected, Green said.
Reports suggested that a number of the detained princes were being held at the Ritz Carlton hotel and other five-star hotels in the capital, Riyadh. The hotel chain Marriott International said it was "evaluating the situation," according to the Associated Press.
President Trump spoke to King Salman on Saturday, as the president headed to Japan, but did not mention the crackdown in remarks afterward.
In response to requests from reporters, the White House on Sunday released a detailed description of Trump's phone call with the king. Salman had called Trump to express his condolences after the terror attack in New York City that left eight people dead, the White House said.
The two also discussed the extremist group Islamic State, the successful interception of a missile attack against Riyadh from territory in neighboring Yemen, Saudi purchases of U.S. military equipment and the expected public offering of Aramco, the national oil company. The arrests were not mentioned in the White House's description of the call.
News of the arrests came just hours after Salman ordered the establishment of the anti-corruption committee to counter what he described in a decree as "exploitation by some of the weak souls who have put their own interests above the public interest in order to illicitly accrue money."
A statement from the attorney general's office emphasized that no assets would be seized during the investigation.
"Everyone is presumed innocent until proven guilty, and everyone's legal rights will be preserved," the statement said.
Times special correspondent Nabih Bulos in Beirut and Times staff writer Brian Bennett in Toyko contributed to this report.
Twitter: @rogervincent, @alexzavis
---
Must-read stories from the L.A. Times
Get the day's top news with our Today's Headlines newsletter, sent every weekday morning.
You may occasionally receive promotional content from the Los Angeles Times.