Clinton says his Iraq war remarks were misconstrued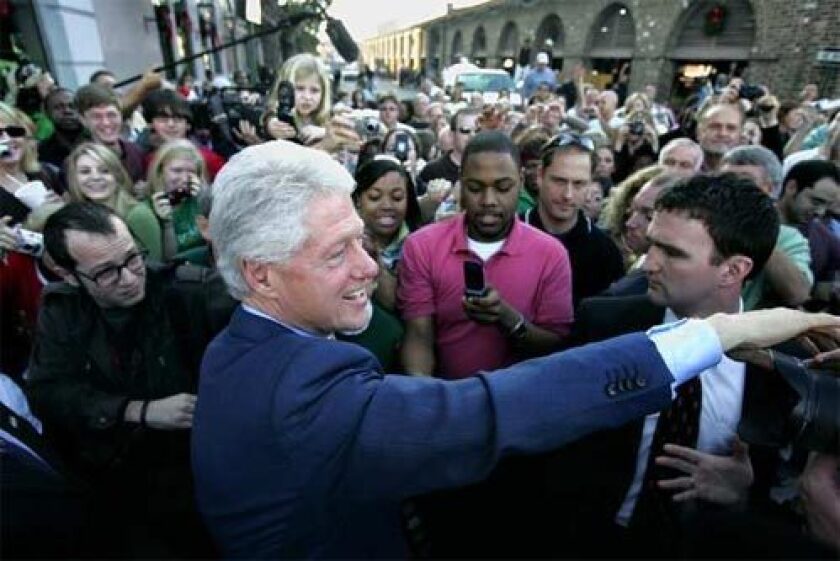 Los Angeles Times Staff Writer
LEBANON, N.H. —
A week after causing his wife's presidential campaign a headache by saying he had opposed the Iraq war from the start, former President Clinton accused the news media on Tuesday of misrepresenting his remarks.
In brief comments to the Los Angeles Times, the former president also defended Sen. Hillary Rodham Clinton's attacks this week on Sen. Barack Obama, her chief rival for the Democrats' White House nomination.
"She has been steadily attacked publicly and privately by candidates and surrogates for months," Clinton said after giving a speech here.
He said the accuracy of his wife's statements slamming Obama's record as a state and U.S. senator "has never been disputed," but did not mention the Illinois lawmaker by name. "Why don't we just have a little debate? She didn't do anything wrong."
Clinton's comments came as he wrapped up a daylong solo campaign swing for his wife in snowbound towns of New Hampshire. The New York senator this week has hammered Obama's record on healthcare, Social Security, Iran and his history of voting "present" rather than "yes" or "no" in the Illinois Senate.
"I know there's a lot of dispute among the candidates now," the former president told students packed into an auditorium at Keene State University. "I actually think that's kind of healthy. I didn't like it very much for months, because it was just a one-way street. At least it's getting balanced up a bit."
In Keene, Claremont and Lebanon, Clinton called his wife the best candidate to address global warming, healthcare, education and the day-to-day economic hardships of the middle class.
He also reminisced about New Hampshire's role in reviving his troubled White House candidacy in 1992, when accusations of draft-dodging and an extramarital affair with Gennifer Flowers dogged him in the primary.
"Some of you who were around in '92 may remember that this part of New Hampshire saved my proverbial bacon," Clinton told several hundred people at a high school in this town near the Vermont border.
The former president's large and enthusiastic crowds attested to his value as his wife's chief surrogate. But the criticism sparked by his statement in Iowa last week that he opposed the Iraq war "from the beginning" underscored the risk. Obama, for one, laughed at the remark, saying, "If he did, I don't think most of us heard about it."
Obama, who spoke out against the 2003 invasion before it occurred, has often reminded voters that Hillary Clinton voted to authorize the war.
Asked whether he had any concerns or regrets about the fallout from his remark on Iraq, the former president said: "Well, I regret that they were falsely represented by the press, who wants to make it a political story."
Clinton said he made clear before the war that United Nations inspectors should complete their search for weapons of mass destruction before any U.S. invasion.
He also pointed to remarks that he made in New York the week before the invasion.
"I'm for regime change too, but there's more than one way to do it," he said at the time. "We don't invade everybody whose regime we want to change. There's more than one way to do this, but if that passes and he actually disarms, then we have to be willing to take it, and then work for regime change by supporting the opposition to Saddam Hussein within and outside Iraq, and doing other things."
Clinton's comment on Iraq last week came in the middle of his remarks criticizing tax cuts for wealthy Americans like himself. "Even though I approved of Afghanistan and opposed Iraq from the beginning," he said, "I still resent that I was not asked or given the opportunity to support those soldiers."
---
Must-read stories from the L.A. Times
Get all the day's most vital news with our Today's Headlines newsletter, sent every weekday morning.
You may occasionally receive promotional content from the Los Angeles Times.