Bitterness grows between Clinton and Obama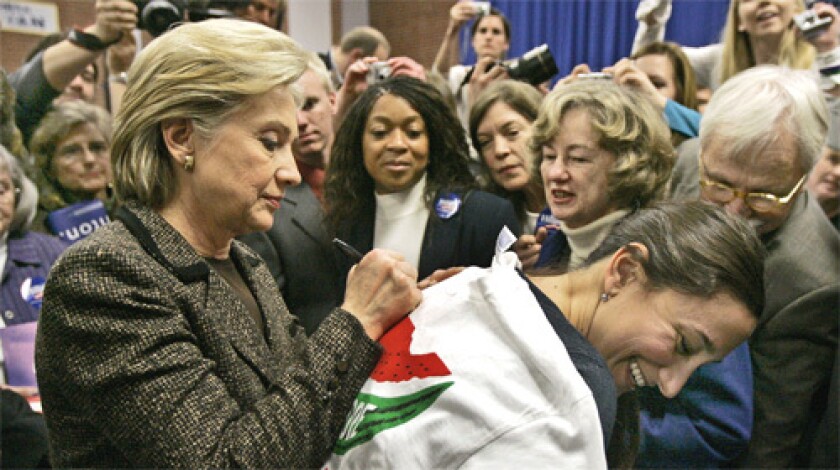 Los Angeles Times Staff Writer
WASHINGTON —
Tensions mounted between the two leading Democratic candidates for president Sunday, as Hillary Rodham Clinton launched an aggressive attack on Barack Obama, suggesting his much-vaunted opposition to the Iraq war was all talk and little action.
Clinton also tried to control the damage caused by her recent remark that seemed to demean the Rev. Martin Luther King Jr.'s role in the civil rights movement, and she accused Obama's campaign of fueling the racially charged controversy.
"This is an unfortunate story line the Obama campaign has pushed very successfully," the New York senator said on NBC's "Meet the Press."
Obama dismissed Clinton's claims, saying Clinton had descended into "political point-scoring."
The back-and-forth dominated a particularly bitter day on the campaign trail, as both Democrats said they felt besieged by ungrounded personal attacks, and it all but overshadowed the candidates' policy pronouncements.
Obama unveiled a proposal to stimulate the economy that would be slightly more expensive than the $70-billion plan Clinton proposed Friday. The Illinois senator's $75-billion proposal focuses more on immediate tax relief to workers and retirees, whereas Clinton's would give priority to increased government spending on housing and energy assistance.
The nasty personal sparring -- especially on the sensitive issue of race -- signaled the intensity of the competition between the Democratic front-runners for support in upcoming primaries, including the Jan. 26 balloting in South Carolina, where African Americans are a key constituency.
Clinton's criticism of Obama over Iraq revived focus on an issue that has diminished in prominence on the campaign trail, overtaken by concerns about the flagging economy. The issue has been neutralized in part because Clinton and Obama have virtually identical positions, supporting a phased withdrawal of U.S. troops.
But in 2002, before Obama was in the Senate, he was a vocal opponent of going to war. Clinton, who was already in the Senate, voted for the resolution authorizing the use of military force against Iraq -- a vote that has given some Democrats reason to back Obama instead of her.
Clinton reopened the debate on Iraq on Sunday by arguing that Obama failed to follow his early opposition to the war with meaningful action once elected to the Senate. There, he voted for war funding and did not take a leadership role on the issue.
The argument reinforced Clinton's recent mantra about Obama: He may give good speeches, but he is weak on concrete follow-through.
"Speeches are essential to frame an issue, to inspire and lift up," Clinton said on "Meet the Press." "But when the cameras are gone and when the lights are out, what happens next?"
Obama has said he voted for war funding because he did not want troops already in Iraq to suffer. In a conference call with reporters Sunday, he said that Clinton was distorting his record and taking quotes out of context to create ambiguity where there was none.
"Sen. Clinton spent an hour talking about me and my record in a way that was flat-out wrong," Obama said.
He also said it was "ludicrous" for her to suggest that his campaign had a role in encouraging several prominent African Americans -- including some of Clinton's own supporters -- to criticize her comment last week that "Dr. King's dream began to be realized when President Lyndon Johnson passed the Civil Rights Act of 1964. . . . It took a president to get it done."
Another contender for the Democratic nomination, former Sen. John Edwards of North Carolina, waded into the dispute on Obama's side by denouncing Clinton's remark as overplaying Johnson's role and diminishing King's.
"Those who believe that real change starts with Washington politicians have been in Washington too long," Edwards said.
Asked for evidence of the Obama campaign's role in fomenting the controversy, a Clinton aide cited a staff memo, leaked to political blogs, that compiled quotes by Clinton and her allies that seemed racially insensitive.
Introducing Clinton at a Columbia, S.C., rally, Robert L. Johnson, the founder of Black Entertainment Television, defended her as a civil rights champion. He derided the Obama campaign for questioning the commitment of Clinton and her husband, the former president, "who have been deeply and emotionally involved in black issues when Barack Obama was doing something in the neighborhood that, I won't say what he was doing, that he said it in his book."
The day's tensions were running so high that the Obama campaign interpreted the remark as a veiled allusion to the candidate's drug use as a youth -- something he has acknowledged in his memoir. But Johnson issued a statement denying that interpretation, saying he was referring to Obama's work as a community organizer.
Obama spokesman Bill Burton did not accept Johnson's statement. "It's troubling that neither the campaign nor Sen. Clinton -- who was there as the remark was made -- is willing to condemn it, as they did when another prominent supporter recently said a similar thing," Burton said. He was referring to the then-co-chairman of Clinton's New Hampshire campaign, who quit after being criticized for discussing Obama's drug use.
Campaigning in Las Vegas, Obama held a brief rally attended by about 100 union members at the hall of Culinary Workers Union Local 226, which endorsed him last week.
Obama, shirt sleeves rolled up and tie loosened, gave a five-minute speech that served as a response to a lawsuit filed Friday by the state teachers union that claims nine at-large caucus precincts on the Strip give casino employees -- many of whom are Culinary members -- an unfair advantage over other voters.
Obama called the lawsuit an attempt "to try to disenfranchise the hard-working folks on the Strip."
"You don't win an election . . . by trying to keep people out," Obama said. "You're supposed to try to bring them in."
Obama closed the day with a town hall meeting in Pahrump, Nev., where he mentioned Clinton by name several times.
"We're in sort of a silly season politically," Obama said. His rival didn't expect him to be here this long, he said. "They're going into negative mode."
Times staff writer Ashley Powers in Las Vegas contributed to this report.
---
Must-read stories from the L.A. Times
Get all the day's most vital news with our Today's Headlines newsletter, sent every weekday morning.
You may occasionally receive promotional content from the Los Angeles Times.