Obama heading back to the office for mid-vacation work break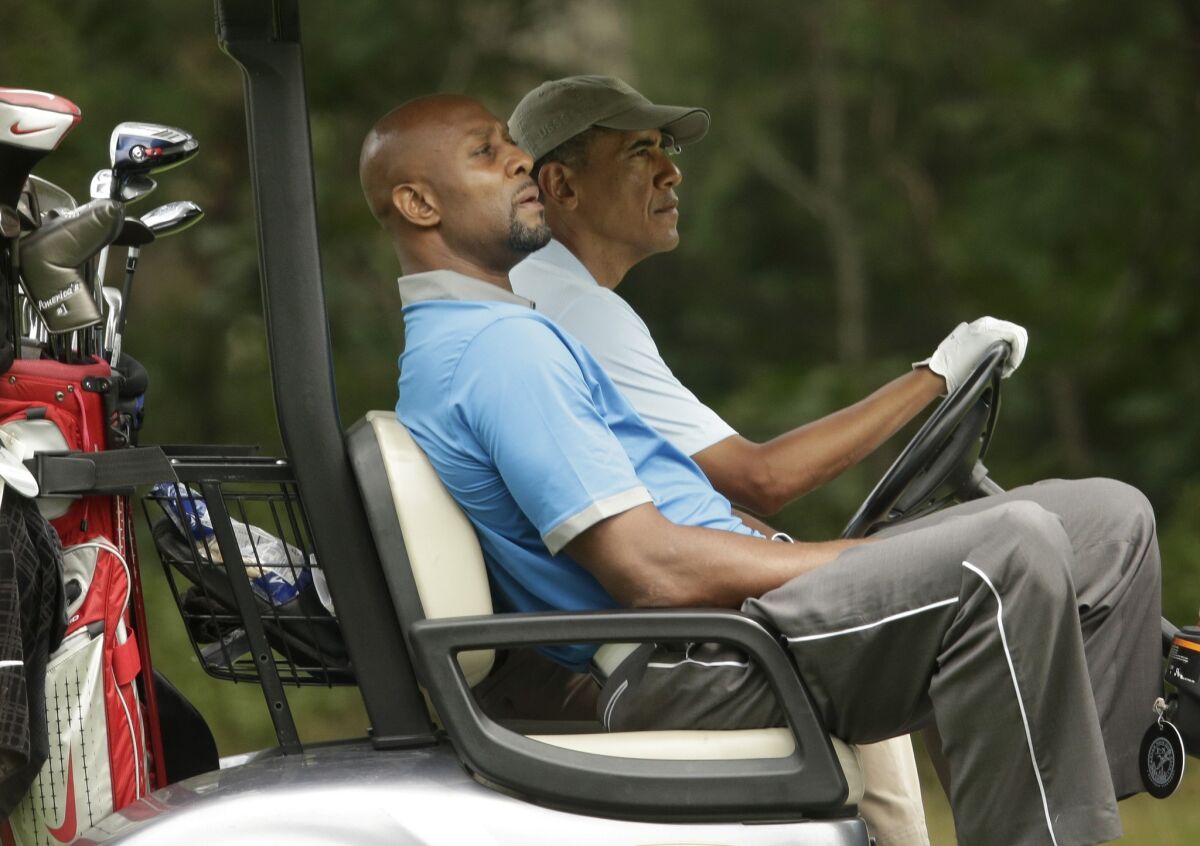 Reporting from Martha's Vineyard, Mass. —
President Obama is interrupting his two-week vacation for a trip back to Washington, where aides say he'll take part in a few meetings on crises at home and abroad.
The White House announced that Obama would return Sunday night for a couple of days to attend meetings, including one with Atty. Gen. Eric H. Holder Jr. to talk about the discord in Ferguson, Mo. Holder will brief the president on the state of the St. Louis suburb after clashes between protesters and police over the police killing of an unarmed 18-year-old.
Obama will also meet with Vice President Joe Biden and with his National Security Council regarding the violence in Iraq, according to principal deputy White House Press Secretary Eric Schultz.
The departure from this Massachusetts resort island is a rare one for Obama or any president, given that it isn't triggered by a new emergency.
Obama always travels with a complement of national security advisors and top staffers, and his press secretary is fond of saying that the president is fully operational wherever he goes. He has been getting regular briefings on the developments in Ferguson from senior advisor Valerie Jarrett, an aide said, noting that she is in communication with Missouri Gov. Jay Nixon and key civil rights leaders including Al Sharpton to stay abreast of the situation.
In addition, Obama has made on-camera statements from his vacation spot over the last week, speaking about Iraq and Ferguson before a traveling group of White House reporters and television cameras. He has also made several phone calls to foreign leaders to talk about the conflicts in Ukraine and Israel.
Still, the president's vacation retreat in a leafy expanse of the island does not have the same capabilities of the Situation Room, the secure White House headquarters that he uses when serious security briefings are required.
As a political bonus, photographs of Obama in the Oval Office might provide a visual cue that he is still working while Congress is on vacation.
As the plans stand now, Obama will return to Massachusetts on Tuesday evening and resume his vacation with his family.
If the last week serves as a guide, he'll be back to dining out with his family and, most likely, shooting a few rounds of golf.
For news about President Obama and the Obama administration, follow me on Twitter: @cparsons
Must-read stories from the L.A. Times
Get the day's top news with our Today's Headlines newsletter, sent every weekday morning.
You may occasionally receive promotional content from the Los Angeles Times.