French lawmakers demand vote on Syrian intervention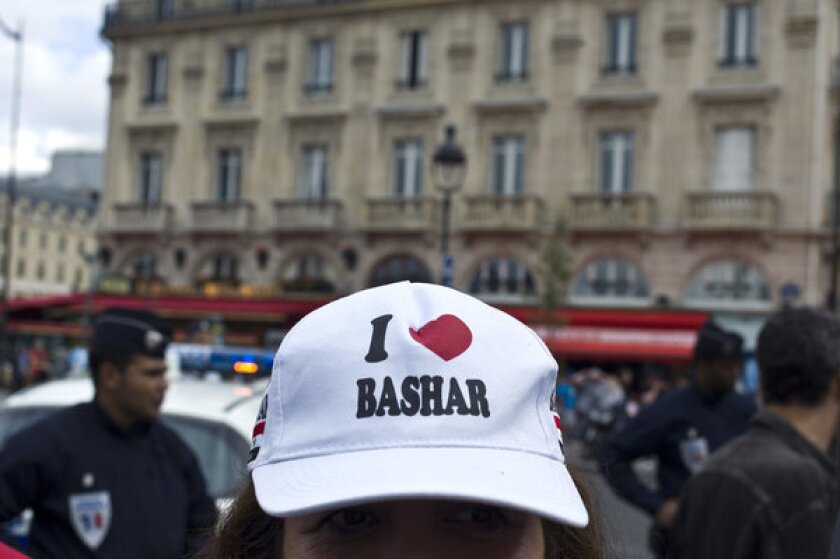 PARIS -- In France, lawmakers seized on President Obama's decision to seek congressional authorization for a military strike on Syria as an argument for holding their own vote on a potential armed intervention.
French President Francois Hollande has said his country would join the U.S. in punishing Bashar Assad's regime for allegedly ordering a chemical attack that killed hundreds of people. But opposition parties in France warned Hollande not to make any "hasty decisions" and demanded a vote in the National Assembly, even though Hollande is obliged neither to call nor to heed such a vote.
A debate on Syria in the assembly is scheduled for Wednesday.
"Like the president of the United States, who, in the name of democratic principles, has decided to consult the American Congress, the French president must do the same and organize a formal vote of Parliament," Jean-Louis Borloo, head of the centrist Union of Democrats and Independents, said in a statement Saturday.
Francois Baryou, another centrist party leader, urged Hollande to look for an alternative to using force.
"There is a range of options, from charges and sanctions, that would bring the guilty to the international criminal court and that would have the same dissuasive effect without involving the same risks" as airstrikes, Bayrou wrote Sunday in the Journal du Dimanche.
According to an opinion poll in Sunday's edition of Le Parisien newspaper, 64% of respondents were against France taking part in any military intervention in Syria.
But the president of the National Assembly, Claude Bartolone of Hollande's Socialist Party, expressed support for military action.
"We cannot let such appalling acts go without a response," Bartolone said, "but the international community must be precise about its aims."
Harlem Désir, the Socialists' general secretary, poured scorn on the criticism of politicians from the opposition center-right party, UMP. He noted that former President Nicolas Sarkozy, who belongs to the UMP, invited Assad to Paris in 2008.
"Today it is France's role to help find a solution in Syria and to stop the massacre and avoid another Sarajevo or Rwanda," Désir told reporters.
ALSO:
Britain, France press for intervention in Syria
Phony intel on Iraq WMD haunting U.S. claims of Syria threat
France, ironically, stands as strongest U.S. ally in sanctioning Syria
---
The Latinx experience chronicled
Get the Latinx Files newsletter for stories that capture the multitudes within our communities.
You may occasionally receive promotional content from the Los Angeles Times.