Key GOP senators demand plan for U.S. response to Syria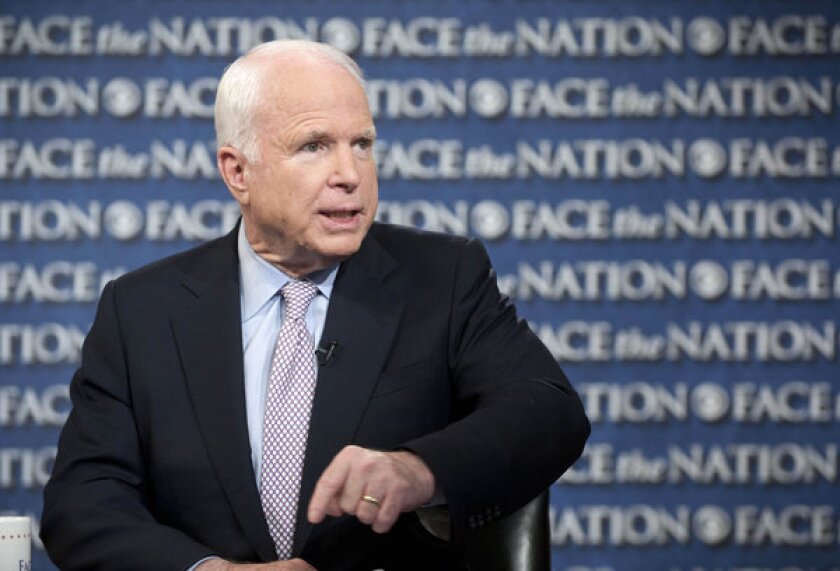 WASHINGTON—Several key Republican senators strongly indicated Sunday that they will not vote to give President Obama authorization for a missile attack on Syria unless the White House first lays out "a strategy and a plan" to stop the Bashar Assad regime from ever again using chemical weapons.
The senators, led by John McCain of Arizona, also signaled that they will use Obama's offer to seek congressional approval before any attack on Syria to press the administration and the Pentagon to make sure that a U.S. reprisal is a clear warning to Assad that he risks losing his hold over the war-torn country if any more chemical attacks are unleashed upon the Syrian people.
"We need to have a strategy and a plan," McCain said on the CBS program "Face the Nation." "In our view, the best way to eliminate the threat of Bashar Assad's continued use of chemical weapons would be the threat of his removal from power. And that, I believe, has to be part of what we tell the American people."
DOCUMENT: U.S. chemical weapons intel
Republican Sen. Rand Paul of Kentucky commended Obama for asking for congressional authorization but predicted that passage on Capitol Hill would be a break-even proposition.
"Absolutely, if Congress votes this down, we should not be involved in the Syrian war," Paul said on NBC's "Meet the Press." "And I think it's at least 50/50 whether the House will vote down involvement in the civil war."
Republican Sen. Saxby Chambliss of Georgia said Congress should vote against a strike on Syria unless it receives convincing assurance that the U.S. will not be drawn into an all-out military conflict there. "My constituents are war weary," he said. "They don't want to see us involved in this."
Obama on Saturday announced he was putting off any missile strikes until after Congress debates and votes on the matter.
On Sunday, Secretary of State John F. Kerry said that odorless and deadly sarin gas was used in the chemical weapons fired on Syrian civilians. Kerry said he hoped the new evidence will help persuade Congress that a U.S. cruise missile strike is the right response.
"I don't believe that my former colleagues in the United States Senate and the House will turn their backs on all of our interests, on the credibility of our country, on the norm with respect to the enforcement of the prohibition against the use of chemical weapons," he said on NBC's "Meet the Press."
A Democratic senator, Tim Kaine of Virginia, said he was confident that Congress will grant the president military authorization.
"We are strong when we act together," he told CBS. "But if the president were to do something without congressional support, it's just not fair to the men and women we ask to fight our battles to send them in not knowing whether the American public or Congress backs them up."
Administration officials were planning to privately brief congressional members later Sunday on Capitol Hill.
ALSO:
Getting Congress to OK military action in Syria could be tough
North Korea's Kim reportedly has ex-girlfriend, 11 others executed
Teen sentenced to three years in prison for fatal gang rape in India
Richard.Serrano@latimes.com
---
Must-read stories from the L.A. Times
Get all the day's most vital news with our Today's Headlines newsletter, sent every weekday morning.
You may occasionally receive promotional content from the Los Angeles Times.