Obama administration under pressure to release text of Iran deal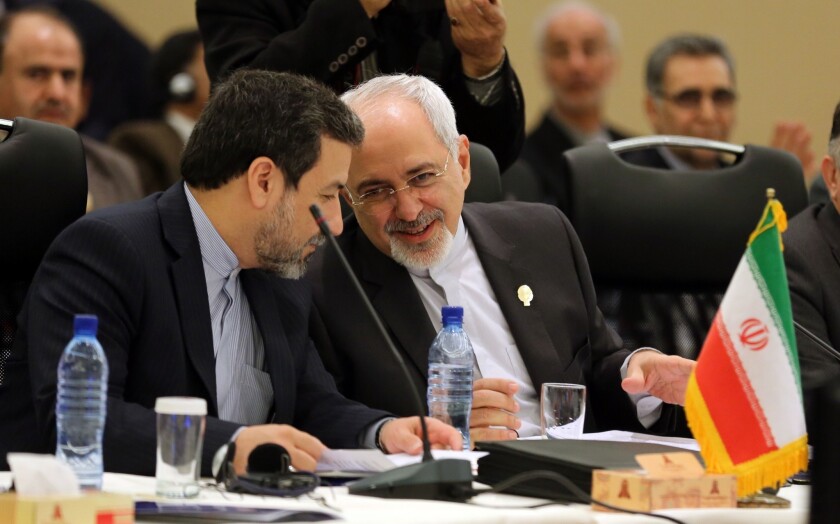 WASHINGTON -- The Obama administration is facing rising calls from lawmakers and nuclear experts to release the text of its latest nuclear deal with Iran and accompanying documents.
The agreement, announced Sunday, lays out an implementation plan for a deal announced in November that aims to freeze Iran's nuclear program for six months. During that time, Iran and six world powers will try to negotiate a long-term pact ensuring Tehran won't develop a nuclear weapons capability.
So far, the text of the latest deal has not been released, nor has a separate side agreement that lays out technical and other details.
Critics fear the text of the implementation agreement may include terms that would allow Iran to secretly forge ahead with some aspects of its nuclear program while the next phase of bargaining goes on. On Monday, critics also began expressing concern about the accompanying side text.
Abbas Araqchi, Iran's nuclear negotiator, told Iran's state-controlled media this week that the 30-page side agreement, which he referred to in English using the term "non-paper," contained important details on points including how Iran's nuclear research and development will be carried out and how disagreements will be settled during the negotiations.
The Obama administration insisted Tuesday that Araqchi's comments had been misconstrued and that there is no hidden plan.
White House Press Secretary Jay Carney told reporters the text was "documentation associated with implementation [that] tracks completely with what we have described, which are technical plans" submitted to the International Atomic Energy Agency, the United Nations' nuclear watchdog agency. The IAEA will help enforce the deal by inspecting Iran's nuclear sites and reporting on its compliance.
Carney said Araqchi's comments boasting of the deal's favorable terms for Iran were "what Iranian leaders say for their domestic audience." The administration will work with the other five powers and Iran to make text available, he said, "but we must work with the parties on when and in what format the information will be released."
Olli Heinonen, former chief inspector of the IAEA, called for release of the 30-page side agreement, saying that making the text public would "clear the air."
"I don't see anything that should block its release," he said, in a conference call sponsored by the Israel Project, a pro-Israel group.
He compared the non-paper to a side text prepared for a 1994 deal with North Korea, which tried to restrain that country's nuclear program. But Heinonen noted that the side text of the 1994 agreement was never made public, and "I'd be surprised if this whole document comes out."
On Sunday, a senior administration official, speaking on condition of anonymity, had said the White House probably would agree to release some portions of the agreements. But some details of the deal, which the official referred to as "technical understanding of the IAEA," would be kept secret, the official said. Because the IAEA deals with nuclear technology, some portions of the documents may involve material that the U.S. would consider classified.
Sens. John McCain (R-Ariz.) and Lindsey Graham (R-S.C.) joined several other conservative lawmakers in urging disclosure. They said they were "deeply concerned" about reports of the side text and argued that its existence increased the urgency for Congress to adopt legislation that would impose new sanctions on Iran if it didn't live up to the deal.
Twitter: @richtpau
---
Must-read stories from the L.A. Times
Get all the day's most vital news with our Today's Headlines newsletter, sent every weekday morning.
You may occasionally receive promotional content from the Los Angeles Times.