Kremlin lashes out at U.S., says it's trying to wreck Syria deal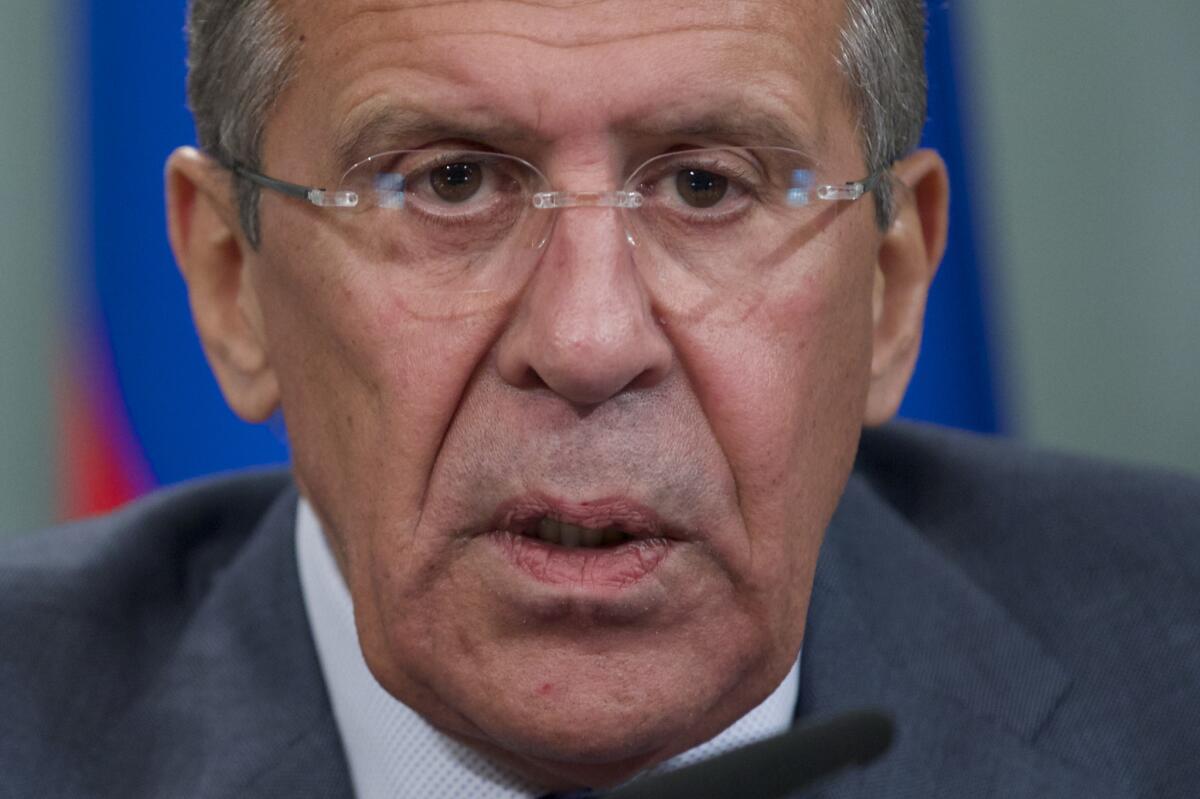 MOSCOW -- The Kremlin on Sunday accused Washington of trying to sabotage a U.S.-Russian agreement for Syrian leader Bashar Assad to surrender his chemical arsenal.
"Our U.S. partners are beginning to blackmail us," Russian Foreign Minister Sergei Lavrov said Sunday in an interview with the First Channel, a state-owned television network. He charged that the United States was threatening to "fold up the work" toward securing the chemical weapons if Russia won't back a United Nations Security Council resolution based on Chapter 7 of the U.N. Charter, which allows the use of force against nations that threaten international peace.
The United States, Britain and France have all said they favor a resolution that would put some kind of pressure on Syria, possibly military action, if it does not comply with the agreement to turn over its chemical weapons. Syria has submitted an "initial disclosure" statement of its chemical weapons to international inspectors.
Lavrov charged that the United States and some of its Western partners intend to take advantage of the Lavrov-Kerry agreement, reached this month, to compel the Security Council to sanction a military operation aimed at ousting Assad, an attempt he denounced as "irresponsible and unprofessional."
"They see in the Russian-U.S. agreement not a chance to save the planet from a significant quantity of chemical arms stockpiled in Syria but an opportunity [hitherto] denied them by Russia and China, to in fact carry through a use-of-force resolution aimed against the regime and sparing the opposition, to accuse Bashar Assad of everything and thus untie their hands of power scenarios," Lavrov said. "Our partners are now blinded by the ideological task to replace the regime because they said a couple of years back that President Assad has no place on this Earth and he must go."
Lavrov said the Syrian government provided Russia last week with new evidence pointing to the rebels as the likely force behind chemical attacks in a Damascus suburb in August. Russia has consistently said that the rebels were probably responsible; the United States and other Western powers have said the evidence overwhelmingly points to the Syrian government.
Lavrov further charged that the United States and its allies are not seeking a peaceful solution in Syria but trying instead to sabotage the plan for Syria to abandon its chemical stockpiles because "they want to prove that they will be ordering the music in the Middle East."
The strong language from Lavrov suggests that the Kremlin can't hide its irritation with its Western partners, said Andrei Kortunov, a Russian political expert.
"Moscow is visibly irritated by the U.S. persistent claims that the Assad regime's use of chemical weapons against its own people is a proven fact," said Kortunov, president of the New Eurasia Foundation, a Moscow-based think tank. "What makes the Kremlin even more edgy are [President] Obama's and Kerry's continuing signals that they haven't written off a strike against Syria from their agenda."
Also Sunday, a mortar round exploded in the morning on the grounds of the Russian Embassy in Damascus, wounding three employees, news agencies reported. The Russian Foreign Ministry described the injuries as non-life-threatening.
ALSO:
Suicide bomb attack kills 75 at Pakistan church
'Major engagement' reported with militants at Kenya shopping mall
Germany's Merkel elected to third term as chancellor, exit poll shows
sergei.loiko@latimes.com
Sign up for Essential California for the L.A. Times biggest news, features and recommendations in your inbox six days a week.
You may occasionally receive promotional content from the Los Angeles Times.