Mexico's Pena Nieto defends 'arduous' reform agenda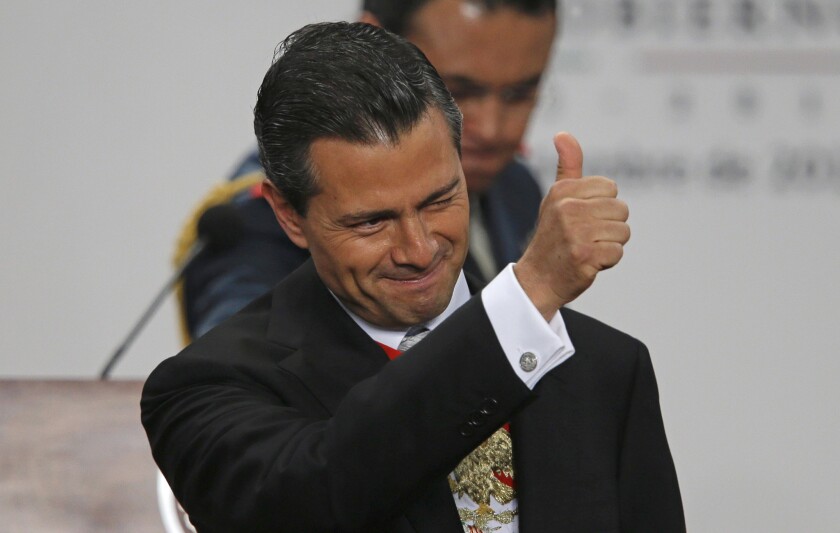 MEXICO CITY — Despite the massive street protests that forced him to change the venue of his first state of the nation speech, Mexican President Enrique Peña Nieto used the occasion Monday to defend his ambitious reform agenda, pledging to forge ahead with what he called the "grand transformation" that his country requires.
"It's a demanding, arduous road that requires of us great strength, but it's the only one that will bring us the Mexico that we want to build," Peña Nieto said.
In an apparent reference to the street protests — which forced him to delay the speech, and move it from the National Palace to Los Pinos, the presidential residence, a few miles away -- he said that resistance was "a natural consequence when one carries out great transformations. The important thing is to not lose sight of the objective, to move forward and not stop."
The hour-long speech was delivered nine months after the telegenic 47-year-old's inauguration, a moment that also marked the return to power of his Institutional Revolutionary Party, or PRI, which had ruled Mexico as a virtual one-party state for much of the 20th century. Peña Nieto ran on a promise that he and his party "know how to govern," and his reform package seeks to improve the economy, reduce crime, and overhaul Mexico's underperforming schools, tax collection systems and state-run oil company.
His ambitions have been complicated, however, by recent bad news and a surge of vigorous political opposition. The national economy has stalled, and in some states "self-defense" groups have taken up arms to defend their towns against organized criminals. Meanwhile, thousands of members of a radical teachers' union have taken over downtown Mexico City to protest the president's education reform package, and proposed tax and oil-sector reforms could bring even more opponents into the streets in the coming days.
But Peña Nieto's clear, straightforward speaking style tends to focus on positive achievements and the building of momentum, and Monday was no exception. The speech noted that sugar cane production was up, and praised Mexican athletes' recent successes on the world stage as examples of good news.
More substantively, he thanked the lower house of congress for passing, on Sunday evening, the legislation that creates a scheme for evaluating teacher performance -- one of the elements of education reform most detested by the teachers' union. He said he was confident that the law would be passed by the upper chamber soon.
He blamed recent disappointing economic news on the "exterior environment." The Mexican Finance Ministry recently slashed its growth forecast from 3.1% to 1.8%, and experts say that the slowdown is partially due to the sluggish economic performance of the U.S. and other key Mexican trading partners.
But Peña Nieto used the bad news to argue that reforms of the fiscal system, as well as the highly important oil and gas sector, could not wait. "The opportunity to accelerate our economy is inside of our country — it's in the decisions that we will make as a nation," he said.
The president also touted changes in his security strategy, saying that "more and better" intelligence has helped authorities neutralize more than half of the 122 most wanted criminals in the country.
But his government has said that it will not release the names on the most-wanted list. For this and other reasons, a number of independent security experts have cast doubt on figures that appear to show that violence is on the wane.
Still, Peña Nieto said that homicides were down 13.7% between December 2012 and July of this year, compared with a comparable period a year earlier. He said that those homicides linked to federal crimes --meaning, usually, crimes connected to organized crime --were down 20%.
ALSO:
Britain rules out second vote on Syrian strike
Nelson Mandela home from hospital, remains 'unstable'
Obama's bid to attack Syria faces resistance from 2 sides in Congress
Cecilia Sanchez of The Times' Mexico City bureau contributed to this report.
---
Must-read stories from the L.A. Times
Get the day's top news with our Today's Headlines newsletter, sent every weekday morning.
You may occasionally receive promotional content from the Los Angeles Times.