Russian forensic probe concludes Arafat died of natural causes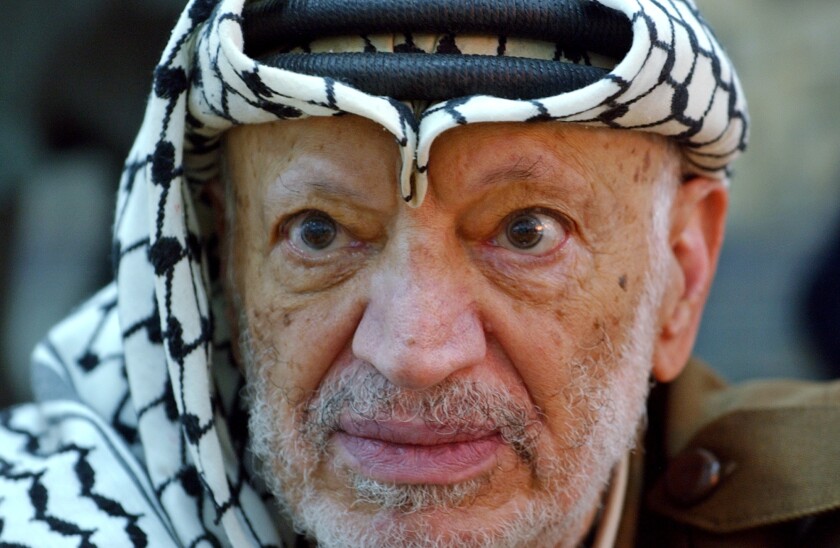 Palestinian leader Yasser Arafat died of natural causes nine years ago, not from poisoning by a radioactive substance as alleged by his widow, a Russian forensic investigation has concluded.
The Russian findings conflict with those of Swiss scientists, who said in November that they had found sufficient traces of polonium-210 in Arafat's exhumed remains to conclude with relative certainty that he died of poisoning.
"The tests were comprehensive and there's no need for re-examination. This person died of natural causes, not because of radioactive poisoning," Vladimir Uiba, head of Russia's Federal Biomedical Agency, told the RIA Novosti agency in Moscow.
Arafat died at age 75 on Nov. 11, 2004, less than a month after suddenly falling ill with symptoms that doctors initially attributed to influenza. But the vomiting, nausea and stomach pains of which he complained are also symptoms of radiation poisoning.
Little was known by the general public about polonium-210 until the substance was found to have been used to kill KGB defector Alexander Litvinenko in London in November 2006, two years after Arafat's death.
No autopsy was performed after the Palestinian leader died at a Paris military hospital. Nor was a cause of death determined at the time.
Although there was immediate suspicion of foul play because of Arafat's long struggle with Israelis and rival Palestinian leaders, it was only after the Litvinenko case came to light that pressure built for French judicial authorities to open a formal inquiry into whether the Palestine Liberation Organization founder might have been killed.
With the urging of Arafat's widow, Suha, his remains were exhumed from their West Bank crypt in late 2012 and three teams of forensic investigators -- from Switzerland, France and Russia -- were assigned to examine them.
In November, a 108-page report commissioned by Al Jazeera news network and carried out by the University Center of Legal Medicine in Lausanne, Switzerland, found at least 18 times the normal level of polonium in Arafat's remains. The report quoted renowned British forensic scientist Dave Barclay as saying he was "wholly convinced that Arafat was murdered."
Israeli Foreign Ministry spokesman Yigal Palmor dismissed the Swiss report as "full of holes," and called the poisoning theory "ludicrous and entirely without credibility."
French experts reported this month that they had found traces of polonium but judged them to be "of natural environmental origin," Suha Arafat told reporters after being apprised of the findings.
Faed Mustafa, Palestinian ambassador to Russia, told the RIA Novosti agency after the Russian findings were announced that he respected the Russian experts' position but that Palestinians would continue to seek more certainty about the cause of their leader's death.
Twitter: @cjwilliamslat
---
Must-read stories from the L.A. Times
Get all the day's most vital news with our Today's Headlines newsletter, sent every weekday morning.
You may occasionally receive promotional content from the Los Angeles Times.