U.S., EU resume negotiations on free trade agreement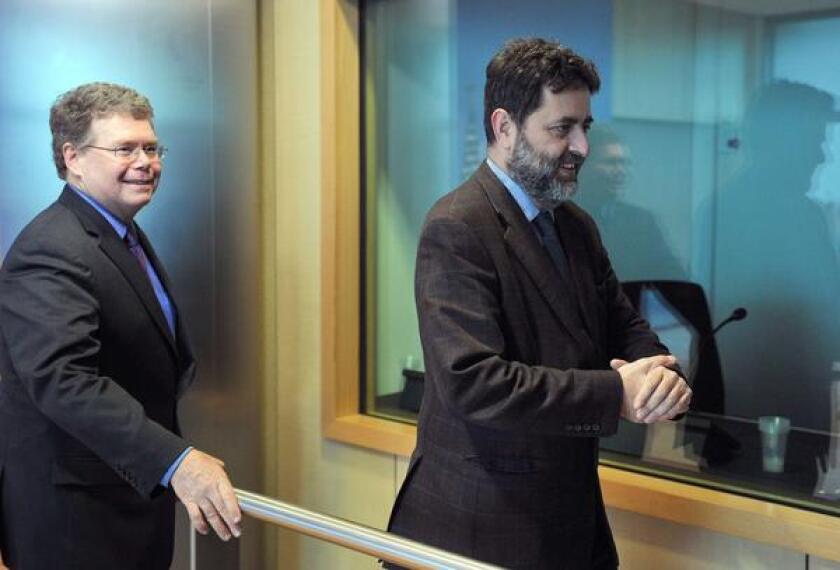 LONDON – European and U.S. officials resumed negotiations Monday on a trans-Atlantic free trade agreement despite angry protests in Europe over American electronic spying and threats to call off the talks.
The five-day discussion in Brussels had already been postponed because of the U.S. government shutdown and faced added uncertainty amid outrage over reports that the U.S. National Security Agency tapped the phones of European leaders such as German Chancellor Angela Merkel. Some European officials urged that this week's talks be suspended.
But the potential payoff of a trade agreement outweighed those concerns. Between them, the U.S. and the 28-nation European Union already account for almost half of the world's economic output. A tariff-busting pact would create the world's largest free-trade area and, supporters say, could create millions of jobs.
Meeting for the second time, following a first round in July, the negotiating teams are expected to concentrate on services, investment, and energy and raw materials. They also will examine regulatory issues; officials on both sides ot the Atlantic say that cutting red tape and harmonizing some rules and regulations could do more to boost economic activity than easing tariffs, which are already relatively low.
Liberalizing trade across the Atlantic could bring in nearly $160 billion more a year to Europe, which has been struggling to recover from a damaging recession and the region's lingering debt crisis. European officials are also eager to find ways to counter a looming demographic disadvantage compared to the U.S. and China as birthrates in Europe drop and workforces age.
U.S. officials too see benefits for American exporters and were worried that the flap over alleged spying on allies such as Germany and France would hurt or kill chances of a trade accord. Those two nations and Spain have all summoned the resident U.S. ambassadors to address revelations of mass electronic surveillance overseas by the NSA; commentators say that trust across the Atlantic has been seriously undermined.
On a swing through Europe last week, U.S. Secretary of State John F. Kerry appealed to his interlocutors not to let the spying controversy affect this week's talks.
"This is a trade partnership. It has the ability to lift all of our countries," Kerry said on a visit to Poland. The trade agreement "is really separate from any other issues that people may have on their minds."
After this week's talks, which were originally to take place last month, the negotiating teams are due to meet again in Washington shortly before Christmas. That would put the talks back on their previously announced schedule.
ALSO:
Kerry: Nuclear talks fell apart because Iran balked
Cosmonauts take Olympic torch for a walk in space
U.S. military speeds aid to Philippines for Typhoon Haiyan victims
---
Must-read stories from the L.A. Times
Get all the day's most vital news with our Today's Headlines newsletter, sent every weekday morning.
You may occasionally receive promotional content from the Los Angeles Times.