Northridge residents stunned by multiple slayings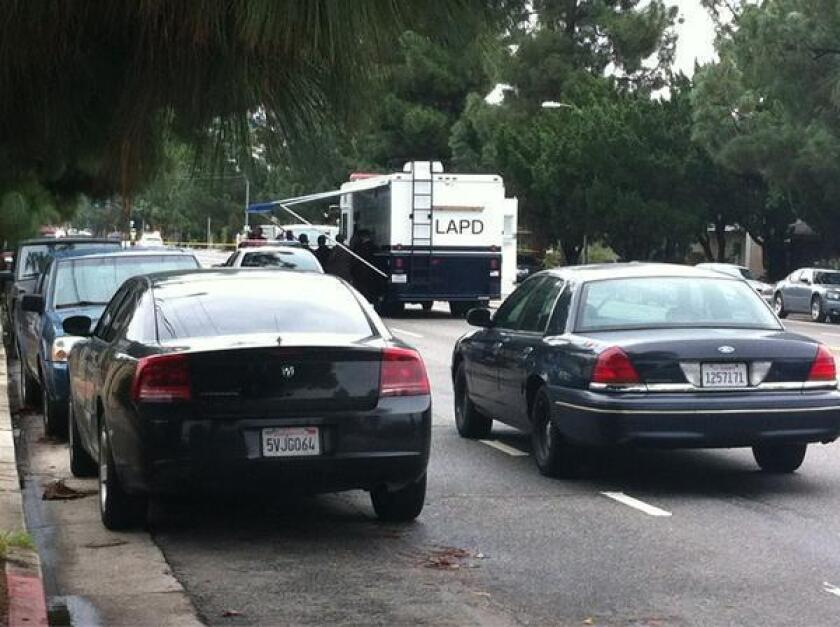 Shane Grady woke up "from a dead sleep" early Sunday when he heard gunshots.
He dropped to the floor and looked out his window, but the traffic on Devonshire Street blocked his view.
"If there was yelling or screaming, I couldn't hear it," he said.
Police arrived minutes later and began canvassing the neighborhood, a helicopter flying low overhead. By mid-morning, detectives were still at the house across from Grady's, where four people were found shot dead.
Investigators are still working to determine a motive and found no weapon at the scene, LAPD Cmdr. Andrew Smith said. No suspects are in custody.
L.A. Councilman Mitchell Englander, whose district includes parts of the San Fernando Valley, said the incident appeared to be isolated. He said the home was believed to be an unlicensed boarding home with multiple tenants.
Neighbors said rooms at the home were rented out and the residents appeared to be single men who primarily kept to themselves. At least four people live in an upstairs area, they said, but they did not know how many boarders in all reside there.
The neighbors also said there was nothing unusual about the home, except for some occasional loud music.
One woman who lives around the block from the residence said she heard loud music and yelling from the house about 1:30 a.m. She fell asleep about an hour later but said the music was still playing.
"I just figured it was a party that was out of control," she said.
Others described the street as quiet, the kind where neighbors know one another and people walk to the Jewish temple just houses away from where the shooting occurred. There have been a few incidents — a car chase last summer, a murder 10 years back — they said, but nothing like this.
"It's usually sleepy-time America," said Richard Rutherford, 58.
Rutherford heard the shots as well. The helicopter that came next, he said, was so low it "was shaking the rooftop."
Jeff Kaye, 62, said the helicopters weren't unusual — the Devonshire police station is just a few blocks away. But the shootings were unusual, he said.
"It concerns you," he said. "You want to know what's going on."
Englander said he was "shocked" by the shootings.
"Typically, you don't have these kinds of incidents in this type of community," he said.
Grady said the same thing.
"How often in this neighborhood do you hear about four dead bodies?" Grady said.
Crime for last six months in Northridge:
Violent crimes (89)
Property crimes (895)
The violent crime rate for Northridge falls in the middle of all Los Angeles city neighborhoods, but homicide is rare in the community, according to LAPD data analyzed in The Times Crime L.A. database. In the previous six months, Northridge had one homicide among the 89 violent crimes reported. The location of the homicides discovered Sunday is on the border with Granada Hills, which typically has a much lower violent-crime rate than Northridge.
Since 2007 -- prior to Sunday's quadruple homicide -- Northridge had 11 homicides, all but one south of Nordhoff Street, according to L.A. County coroner's data compiled in The Times Homicide Report. The most recent took place Sept. 25, when Louis Villegas, 25, was fatally shot near Balboa Boulevard and Parthenia Street. Villegas was riding in a Lexus that had pulled over to the side of the road when a man approached and began shooting.

---