L.A. officials avoiding Carmageddon scare tactics this time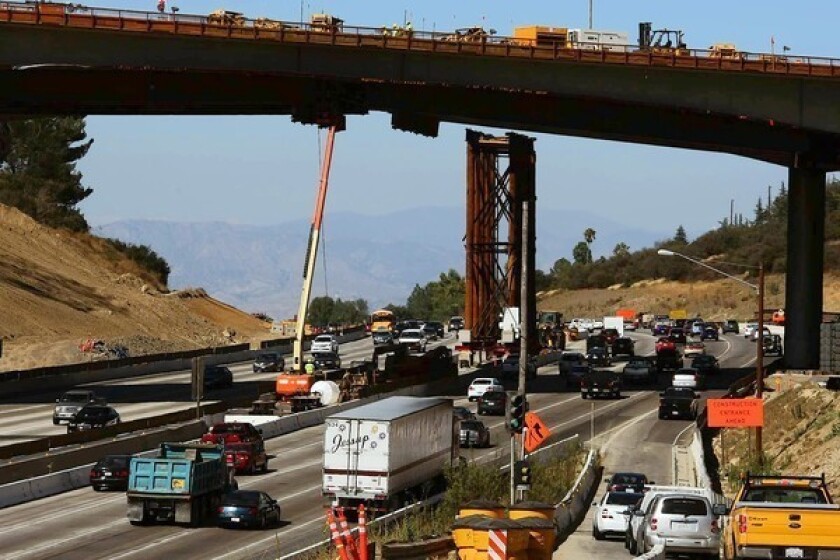 Saying scare tactics alone won't dissuade Angelenos from taking to the freeways during a redux of Carmageddon later this month, public officials and business leaders Tuesday announced scores of commercial discounts and a handful of special events for those who leave their cars at home.
"Now we did this last year and Angelenos heeded our call to stay out of their cars. In fact they did such a great job that afterward we called it Carmaheaven," Los Angeles Mayor Antonio Villaraigosa said at a news conference in Hollywood, standing in front of a wax statue of actor Johnny Depp. "So once again, we have an opportunity to have a car-free weekend."
But in a way, officials have been a victim of their own success and their strategy to target motorists has shifted from the first Carmageddon, when 10 miles of the 405 Freeway were closed for 53 hours last year.
Over the last few months, officials have walked a fine line between proclaiming the potential for massive gridlock and trying to reason with residents by using common sense and offering alternatives.
Carmageddon II, the final episode, will get underway when authorities start closing ramps and shutting down lanes during the evening of Sept. 28 and is scheduled to last until early morning Oct. 1.
Ten miles of the 405 Freeway will be closed between the 10 and 101 freeways while crews work to demolish half of the Mulholland Drive bridge, necessary as part of a $1-billion freeway improvement project that includes adding a northbound carpool lane.
Villaraigosa said that after the first Carmageddon, his office worked with researchers to see what lessons they could learn from the event.
"We realized that you couldn't do what we did the first time the second time quite the same way," Villaraigosa said. "They said this time around you can't scare people away from the area, it's better to encourage them to stay home.... That's why we're encouraging you to stay local, shop, eat, walk in your neighborhood."
Some of the discounts, according to the Los Angeles County Metropolitan Transportation Authority, are at restaurants like El Criollo on Van Nuys Boulevard, which is offering 20% off food and beverages. Other discounts are for the Los Angeles County Museum of Art, the California Science Center, the Museum of Contemporary Art and the Watts Village Theater Company, among others.
Many of the offers are dependent on customers arriving by any mode of transportation other than a car or by showing proof of a Metro ticket.
There are also bike rides planned for the weekend, including one that bills itself as a tour of the Westside and is 22 miles long. It starts at Metro's Culver City station on the Expo Line at 9 a.m. Sept. 29. An eight-mile ride planned for 10 a.m. Sept. 30 starts at the Balboa station on the Orange Line busway and includes a stop at the Japanese Garden in Van Nuys.
A group of artists promoting "Less Car. More Art." has put together an ARTmageddon website that encourages residents to go see art in their local community.
---