New Nets Coach Jason Kidd suspended after pleading guilty to DWI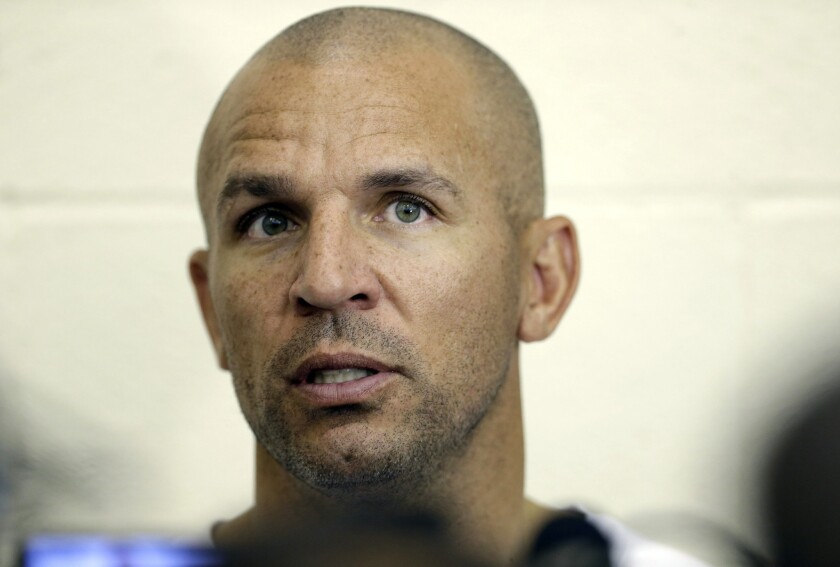 Jason Kidd will have to wait a little beyond the start of the regular season to experience his first real games as an NBA head coach.
The Brooklyn Nets have suspended their former player and new coach for the first two games of the season after he pleaded guilty to a misdemeanor drunk-driving charge in July, the league announced Friday.
According to Nets General Manager Billy King, the suspension "is consistent with what the league has done in the past and we look forward to Jason leading our team versus Orlando and the rest of the year."
Kidd played for the then-New Jersey Nets for six-plus of his 19 NBA seasons, leading them to the NBA Finals in 2002 and 2003. He retired after spending the 2012-2013 season with the New York Knicks, and landed the Nets' coaching job over the summer.
The DWI arrest came after he crashed his car into a utility pole on eastern Long Island days after signing with the Knicks.
The misdemeanor will be reduced to a violation if he fulfills his community service.
ALSO:
LeBron James to bring back pregame chalk toss
American bicycle racer Amy Dombroski dies after training accident
Dusty Baker won't return as Cincinnati Reds manager, report says
---