Jorja Leap sheds light on Watts' black fathers in 'Project Fatherhood'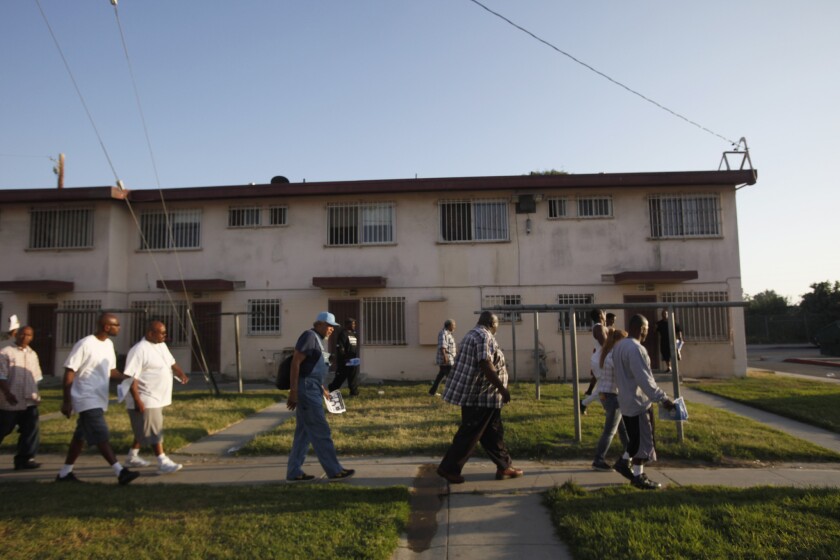 Jorja Leap is no ordinary professor; she's got what many would call "street cred."
Sitting in her office at UCLA, where she teaches at the Luskin School of Public Affairs, she points to two photos hanging above her desk. The first is of her with Father Greg Boyle, founder of Los Angeles' Homeboy Industries, an organization that works to steer people from gang life. She's done extensive work with Father Boyle and the men and women he helps mentor.
The second, in black and white, is of black and Latino men and their children. These are members of Project Fatherhood, former gang members and ex-cons with whom Leap has worked for the past five years at the Jordan Downs apartments in Watts. They are the subject of her new book, "Project Fatherhood: A Story of Courage and Healing in One of America's Toughest Communities" (Beacon Press: 256 pp., $24.95). All proceeds benefit Project Fatherhood Jordan Downs.
MORE: 27 nonfiction books you'll want to read -- and share -- this summer
"I knew the minute they started talking, I had to bear witness, and it became important to me that their stories were out there," said Leap. "We don't have books about poor black fathers. We have books about men of color who have raised themselves up, but we also need to know of this experience."
Project Fatherhood was started by the late Dr. Hershel Swinger, a clinical psychologist and former senior vice president of Los Angeles' Children's Institute. The program provides therapy, support and training for low-income urban fathers.
In 2006 under Swinger's leadership, Project Fatherhood received a $7.5-million federal grant to replicate itself in smaller iterations throughout Los Angeles County. Some of those groups have come to focus their attention on fathers in jail and gay dads. The one at Jordan Downs began in 2010 when Michael Cummings, a former gang member turned tow truck driver and gang interventionist, pulled in Leap and an initial group of fathers with whom he had already been speaking.
"It was kind of like a dream come true," said Cummings about the group's formation.
Leap jumped at the opportunity to serve as the group's "master social worker," as Cummings called her, because it was a chance to return to South Los Angeles, a place she calls home.
Until age 10, Leap lived in the South L.A. neighborhood of Westmont. Her mom and dad went to high schools in the area, and her grandparents are buried there. Her first memory of Watts, however, centers on what her uncle called the "social uprisings" of 1965.
"I remember not being frightened by the riots," Leap said. "I remember just wanting to know why."
Eventually, she would "learn about the kind of poverty in Watts and the economic dislocation that existed." While pursuing her master's in social work from UCLA, she requested a field assignment in South Los Angeles. There, she experienced a revelation as "a minority in a sea of black faces."
"It is the moment that changed my life," Leap said.
A petite woman, raised Greek, she found acceptance in a community where, as she said, many who look like her are scared to drive through, let alone work.
But Watts is where she felt she belonged. "I'm basically a gangster at heart," she said, laughing. "They know who's one of theirs. They know who cares and who's there for the photo op."
Thirty-five years later, Leap has become an internationally recognized gang expert who calls former gang members friends and family. In "Project Fatherhood," she showcases some of their stories.
The book is a culmination of four years of conversations and weekly meetings with the fathers of Jordan Downs that reflect the authentic lived experiences of these men as they navigate parenthood. The book, Leap said, debunks the myth of the absent black father.
"It wasn't the absent black father," she said. "It was not the conventional father, not the Bill Cosby father ... but he was a presence in his children's lives."
The men who participated and continue to participate are no different from any other parent. "These men's desires and intentions are to be providers, economically independent, raise their children and they want their children to go to college," Leap said. "Who does that sound like? Every [single] person I know."
According to Leap — who also wrote the 2012 book "Jumped In: What Gangs Taught Me about Violence, Drugs, Love, and Redemption" — these men have a sophisticated, nuanced understanding of race, as demonstrated by their conversations recorded in "Project Fatherhood" of the 2013 shootings by former Los Angeles police officer Christopher Dorner, the election of President Obama and the death of Trayvon Martin.
"With the fathers, I have had the deepest, most intellectually informative, honest conversations I've ever had," she said.
Leap hopes that those who read the book will take a lesson that can also be applied to the unrest seen in response to police brutality across the nation in cities such as like Ferguson, Mo., and Baltimore.
"It's about poverty and about race," she said. "Police brutality is the symptom."
As co-leader of the group and a central voice in "Project Fatherhood," Cummings agreed the experience has been transformative for participants and their families alike. It proves that "everybody can be a father no matter what your situation is or what it looks like."
Cummings and Leap together, with help from a number of others, have also begun a Project Fatherhood group at Jordan Downs' neighbor, Nickerson Gardens. The plan is to "reinforce what's a strength in this community in a very real way," Leap said.
"Watts is different," she continued, "but Watts is worth it."
---
Get the latest news, events and more from the Los Angeles Times Book Club, and help us get L.A. reading and talking.
You may occasionally receive promotional content from the Los Angeles Times.