Edwidge Danticat writes into the unknown in 'The Art of Death'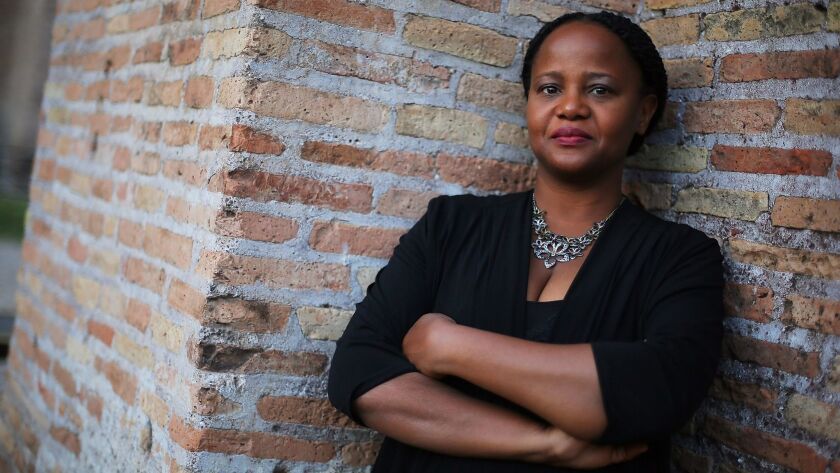 "My father was dying and I was pregnant," is a haunting echo from Edwidge Danticat's 2007 memoir "Brother, I'm Dying," the story of the deaths of her father from pulmonary fibrosis and her uncle in a detention center awaiting to enter the United States from Haiti. Like her acclaimed works of fiction "Breath, Eyes, Memory" (1994), "The Dew Breaker" (2004), "Claire of the Sea Light" (2013), her new book "The Art of Death: Writing the Final Story" delves into the physical and psychic landscapes of loss. In "Brother, I'm Dying," Danticat translates "Pa pi mal," a Haitian Creole term her father uses to explain his health, as "Not so good" and "Not so bad," articulating the precarious nature of his health, but also his condition of living in-between different worlds as a Haitian exile.
So too, in "The Art of Death," Danticat attempts to convey her mother's state — as one that has long been wrestling between at least two poles: "In Haitian Creole, when someone is said to be lòt bò dlo, 'on the other side of the water,' it can either mean that they've traveled abroad or that they have died. My mother at forty was already lòt bò dlo, on the other side of the water." This memoir narrates her second crossing, into death.
In early 2014, Danticat's 78-year-old mother is diagnosed with Stage 4 ovarian cancer and chooses to forgo intensive chemotherapy, telling her doctor and her daughter "it's up to God now."
The book is the latest in Graywolf's "The Art of" series about writing, joining a dozen others loosely addressing the practice of poetry, fiction and nonfiction. Danticat's is a memoir written in a manner akin to the circular, overlapping and overwhelming processes of grief and mourning; she layers her story with other poems, memoirs, novels and essays about death, scaling the personal to wider-ranging political and ecological catastrophes.
Danticat's is a memoir written in a manner akin to the circular, overlapping and overwhelming processes of grief and mourning.
Two inquiries frame this short but deeply felt memoir; the first is — How does one write about death? All of us are exposed to death, but none of us has experienced death ourselves, and, as she notes we can't ask anyone else "what it is like to die." Danticat agrees with Michael Ondaatje, who writes that "death means you are writing in the third person."
The second inquiry asks what can guide us through what Toni Morrison calls "circles and circles of sorrow." Reading Elizabeth Alexander's memoir "The Light of the World," a moving elegy to her late husband, Danticat reads her confession, " 'I want rules, I want the prayers to say every day for a year at dusk and I want them to be beautiful and meaningful.' I wanted these same kinds of rules and prayers too."
Danticat attempts to find the rules and prayers through texts that have sustained her throughout her life — undertaking a process of close reading that reinforces how stories are integral to making sense of our experience, echoing James Baldwin's oft quoted sentiment that "you think your pain and your heartbreak are unprecedented in the history of the world, but then you read."
Danticat's descriptions of both texts and feelings are often unsentimental. She prefers sparseness and silence, refusing to offer herself or her readers closure. In her readings, she also examines the losses of others close to her — aunts, uncles, cousins and friends — many of whose lives were curtailed by tragedy. Reading Morrison's "Sula," she thinks of her Tante Rezia's final moments in a coma, in relation to Sula's, whose final breaths Morrison describes with lyricism and open-ended possibility.
Like written narratives, folklore becomes a source of prayer to ease trauma. After receiving her mother's cancer diagnosistogether, on the drive home Danticat didn't respond with tears but a "terrible silence." Her mother refused to let Danticat suddenly turn into a zombie, and she heeded the call to "ward off the sezisman, 'the shock,'" by adhering to a Haitian folklore that liberates zombies "from their living death by eating salt." Eating salt is also advised for people who suddenly receive tragic news, in shock, and in danger of turning into a lost and wandering body. When they get home, her mother promptly made them each a coffee, "sprinkled with salt."
"Each death frames previous deaths in a different light, and even deaths to come.
Edwidge Danticat
But what if she wonders, her mother returns as a ghost, as Zora Neale Hurston's mother did, and her "travel dust" shadows her? Hurston's mother's death left an atmospheric gap; she confesses that it "changed a world. A world," Hurston writes "which had been built out of her body and her heart." This, perhaps more than any other phrase, is one that speaks most acutely to the bond shared between Danticat and her mother.
Some of the most moving passages from the memoir take place as Danticat describes the anticipation of her mother's death and the terror involved in such an immeasurable loss. "Each death frames previous deaths in a different light, and even deaths to come. During the time my mother was sick, I found myself crying uncontrollably over the deaths of people I barely knew. I attended a couple funerals, of relatives of church members, or people from my husband's past, people I'd never even met. Mid-sob, I would realize that I was imagining sitting in the front row where the family was sitting, but at my own mother's funeral. If it wasn't her coffin I was looking at, then why had I come? Then I realized that I was rehearsing, so it wouldn't hurt so much when it was my turn."
A few months after her mother died, PEN World Voices Festival of International Literature asked her to write a prayer for a panel. Growing up in a family who prayed all the time, she still had difficulty writing prayer, believing that "prayers are meant to be private, since they often reflect our most vital desires." "A New Sky," the prayer she wrote, was inspired by her mother, a prayer where she imagines, much like Morrison does with Sula or Ondaatje with Almásy, her mother's final words in her final moments — a prayer that accounts for how her mother lived — with faith, humor and grace.
Let them not bury me in an ugly dress.
Guide them to my good wig. (I really should have told my daughter where it was.)
Let them not be talked out of a closed coffin. I now only want you to see my face.
And, please, please let my children survive this. Let them survive this. For I will not be just their Manman now. I will be their light pillar, their rainbow, their moon bow, their sunbow, their glory, their new sky.
Mirakhor is a writer and professor.
"The Art of Death: Writing the Final Story"
Edwidge Danticat
Graywolf: 160 pp., $14 paper
---
Get the latest news, events and more from the Los Angeles Times Book Club, and help us get L.A. reading and talking.
You may occasionally receive promotional content from the Los Angeles Times.