Real-life 'Billion Dollar Spy' reads like a Cold War fiction thriller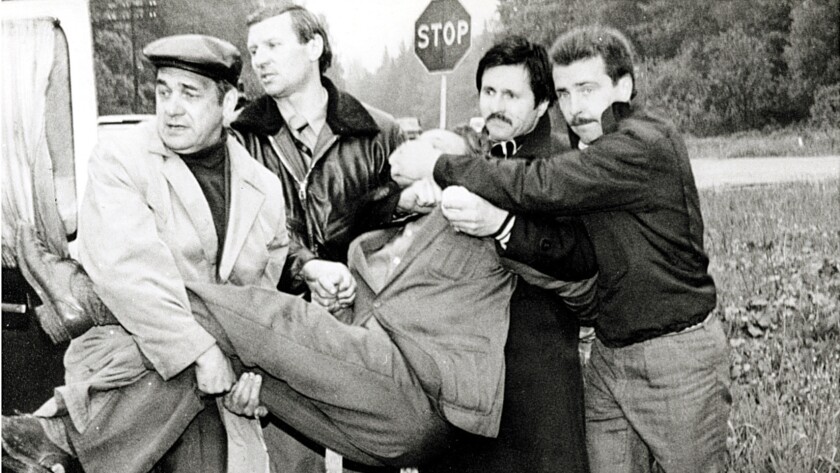 One wintry night in early 1977, in the depths of the Cold War, a furtive man approached a CIA officer at a gas station reserved for foreign diplomats in Moscow and slipped him a note offering to spy for America.
CIA supervisors in Washington were so fearful of a KGB trap that they said no — repeatedly.
Adolf G. Tolkachev had to approach the CIA seven times over the next year or so, once even banging on the car of the Moscow station chief to get his attention, before they finally accepted his offer to betray his country.
Tolkachev proved a stunning source. As a senior engineer in a top-secret Soviet aerospace laboratory, he secretly photographed thousands of pages of highly classified blueprints, diagrams and reports on the latest airborne radars, avionics, guidance systems and fighter designs.
In a city teeming with KGB agents, he met 21 times with CIA officers over the next six years without being detected. The CIA soon considered him the crown jewel of their spying networks.
MORE: 27 nonfiction books you'll want to read -- and share -- this summer
And then he was fatally betrayed. A fired CIA officer, Edward J. Howard, sought revenge by selling agency secrets. The KGB arrested Tolkachev in 1985 and executed him. Howard slipped past the FBI and became the first CIA officer to defect to Moscow.
That dramatic spy vs. spy story, complete with a trove of trade-craft tricks, is the grist for Pulitzer Prize-winning author David E. Hoffman's scrupulously reported "The Billion Dollar Spy," a true-life tale so gripping at times it reads like spy fiction.
Howard's treachery is well known. But Tolkachev's astonishing tale is not. Hoffman interviewed key players and gained access to more than 900 pages of long-secret CIA files and operational cables to fill in a crucial gap in the Cold War espionage canon.
The book's title comes from a simple question: What's a spy really worth? In 1979, a year after Tolkachev had begun looting Soviet military vaults, the Air Force estimated he already had saved the Pentagon about $2 billion in research and development costs. But he arguably saved the CIA as well.
Bungled spy cases, internal dysfunction and congressional investigations had paralyzed the CIA in the early 1970s. As the CIA's first real agent in Moscow, Tolkachev helped the clandestine service regain its footing and justify its growing budget.
Tolkachev's motivation was simple. He was a "dissident at heart," he explained, and he wanted to inflict "maximum damage in [the] shortest time" against the Soviet government.
At first the CIA tried to communicate with him by stashing special writing pads in a dirty mitten at a "dead drop" near Tolkachev's apartment. But he wanted face-to-face meetings, if only to convince himself that Americans cared.
Jumping out of cars in dark corners, donning elaborate disguises and using pop-up "jack-in-the-box" dummies to evade the near-constant KGB surveillance, CIA officers soon began meeting him regularly to hand over tiny cameras, special film, false documents and, at his request, Alice Cooper and Led Zeppelin tapes for his teenage son.
CIA supervisors in Washington repeatedly refused one request from CKSPHERE, as they called their new agent. But Tolkachev kept pleading, and the agency ultimately agreed to furnish him with a deadly cyanide pill, hidden inside a pen so he could quickly commit suicide if the KGB came to arrest him.
The CIA called it an L-pill; the L stood for "lethal."
They also fought his demands for money. After offering to pay $300,000, the CIA gave him 300,000 Russian rubles, worth a fraction as much. Ultimately they paid about $2 million into an account overseas, though it's unclear if his family ever received a penny.
Compulsive and impatient, Tolkachev hid documents in his coat day after day to slip them past checkpoints at his office or photographed them in the dim light of a toilet stall, rushing them back to the files each night.
He somehow survived until Howard fed enough detail about the CIA operation to the KGB that when they grabbed Tolkachev they immediately pinned his arms back and stripped off his clothes so he couldn't take his L-pill.
To his credit, Hoffman describes the drab reality of most espionage work: long waits, endless paperwork, bumbling bureaucracy and often shoddy equipment. Cameras don't always work. Special radios break. Signals get confused. Tedium is more common than tension.
By most accounts, the only thing that's changed in espionage today is the technology. It's far easier to ransack the digital vaults of government agencies — or Sony Pictures for that matter — than it was in this classic Cold War saga.
The Billion Dollar Spy
A True Story of Cold War Espionage and Betrayal
David E. Hoffman
Doubleday: 336 pp., $28.95
---
Get the latest news, events and more from the Los Angeles Times Book Club, and help us get L.A. reading and talking.
You may occasionally receive promotional content from the Los Angeles Times.