Rescued from history: The baseball teams of East Los Angeles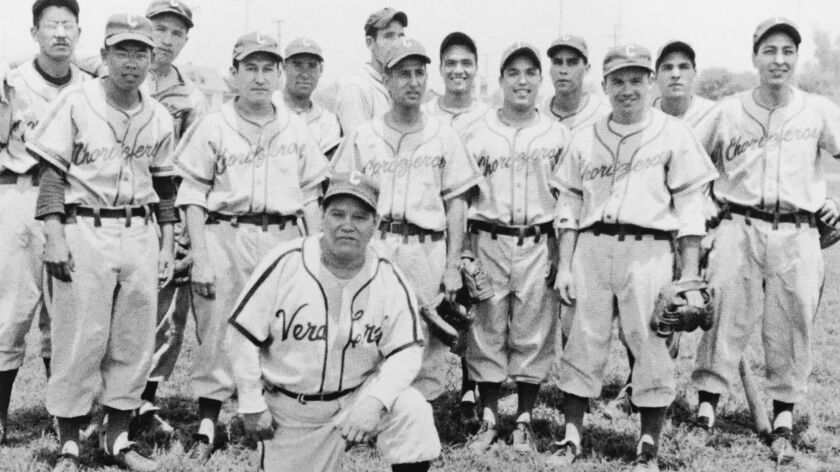 If you spend enough time getting to know a city, you'll notice official and unofficial monuments of its history.
On rare occasions, you might catch sight of grown men in crisp white and sky-blue uniforms kicking up clouds of dust at the diamond on 4th Street and Evergreen Avenue. This is part of the lesser known piece of Los Angeles history captured in "Mexican American Baseball in East Los Angeles."
The book's photos and stories are drawn from the Latino Baseball History Project archive, permanently housed in the CSU San Bernardino library. This book is part of a series by Arcadia Publishing that enables authors to turn personal snapshots, historical photos and archive materials into paperback books with a regional emphasis.
In "Mexican American Baseball in East Los Angeles," chapters are framed with brief historical passages explaining relevant local and national events from 1917 to 2016. Each photo is accompanied by a caption that might be as simple as a list of names or, more interestingly, short anecdotes.
Photos of Manuel "Shorty" Pérez from the 1930s to '80s show how baseball connected a diverse immigrant and first-generation enclave, which later became predominately Mexican American, to America while also fostering community pride in turbulent times.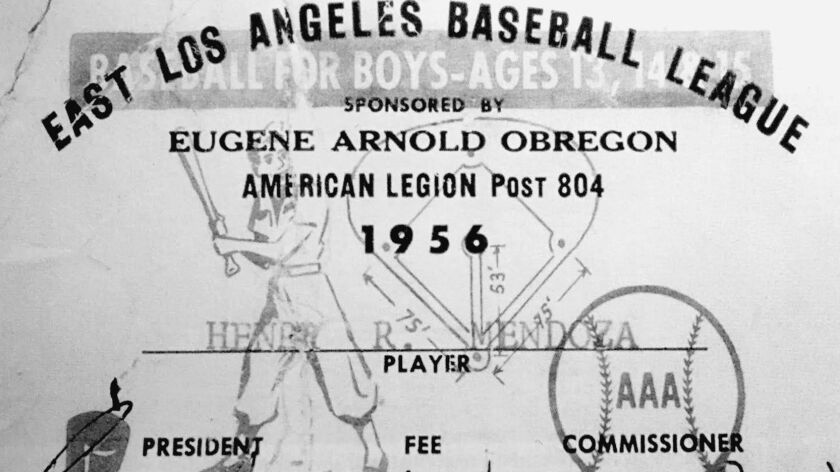 In his youth, Pérez played for the Elysian Park team in the Chavez Ravine — the neighborhood where family homes were demolished to make way for the construction of Dodger Stadium. He went on to manage several teams, including a team nicknamed Los Chorizeros (the sausage makers) that won 19 city championships in the span of 30 years.
The team was sponsored by the Carmelita Provision Co., a local market that carried pig's feet, chicharrones and chorizo. You can still see the baseball influence in the company's logo, a personified pig carrying a bat and wearing a baseball uniform (he looks a little like Winnie the Pooh).
Many of the Los Chorizeros players were part of labor and civil rights organizations. Since the team drew large crowds, baseball fields became a political space used for voter registration, citizenship drives, collecting donations for discrimination lawsuits, and informing fans of protests against businesses that did not hire or serve Mexican Americans.
In the last photo featured of Pérez, one of the onlookers carries an American flag as he steps up to the plate with bat in hand and a black patch strapped to his left eye. The caption reads, "Nearly every outstanding player from East Los Angeles played for Shorty and in the Mike Brito League. Willie Davis, a former Dodger from Roosevelt, played for Shorty. In fact, Davis was signed by Dodgers scout Kenny Meyers at Evergreen Park around 1960."
The last two chapters are reserved for East L.A. ties to American major-league and transnational baseball, but the larger portion of the book focuses on baseball at a community level. During the 20th century, there was a strong concentration of baseball teams — from youth to 40-60 clubs, amateur to semiprofessional.
Arcadia has published more than 200 baseball books; related titles include "Mexican American Baseball in Ventura County" (2016), "Mexican American Baseball in the San Fernando Valley" (2015), "Mexican American Baseball in the Pomona Valley" (2014) and 2013's "Mexican American Baseball in Orange County."
Although the photos in "Mexican American Baseball in East Los Angeles" are interspersed with a mix of dull and remarkable details of East L.A. life through the lens of baseball, the time has never been better than now to look back on how these American communities endured displacement, racial discrimination and anti-immigrant backlash.
Castaneda is a writer who lives in Los Angeles.
"Mexican American Baseball in East Los Angeles"
Richard A. Santillán, Richard Peña, Teresa M. Santillán, Al Padilla and Bob Lagunas
Arcadia Publishing: 128 pp., $21.99
---
Get the latest news, events and more from the Los Angeles Times Book Club, and help us get L.A. reading and talking.
You may occasionally receive promotional content from the Los Angeles Times.