27 essential Memorial Day books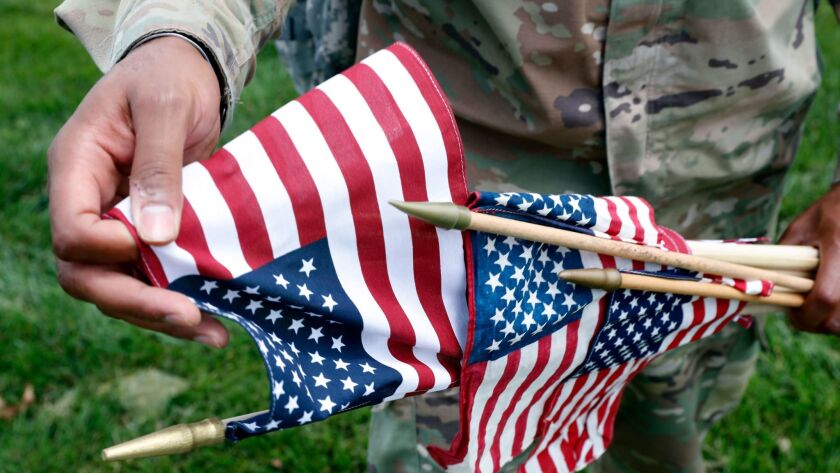 Memorial Day is meant to give Americans a time to remember the veterans and fallen soldiers of our many wars. The Los Angeles Times' Book section has chosen these 27 books – novels and nonfiction, some stories absurd, others painful – as essential to understanding the American fighters' experience. Ernest Hemingway, Phil Klay, Kurt Vonnegut and Tim O'Brien took their own war experiences to create now-classic fiction; Evan Wright and Martha Gellhorn were journalists on the front lines. This list goes back to the Civil War and continues to the present day, when American veterans of Iraq and Afghanistan have returned, not always easily, back home.
1. "Fobbit" by David Abrams (2012, fiction). The debut novel from Abrams, who was an Army public affairs officer in Iraq, is a comedy that focuses on the administrative American troops stationed in a palace that was once Saddam Hussein's.
2. "The Red Badge of Courage" by Stephen Crane (1895, fiction). In Crane's novel, a Union soldier flees from the fighting during the Civil War. Deeply ashamed of his cowardice, he returns to the front to fight.
3. "Thank You For Your Service" by David Finkel (2013, nonfiction). Ten years after their battalion returns from Baghdad, Finkel looks into the lives of American veterans who are struggling to adjust to life back home.
4. "Billy Lynn's Long Halftime Walk" by Ben Fountain (2012, fiction). Iraq war soldiers home for a brief leave are feted at the Super Bowl; the narrator, while drinking and horsing around with his buddies, quietly observes the event's shallow patriotism and absurdities.
5. "The Face of War" by Martha Gellhorn (1959, nonfiction). American journalist Gellhorn was one of the few female reporters on the front lines in the Spanish Civil War and World War II. A 1986 edition of this collection includes reporting from Vietnam, Israel and Central America.
6. "Five Came Back" by Mark Harris (2014, nonfiction). Harris tells the story of five major Hollywood film directors who joined the U.S. military during World War II. They went to the front with cameras and created the films that helped shape how soldiers -- and the rest of America -- saw the war.
7. "The Ghosts of Hero Street: How One Small Mexican-American Community Gave So Much in World War II and Korea" by Carlos Harrison (2014, nonfiction). The story of one street in the Illinois town of Silvis that was home to 57 men who fought in two wars.
8. "Paco's Story" by Larry Heinemann (1986, fiction). This novel, which beat out Toni Morrison's "Beloved" for the 1987 National Book Award, is the story of a soldier who survives a devastating attack during the Vietnam War, narrated by the ghost of one of his fellow GIs.
9. "Catch-22" by Joseph Heller (1961, fiction). This comic novel is so iconic that its title has entered our lexicon. In it, an American bombardier in Europe in World War II wants desperately to get home, something that remains ridiculously out of reach.
10. "A Farewell to Arms" by Ernest Hemingway (1929, fiction). Hemingway turned his short World War I battlefield experience into this classic novel of a wounded American soldier and his affair with an English nurse.
11. "Dispatches" by Michael Herr (1977, fiction). Herr covered the Vietnam War for Esquire; in this kaleidoscopic and astonishing work of nonfiction, he re-creates the chaos and fragmentary surrealism of being on the ground.
12. "Unbroken" by Lauren Hillenbrand (2010, nonfiction). Hillenbrand tells the story of Louis Zamperini, a World War II Army Air Corps bombardier whose plane went down in the Pacific. His incredible survival at sea ended with his being captured by the Japanese.
13. "Red Tail Captured, Red Tail Free" by Alexander Jefferson with Lewis Carlson (2005, nonfiction). Jefferson was a Tuskegee Airman, one of the highly decorated African American fliers in World War II. Shot down over France, he was liberated from a German POW camp only to confront racism back at home.
14. "Tree of Smoke" by Denis Johnson (2007, fiction). A massive novel of Vietnam centered around a conflicted intelligence officer and his uncle, a brash general from World War II.
15. "Hold It 'Til It Hurts" by T. Geronimo Johnson (2012, fiction). A novel of two African American adopted brothers who return from duty in Afghanistan to New Orleans, where they set out to find their birth parents.
16. "The Thin Red Line" by James Jones (1962, fiction). A novel of the protracted battle between American and Japanese troops for Guadalcanal, an atoll in the Pacific, by the author of the Pearl Harbor novel "From Here to Eternity."
17. "Redeployment" by Phil Klay (2014, fiction). Klay, a former Marine, won the National Book Award with this, his first book. It's a powerful collection of short fiction about soldiers in Iraq having trouble coming home.
18. "The Naked and the Dead" by Norman Mailer (1948, fiction). Mailer's debut book, a thunderous novel of a platoon of foot soldiers in World War II, derived from his own experiences in the Philippines.
19. "The End of Major Combat Operations" by Nick McDonnell (2010, nonfiction). McDonnell was 25 when Time magazine sent him to report on Iraq. This book, published a year later, is impressionist, opinionated, and deeply empathetic toward the American soldiers there.
20. "The Things They Carried" by Tim O'Brien (1990, fiction). Linked stories that recount the Vietnam War from a foot soldier's perspective, while raising questions about the interplay of memory, imagination and narrative.
21. "The Yellow Birds" by Kevin Powers (2012, fiction). A story of a soldier in the Iraq war who brings his angry and empty psychic state with him back to Virginia, where everyone calls him a hero.
22. "Jarhead" by Anthony Swofford (2003, nonfiction). Swofford was a sniper in the Persian Gulf War, stationed in Saudi Arabia in 1990, where he experienced both boredom and violence.
23. "Johnny Got His Gun" by Dalton Trumbo (1939, fiction). An antiwar classic about a severely disabled veteran, this novel was published on the eve of World War II; the timing was so bad that Trumbo and his publisher suspended reprinting until after Hitler was defeated.
24. "Slaughterhouse Five" by Kurt Vonnegut (1969, fiction). A now-classic novel that combines absurdist science fiction with the story of an American POW in Dresden, Germany, during the massive firebombing there.
25. "Plenty of Time When We Get Home" by Kayla Williams (2014, nonfiction). Williams, a veteran of the Iraq war, writes of the romance and difficulties of her marriage to another veteran, Brian McGough, who suffers from a brain injury and PTSD.
26. "The Barracks Thief" by Tobias Wolff (1985, fiction). Relentless, sharp and always focused, Wolff's 1984 novella involves three paratroopers who come together, and apart, after they are asked to guard an ammunition dump.
27. "Generation Kill" by Evan Wright (2004, nonfiction). As America invaded Iraq in 2003, Wright lived with and captured the stories of the young Marines with big personalities who led our fighting force.
Book news and more; I'm @paperhaus on Twitter
---
Get the latest news, events and more from the Los Angeles Times Book Club, and help us get L.A. reading and talking.
You may occasionally receive promotional content from the Los Angeles Times.