Books: The new Trump book, plus book reviews and news
Books Editor
For book lovers and politics fiends, 2018 has gotten off to a bang with the early publication of "Fire and Fury: Inside the Trump White House" by Michael Wolff. Welcome to the new year! I'm Carolyn Kellogg with this week's books newsletter.
THE BIG STORY
Excerpts from "Fire and Fury" that appeared online this week angered President Trump so much that his lawyers sent letters to publisher Henry Holt & Co. demanding it cease publication. In response, the publisher moved up the book's release to Friday so it could get into readers' hands sooner. Demand is high: The book has spent two days at the top of Amazon's bestseller list.
Jackie Calmes from our Washington D.C. bureau has read the book and provides a sharp analysis: "Wolff's work carries a punch," she writes, "the result of the power that comes from tying together in one place the dizzying events of Trump's initial year" with the access he was granted by an administration that verged on chaos. "No other White House in memory would have allowed an author of Wolff's high-flying reputation to have such extensive and unrestrained access."
Wolff's mixed reputation as a journalist is detailed by Nina Agrawal, but new Opinion contributor Virginia Heffernan thinks the book is too good to pass up.
The bottom line, a quickie guide by me to help you decide: Should you read it?
MAKING A PLACE
For Angela Sanchez and her father, telling stories became a way of navigating difficult times — they became homeless during the Recession, when she was in high school. Now, the 26-year-old has self-published a children's book, "Scruffy and the Egg," based on their tales, and has found her footing as a blossoming writer. Read her story here.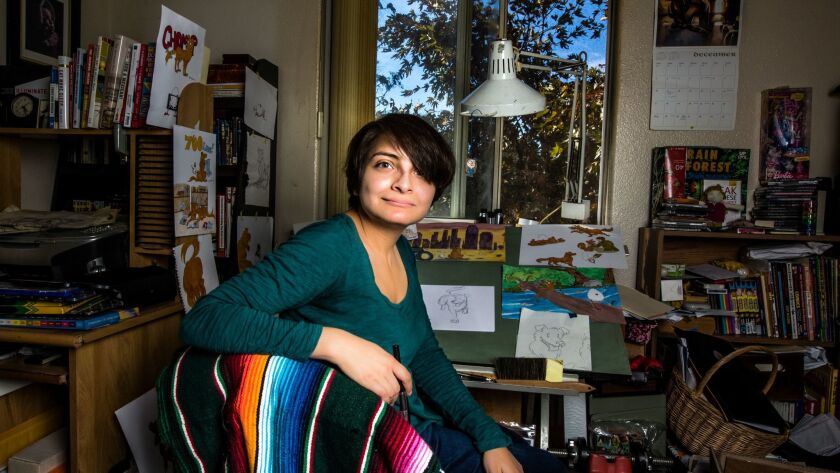 BOOK REVIEWS
The work of A.R. Ammons is collected in the massive, two-volume omnibus collection "The Complete Poems of A.R. Ammons." "In his poems," writes Craig M. Teicher in our review, "we get to watch someone brilliant and deeply capacious thinking through everything he encounters."
If Alexey Feodosievich Wangenheim had not believed he would eventually be freed from the Gulag, he might not have been able to create the beautifully illustrated letters he sent to his daughter. Jim Ruland reviews "Stalin's Meteorologist," a nonfiction book originally published in France, that looks at the unfortunate fate of one man who believed in the leader of his nation.
Scott Bradfield encourages us to read irresponsibly by celebrating the work of Jack Kirby, the comics artist whose decades-old creations are still driving our culture (think Marvel's Avengers). Bradfield looks at three massive volumes of Kirby's work that showcased his wildly creative mind.
A CLASSIC VOICE
In her new book "Men & Power," classics scholar Mary Beard looks closely at "The Odyssey" and other early texts and finds that the roots of the misogyny we're still grappling with go all the way back to ancient Greece and Rome. Kate Tuttle talks to her about the book.
Every time a book makes the news, as "Fire and Fury: Inside the Trump White House" by Michael Wolff has, it's good news — not just for its publisher and author, but also for literary culture and the culture at large. People are walking into bookstores or downloading books or grabbing the book off the table at massive retailers like Costco. They're thinking about what can be said in a book that's not in a tweet or a Facebook post. Maybe they're thinking that books are something to return to this year. I hope so. We're just getting started.
Happy 2018 — and thanks for reading!
---
Get the latest news, events and more from the Los Angeles Times Book Club, and help us get L.A. reading and talking.
You may occasionally receive promotional content from the Los Angeles Times.