'To Kill a Mockingbird' author Harper Lee will publish second book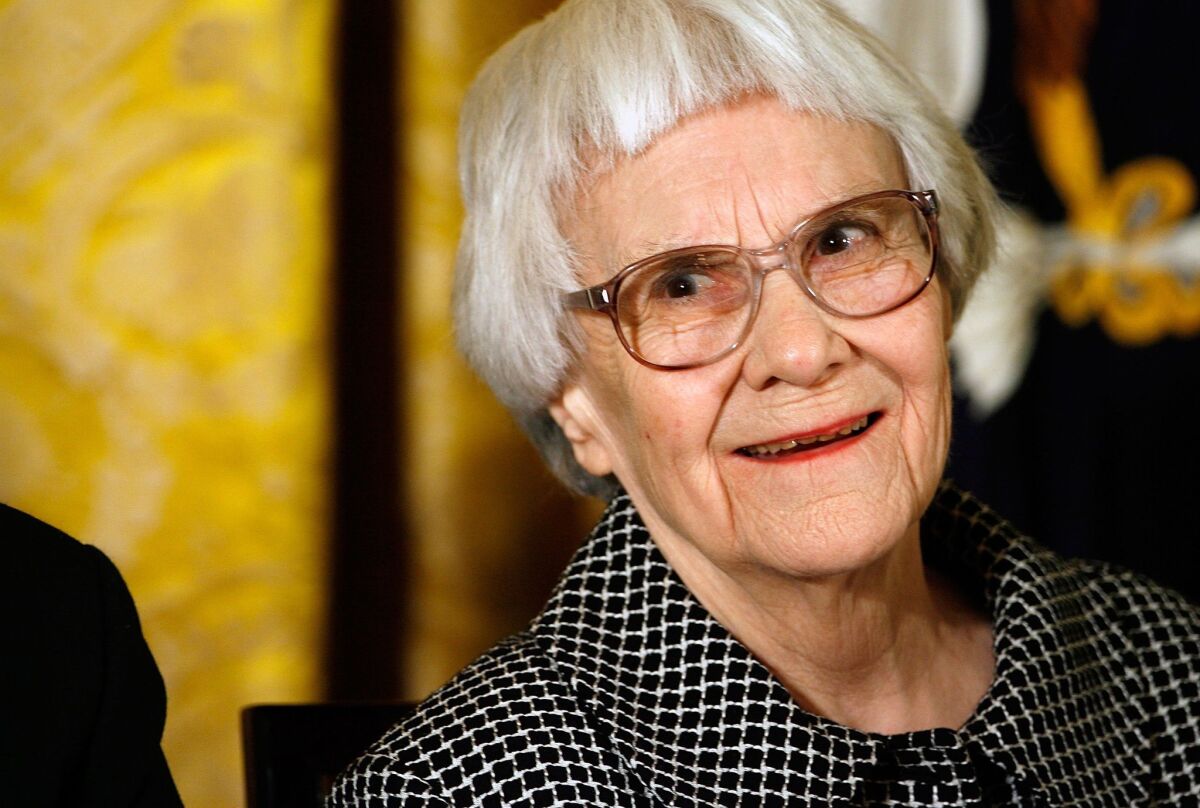 No American author has built a reputation as impeccable as Harper Lee's, and she did it with just one book: "To Kill a Mockingbird," a powerful story of racial injustice in the pre-civil-rights South. Still one of America's most beloved books, it has sold more than 40 million copies since its 1960 publication, with 400,000 copies purchased just last year.
Lee, now 88, never published another book; she lived quietly in New York and her hometown of Monroeville, Ala., and rarely spoke to the press.
On Tuesday came the news that shocked the publishing world: Lee has a second book, "Go Set a Watchman," which will be published in July by Harper, a division of HarperCollins. In the new book, Lee's original heroine, Scout, returns home 20 years after the events that took place in "To Kill a Mockingbird" and reminisces with her father, Atticus Finch.
------------
FOR THE RECORD:
Harper Lee: In the Feb. 4 Section A, an article about a forthcoming novel from "To Kill a Mockingbird" author Harper Lee referred to a bronze statue of "Mockingbird" characters Scout, Jim and Dill. It should have said Jem, not Jim.
------------
"Go Set a Watchman" is not a new work. In fact, it was written about a year before the earliest draft of "To Kill a Mockingbird," according to Lee biographer Charles J. Shields.
Completing her first novel took an enormous effort. "She worked for years on what became 'To Kill a Mockingbird,' " says Marja Mills, a reporter who was granted a rare interview with Lee that led to a friendship in the mid-2000s. "Both her agent, Maurice Crain, and Tay Hohoff, her editor, helped her in deciding on just what the focus would be." Lee redrafted the book three times.
HarperCollins has said that there will not be a similar effort with "Go Set a Watchman." A representative confirmed to The Times that "there will not be any editing to the book, as it is not necessary."
"I suspect that without a strong editor's hand behind it, like 'To Kill a Mockingbird' had, we're going to see a book that is not quite as polished," says Shields, author of the unauthorized 2006 biography "Mockingbird."
Nevertheless, there is tremendous hunger for another book from Lee. And whatever its literary merit, the opportunity to see one of the 20th century's most-praised authors bringing out another work has riveted the publishing world.
"There isn't anybody like Harper Lee: a media-shy recluse whose book is still iconic, still taught in classrooms," says Jim Milliot, editor of Publishers Weekly, who expects "Go Set a Watchman" to be the book of the summer. "I really can't think of another person there'd be so much interest in after 50 years."
Lee tapped her childhood experiences in Alabama to craft her Pulitzer Prize-winning novel.Monroeville, a town of 4,600, remains a destination for readers who want to see the inspiration for "To Kill a Mockingbird."
"People come here from all over the world because she wrote that book," the director of the local chamber of commerce, Sandy Smith, said Tuesday. On the courthouse lawn there's a life-sized bronze statue of characters Scout, Jim and Dill reading a book. There are two walking tours that guide visitors to relevant sites throughout the town. And there's Monroeville's centerpiece: its annual production of a play based on the book.
This adulation is something of which Lee — known to friends as Nelle — has been keenly aware, says Mills. Mills moved to Monroeville in 2004, renting the place next door to the house Lee shared with her elder sister, Alice. "They talked about how difficult that press of interest could be," Mills says. "Nelle told me, 'Forty years of this gets to be a bit much.'"
Alice Lee, a lawyer who worked in their father's firm in town until she was 99, was Harper Lee's protector and guide.
"Alice was in charge of her sister," Shields says. "She was a no-nonsense person, rather conservative, and for all of Harper Lee's life after 'To Kill a Mockingbird,' she ran her sister's business."
Alice died in November at 103. The reason the book has surfaced now, Shields says, is simple: "Because Alice Lee died."
Harper Lee's current lawyer, Tonja Carter, discovered the manuscript of "Go Set a Watchman" and brought it to publisher Harper.
In a statement released by Carter on Tuesday, Lee explains, "In the mid-1950s, I completed a novel called Go Set a Watchman. It features the character known as Scout as an adult woman and I thought it a pretty decent effort. My editor, who was taken by the flashbacks to Scout's childhood, persuaded me to write a novel from the point of view of the young Scout. I was a first-time writer, so I did as I was told. I hadn't realized it had survived, so was surprised and delighted when my dear friend and lawyer Tonja Carter discovered it. After much thought and hesitation I shared it with a handful of people I trust and was pleased to hear that they considered it worthy of publication. I am humbled and amazed that this will now be published after all these years."
Carter, who declined to comment on this story, has been involved in legal tussles and news stories related to Harper Lee, including a suit filed against the local Monroe County Heritage Museum for attempting to "capitalize upon the fame" of her novel by selling soap, aprons, magnets and other merchandise.
In 2014, the publication of Mills' book "The Mockingbird Next Door" prompted two conflicting accounts ofher relationship with the Lee sisters. First, in a statement released by Carter, Harper Lee said, "I have not willingly participated in any book written or to be written by Marja Mills. Neither have I authorised such a book. Any claims otherwise are false."
Mills followed up by producing a note written by Alice Lee in 2011 that read, in part, "Poor Nelle Harper can't see and can't hear and will sign anything put before her by anyone in whom she has confidence."
Harper Lee had a stroke in 2007, which forced her to give up her New York apartment and eventually move into an assisted-living facility apart from her sister. According to numerous reports, her health has not been good. By the time "Go Set a Watchman" is published, she will be 89.
Shields seems unconcerned that it may not be her most polished work. "All I'm hoping for," he says," is that we'll get another taste of Harper Lee's voice on the page, and her compassion, and her insight into human beings."
Staff writer Matthew Teague contributed to this report.
Get the latest news, events and more from the Los Angeles Times Book Club, and help us get L.A. reading and talking.
You may occasionally receive promotional content from the Los Angeles Times.