Lauren Bacall on writing: The most complete experience I've ever had
Lauren Bacall, who starred in such screen classics as "The Big Sleep" and won two Tony Awards, found fame fast after her 1944 debut, and wed Humphrey Bogart in 1945.
(Michael Ochs Archives / Getty Images)
Bacall and Bogart arrive at Los Angeles' Union Station upon their return to California after wedding in Ohio. Bacall is blowing on a small whistle attached to her bracelet.
(L. Maxine Reams / Los Angeles Times)
Gregory Peck tries to explain himself to an upset Lauren Bacall in a scene from the 1957 film "Designing Woman." The film's production occurred while Bacall's husband's health was deteriorating.
(Metro-Goldwyn-Mayer / Getty Images)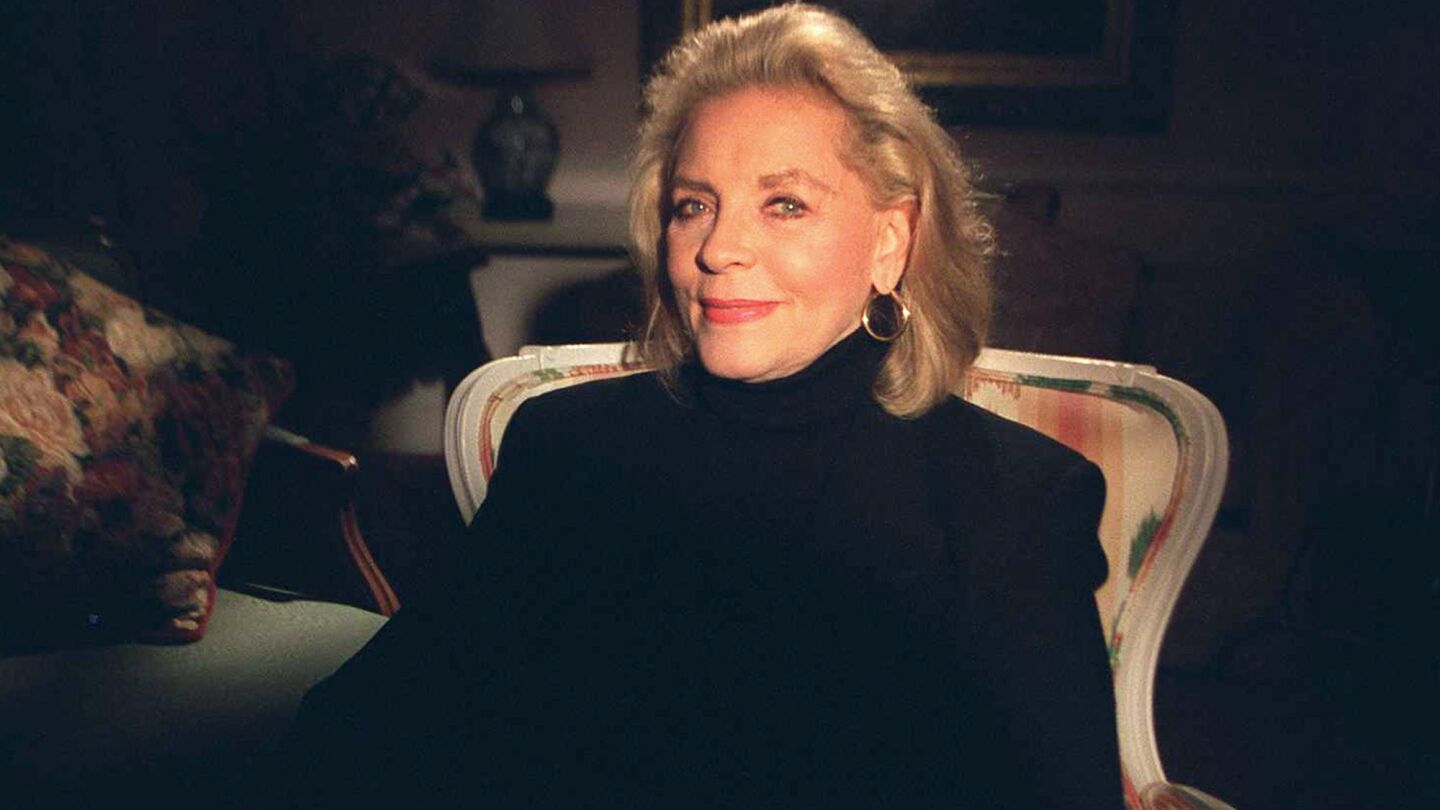 Lauren Bacall released her second autobiography, "Now," in 1994 (she had won a National Book Award for the first, "By Myself") and appeared in Robert Altman's "Pret a Porter," released in the U.S. as "Ready to Wear."
(Bruce Gilbert / For The Times)
Bacall is surrounded by admirers in her Hyatt Regency Hotel suite on March 26, 1997. Later she was the honored guest at a benefit luncheon for the Pacific Symphony.
(Don Bartletti / Los Angeles Times)
Theater director Walter Bobbie poses with his Tony Award for director of a musical for "Chicago" with Bacall, who presented the award during the 1997 Tony Awards at Radio City Music Hall. Bacall was a Tony winner herself, in 1970 and 1981.
(Timothy A. Clary / AFP)
Old drama school buddies Bacall and Kirk Douglas pal around before a screening of their film "Diamonds" at the Deauville American Film Festival in France on Sept. 7, 1999.
(Mychele Daniau / AFP)
Bacall, left, Kate Bosworth, Amy Adams, Julie Taymor and Diane Lane attend Elle magazine's Women in Hollywood event at the Four Seasons in Beverly Hills on Oct. 15, 2007. She was an idol for younger generations of actresses.
(Jeff Vespa / WireImage.com)
Actress Lauren Bacall, who died Tuesday at age 89, decided to tell her own story in not one but three memoirs: "By Myself" in 1978, "Now" in 1994, and "By Myself and Then Some" in 2005.
When the first book was published, it swiftly became a bestseller. Bacall, who by then was living in New York, came back to Los Angeles for a book signing in early 1979. The line of fans waiting for her wrapped around the block at Pickwick Books -- she had to go in a side door and climb over a fire escape.
"Writing a book is the most complete experience I've ever had," she told The Times. Bacall spent three years writing "By Myself" in longhand on yellow legal pads. "I'm happily stunned with the results and astonished by the reaction."
During that book signing, Bacall put aside people who wanted her to sign memorabilia so that she could get to everyone who had a book. After signing close to 500, she had to move on to her next event, but some readers were still waiting -- so she arranged to have books brought to her hotel where she could sign them later.
In "By Myself," published by Knopf, she wrote about her relationship with co-star Humphrey Bogart: "No one has ever written a romance better than we lived it."
Their romance stared on the set of "To Have and Have Not," her first film, while he was still married. They starred in three other films together -- "The Big Sleep," "Dark Passage" and "Key Largo" -- and were married for more than 11 years, until Bogart died of cancer at their home in Los Angeles.
In 1965, before she had published her first book, she spoke to The Times' Charles Champlin about what life was like for her after Bogart died.
"I was afraid to do anything by myself. I couldn't cope except by getting out of Hollywood completely. I was anti-everything. Life had been so secure and solid, and then you are alone. You couldn't count on people you thought you could count on and you found other friends in unexpected places. It was a bitter young woman who got out of this town a couple of years later."
Although she had married Jason Robards -- they were together from 1961-69 -- that idea of having to function on her own resonated so much that "By Myself" became her memoir's title.
"It's one of my life's great accomplishments," she told The Times before the book was published. "I wrote every day. I dug out all the old letters and scrapbooks, taped conversations with all my old friends and then got down to it. Of course I overwrote to a ridiculous degree -- 1,000 pages. But there was a lot to say."
Bacall went on to fill two more books with memories that covered her many decades in show business, from model to Hollywood star to Broadway star and more.
"When I have a lull in my life, I write, and that's fairly often," she told the New York Times in 2005. "Nothing is ever as good as it is in the beginning," she added, looking back to her romance with Bogart. "I'd suddenly had this fairy-tale life, at such a young age, who would have thought something like that could happen?"
Book news and more; I'm @paperhaus on Twitter
---
Get the latest news, events and more from the Los Angeles Times Book Club, and help us get L.A. reading and talking.
You may occasionally receive promotional content from the Los Angeles Times.