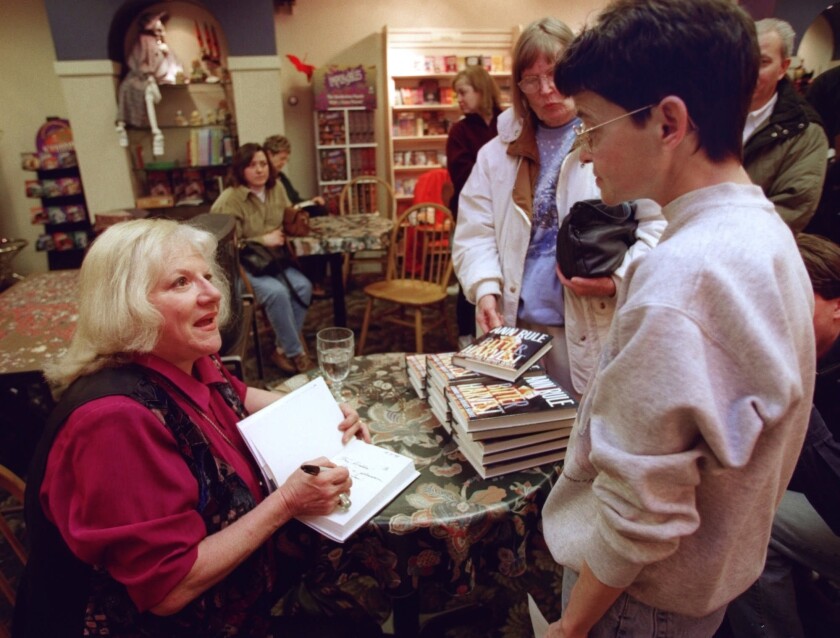 Two sons of true-crime author Ann Rule have been charged with theft and forgery after authorities say they stole more than $100,000 from their mother, reports the Huffington Post. The charges against Michael and Andrew Rule are labeled as domestic violence crimes by prosecutors in King County, Wash., where the writer lives.
Ann Rule, 84, is in poor health and "on oxygen at all times," authorities say, and they claimed the two sons took advantage of her condition in order to forge checks from her and pressure her into giving them money. Prosecutors say Michael Rule, 51, who lived next door to the author, would "yell at his mother demanding money as she cowered in her wheelchair." He is charged with "writing himself $103,628 in checks from his mother's bank account," the Huffington Post says.
Andrew Rule, 54, was arrested last month after police say he violated a restraining order. He is charged with stealing $23,327 from his mother by coercion. Prosecutors say he "would pester and bully Ann relentlessly for money, sometimes threatening suicide, sometimes trying to make her feel guilty, sometimes screaming obscenities at her, until she would finally give in and write him a check."
Prosecutors have set an April 30 arraignment date for the Rule brothers, who have been released on their own recognizance. A reporter for KIRO-TV news asked Andrew Rule to respond to the charges; he denied them, saying, "Basically, I used to have a gambling problem but I don't anymore, and I have absolutely no idea why I was pulled in at the same time my brother was."
The television reporter could not locate Michael Rule, and said Ann Rule declined to comment on the charges. Both brothers are charged with two counts of theft in the first degree and one count of forgery. The theft charges carry a maximum penalty of 10 years in prison; the forgery charge carries a maximum five-year sentence.
Ann Rule, a former Seattle police officer, is best known for her 1980 true-crime book "The Stranger Beside Me," about murderer Ted Bundy, with whom she used to be friends. Her latest book, "Practice to Deceive," was released in 2013.
---