Critic-at-Large
Every year, summer reading lists are published, with "beach reads, perfect for the season." I always think back to my childhood in inland Southern California, July and August temperatures scorching and the grass turned to soft yellow fur under our bare feet. Twice in the summer, my mother would pack homemade sandwiches, Fritos and oranges, then pack her five kids into the 1966 Country Squire station wagon and take us to Laguna Beach. In fact, the beach was the only place I didn't read. All summer, after chores and cleaning, I read in the branches of a fruitless mulberry tree, I read on the wooden hallway floor where we lay gasping for breath from Kaiser Steel smog so thick the Box Springs Mountains were erased.
This summer, I have a memoir coming out, and as always when writers are finished with a book, circling in our heads and uneasy in our bones, I've been reading obsessively. Having lived here all of my life, and so having kept my childhood books, I have original editions of "Little Women," "Sula" and "Julie of the Wolves." Looking back, I never read about the beach. My summer novels gave me places far from the sea, where girls and women were fighting to stay alive, stay free and stay themselves. For people like so many of us, living near deserts and mountains, living in apartments and duplexes where our children swam in plastic pools just as we had, novels are escapes of a different kind, whatever our age. Books take us to different waters — rivers unlike the Santa Ana and Los Angeles rivers, frozen snowfields. For all the kids like me, and the adults we turned into, summer reading meant transport to places we could never go.
"My summer novels gave me places far from the sea, where girls and women were fighting to stay alive, stay free, and stay themselves."
Susan Straight
When I was 12, I read "Julie of the Wolves" by Jean Craighead George, and the moment I finished, read it again. With torn-edge cover and Newbery Medal, the book was in my hands again last month, and again I was immensely moved by the story of a 13-year-old girl lost on the Alaskan tundra in late summer, surviving with the help of a wolf pack. Miyax (her Inuit name) has lost her mother to death, and her father has disappeared while fishing. Far from the seal camp where she was raised, she is married to a teenage boy, son of her father's friend. The boy is mentally challenged, and one day attempts to force her to consummate the marriage. I was stunned, as were many readers. Miyax was a girl, like us. My friends and I had already endured casual attacks by older boys, but to read about it meant I felt less alone. This had happened to another girl — a smart, fierce girl like Miyax, who fled, with needles and knives, with her father's lessons in her heart. Her odyssey in late summer, sleeping in frost heaves, learning to approach the wolves on four legs, eating meat they bring her, changed my thinking about what a girl could be.
When I was 22 — having just finished my first year of a graduate program in writing and planning to get married in August — my professor Jay Neugeboren gave me "The Complete Stories of Flannery O'Connor." He kindly noted, with disbelief, that I hadn't read her before, adding that her prose, imagery and dark vision were perfect for a writer working on stories of a place like mine. In "Parker's Back," Obadiah Elihue Parker falls in love with a hard girl, with "ice-pick eyes." Sarah Ruth carries his baby but won't love him back because of his sin. His body already covered with tattoos, he spends two days and all his money to have Christ inked large on his back. Sarah Ruth calls the tattoo "more trash on yourself." "Don't you know who it is?" he cried in anguish. She responds, "It ain't anybody I know." "It's him," Parker said. "Him who?" "God!" Parker cried. "God? God don't look like that!"
O'Connor's dialogue flowed through me that summer while I sat in the house of Pearl Carter, born in Virginia, where she sewed my bridesmaid dresses for $30 each. I listened to the stories of my mother-in-law, Alberta Sims, about Sunflower County, Miss., and my father-in-law's Aunt Sister, about Tulsa, Okla.
When I was 32, with daughters who were 5 and 3, and pregnant with my last girl, I read on the front porch while they ate Otter Pops and swung on the tire hanging from my own fruitless mulberry tree. Then I read to them: "Amelia Bedelia," the housekeeper who does not keep a house, whose constant misunderstandings were my early favorites for hearing real voices and the comic irony in our many languages. When told by her employer to "dress the chicken," she makes it a suit. "Draw the drapes?" Amelia Bedelia uses pencil and paper.
I swear that Amelia Bedelia helped me think about my own dialogue in fiction. She entertained my girls on searing summer days, and when they fell asleep at night on the porch, too hot to be inside, I listened to possums rustle through the grass, thinking about my father-in-law, General II, saying, "Oh, he can really cut a rug!" and my brother-in-law, General III, saying, "We're fixin' to hat up right now."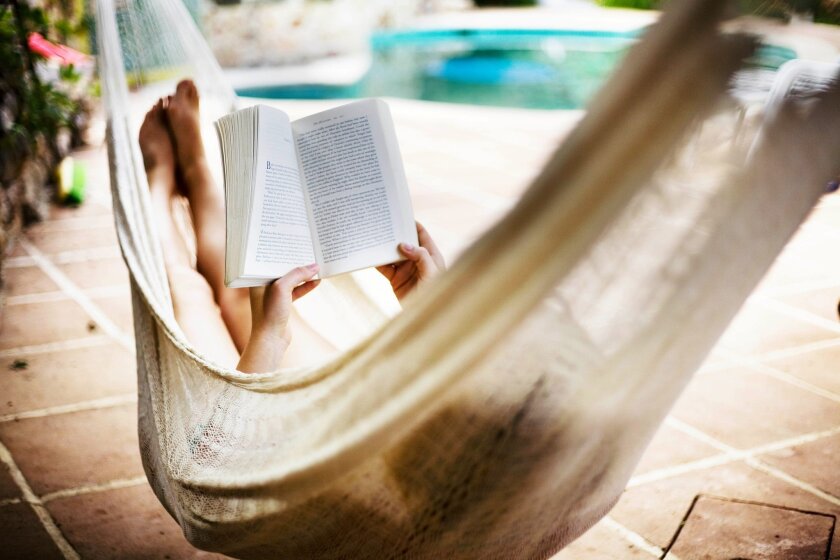 Book lovers! Sign up for the new L.A. Times Book Club for upcoming author events »
When I was 52, in 2013, I started working on my first nonfiction book — this memoir. I returned countless times to Toni Morrison's "Sula" for the descriptions of girls, of power, of summer, of loyalty, of Nel and Sula — their deep bond but also how they move through their community, observing everyone from the woman who can cook only in her hat to the boys of summer "who thickened the river with their shining, wet backs."
I spent five years writing about the women in my family who saved their own children and the children of others, who moved across the nation to make our community in Southern California as singular and specific as Medallion, Sula's home. Morrison's depiction of female friendship sustained me when I first read the book, as a teen, and mirrors my own friendships now, with the women I've known since childhood. Sula visits Nel in the same way as my own friends and sisters-in-law stop by. "When she scratched the screen door, as in the old days, and stepped inside, the dishes piled in the sink looked as though they belonged there; the dust on the lamps sparkled … and Nel's grimy intractable children looked like three wild things happily and insouciant in the May shine." Reading Morrison always feels like home – the laughter of women who have known each other since childhood, "in that mercury mood in July."
Straight is a Times critic at large. Her book "In the Country of Women" will be published Aug. 6 by Catapult Books.
---