The Free Black Women's Library amplifies the voices of female African American writers
Scattered across floor pillows and couches, the event attendees close their eyes. Some lay on the floor, others lean against a friend. A grainy audio recording of Audre Lorde plays across the space, snippets of the literary icon and activist reading her essay "Uses of the Erotic: The Erotic as Power." It's an overcast Thursday evening, and you can hear the faint whistle of a train nearby. Inside, everyone is still, and the voice of Lorde envelops the crowd.
Asha Grant leans against a bookshelf. Moments before, she asks everyone to take three deep breaths. Leading the workshop with Nicole Kelly — programming director at the event's location, the Women's Center for Creative Work — Grant asks attendees to take in the words of "our Lorde and savior," a deliberate pun referring to the iconic writer.
The Free Black Women's Library, a mobile pop-up library and community for black women, is creating spaces such as this one across the city. A movement that was first sparked in New York, the library hopes to cultivate an appreciation for black female writers but also a safe space for communities of color.
OlaRonke Akinmowo started the Free Black Women's Library in 2015 with 100 books, all written by black women. The library hosts pop-ups and events around New York, everywhere from a museum to a church to a vintage clothing shop. Akinmowo invites artists, writers and other creative makers to activate these spaces. The library, in this sense, becomes a community gathering as well — a chance to get together with like-minded book lovers and take home something to read, all in one night.
The idea: You take a book by a black female writer, you leave a book by a black female writer.
That's the energy that first attracted Grant to the project. Living in New York, she grew accustomed to book sales happening on the sidewalk, but what she saw one day in Harlem stood out.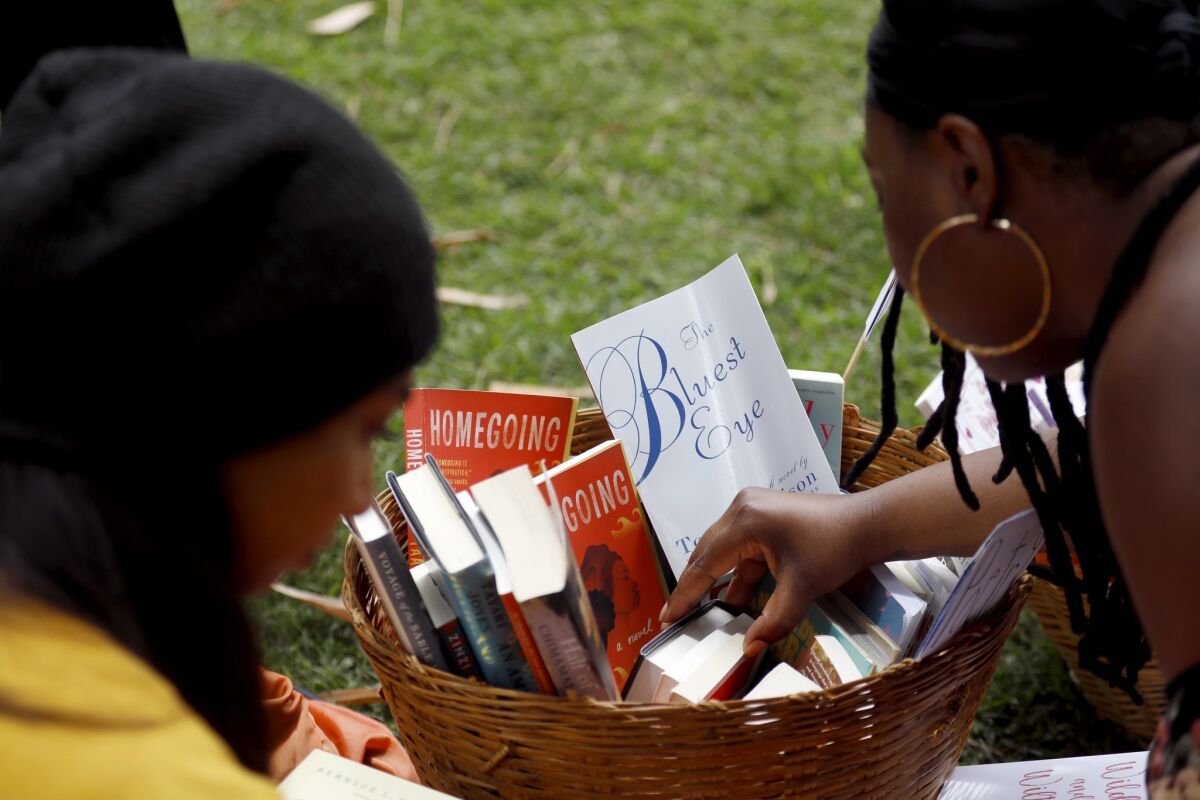 "It was clear that this wasn't just, like, some people were just purchasing books and leaving," Grant says. "People were really hanging out and talking and there was this sense of community that was there."
After attending a few events, Grant met Akinmowo in person. In 2016, after completing graduate school, Grant moved back to Los Angeles and started The Free Black Women's Library chapter.
The beginning of this literal new chapter — on the opposite coast — felt like a natural, and ideal, progression for Akinmowo.
"Part of my dream and part of my vision for the library has always been for there to be chapters across the country and across the world," Akinmowo says. "There [are] a couple of folks in Chicago who started their own library, and there are some folks in Atlanta who are about to kick off theirs."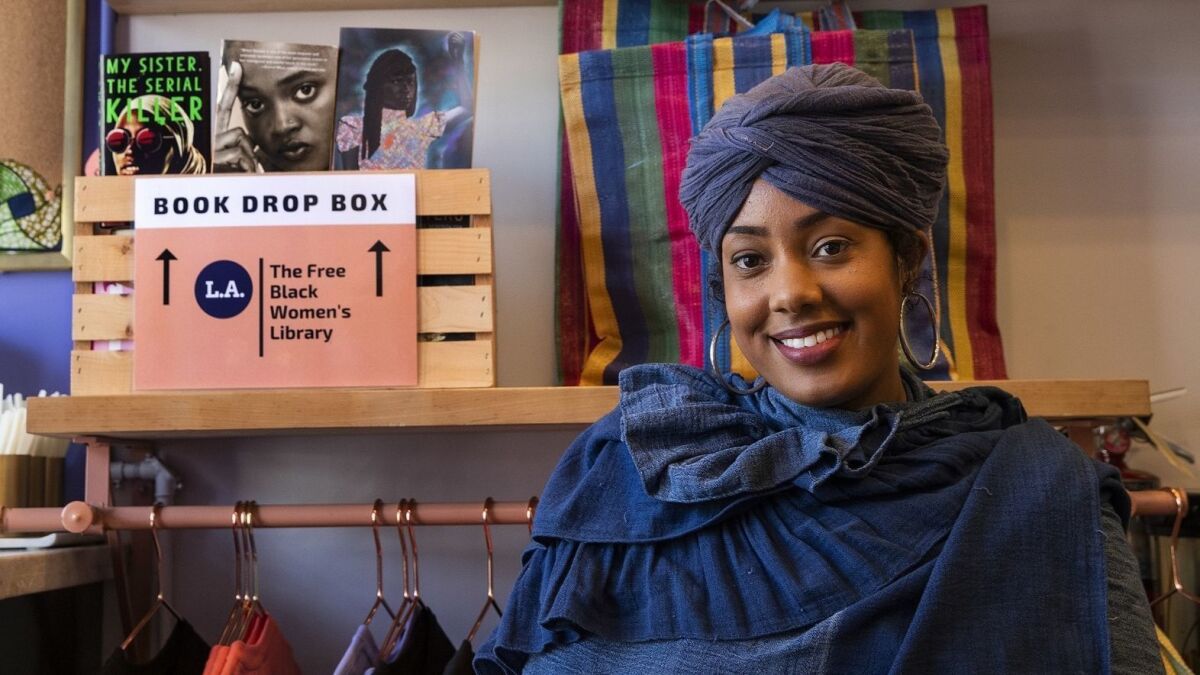 She often chats on the phone with these new groups, sharing her own advice and insights from New York City events and book collecting. She and Grant share one thing in common: They run the Free Black Women's Library with no outside funding.
Currently, Grant spearheads the effort in Los Angeles, with a rotating cast of volunteers. The library hoped to collect 300 books by the end of June, with drop-off spaces in locations across the city. It made it about two-thirds of the way to their goal, and still hopes to gather 500 books by the end of the year. The drop-off locations include the Women's Center for Creative Work in Elysian Valley, Hot and Cool Café in Leimert Park, and Go Get Em Tiger in downtown. Grant chooses locations that "actively support marginalized communities," where the library can feel like a valued part of the space instead of a token in whatever their mission is." Interested parties can also contribute to the library by purchasing books from its Amazon wish list.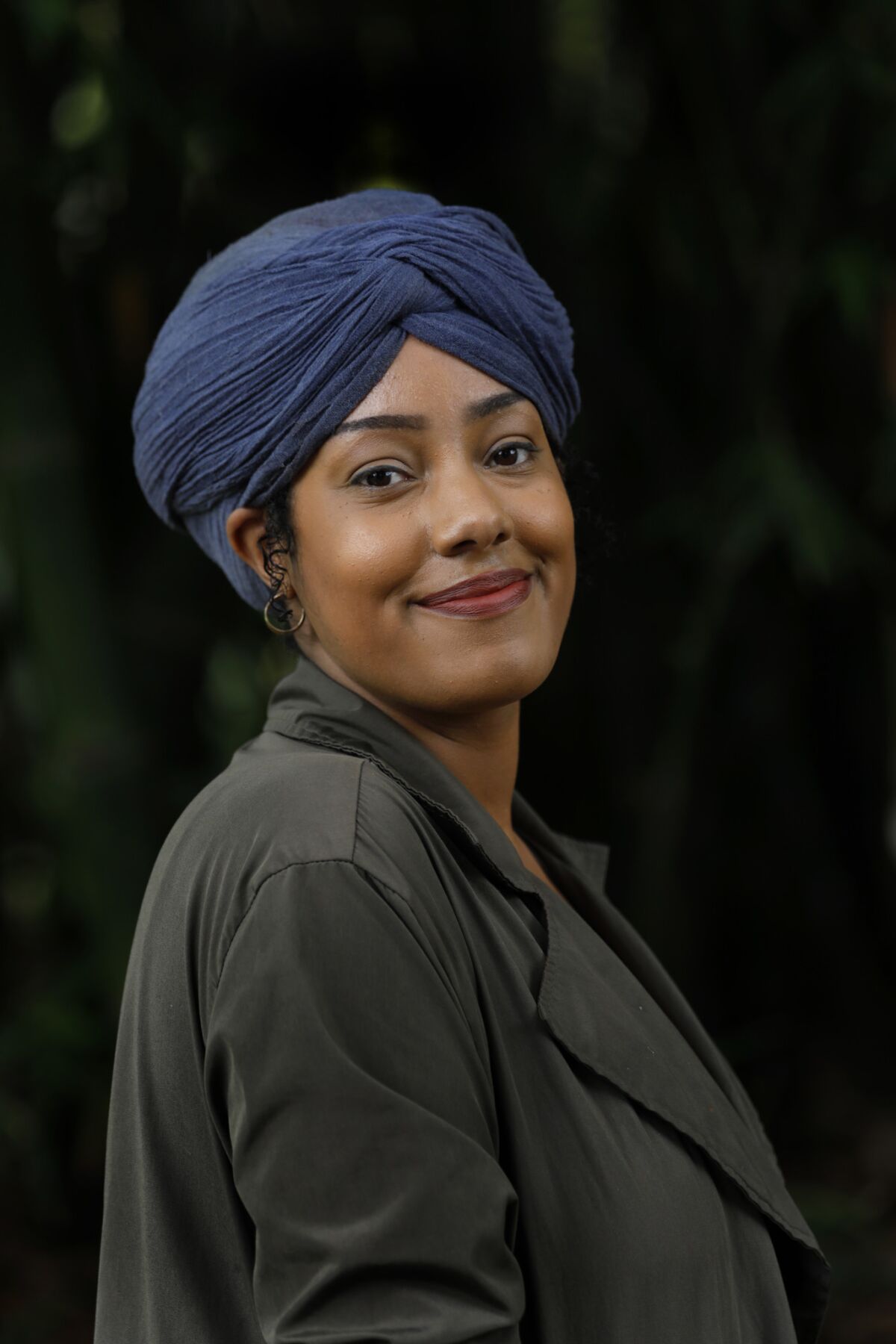 "I was really excited that she trusted me enough to carry out this legacy that she started," says Grant.
And while their processes might differ — Akinmowo takes donations by mail or in-person only, because of her busy schedule — they both recognize the power of social media to get the word across reading communities and communities of color. Their respective accounts help them find interested readers and volunteers; they also use them as an ongoing resource for highlighting the work of authors. The L.A. chapter, for example, recently started highlighting L.A. writers who identify as women in a weekly series called Writer Crush Wednesday.
"Part of the purpose of the library is definitely building community, bringing people together, creating very intergenerational, multiracial spaces that feel very affirming and nerdy and fun and deep and critical and creative and radical," Akinmowo says.
Volunteers such as Cara Elie Taylor often reach out via Instagram to see how they can get involved. For her, the library symbolizes a chance to help readers see themselves reflected in literature — while also offering a space for creative exploration.
"It's about more than just reading stories about black women," Taylor says. "It's also about helping to further the stories of black women living now and help them achieve whatever exposure they're looking for."
The local chapter's launch party and poet highlight night at Hilltop Coffee and Kitchen in South L.A. sold out quickly.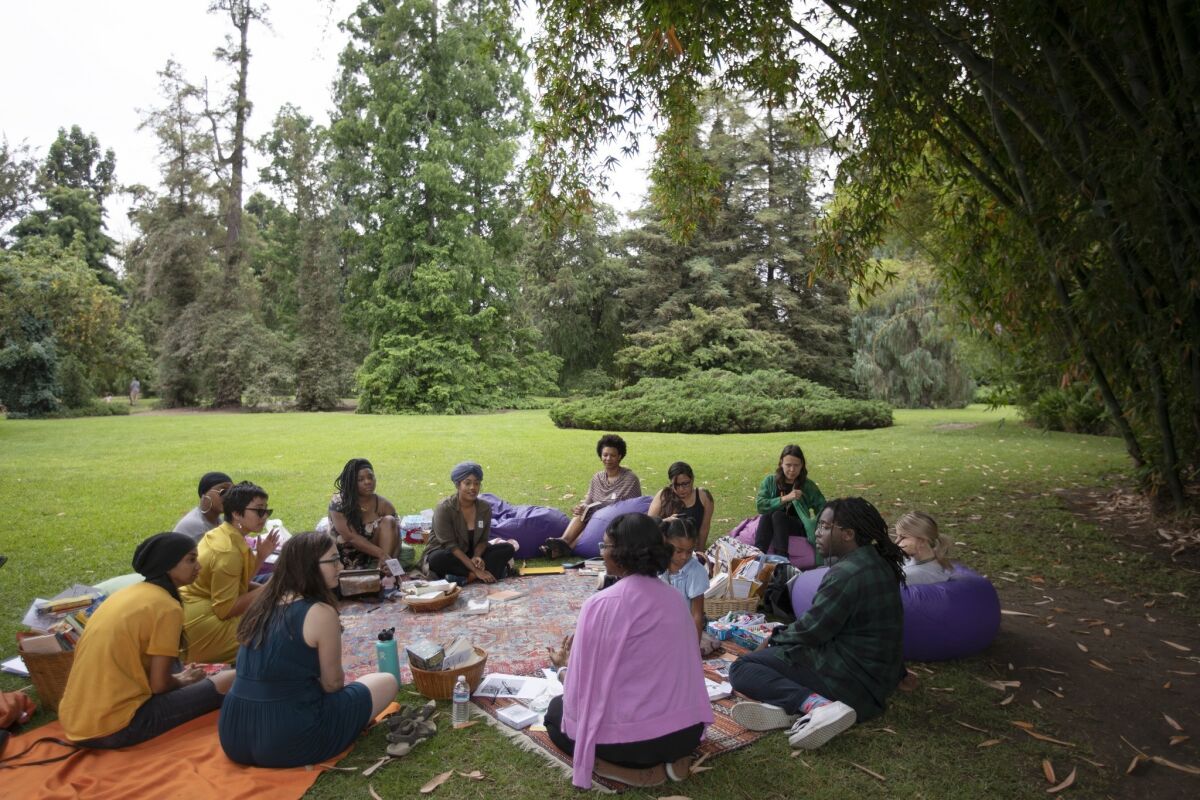 And while Grant acknowledges and respects the idea of the library as a mobile effort, she hopes that it might find a more permanent home in the future in addition to its pop-up efforts. The Feminist Library on Wheels, she says, uses a space at the Women's Center for Creative Work while also appearing around the city.
"It would be so amazing for the Free Black Women's Library one day to have an actual home where it can rest," Grant says, "where other people can come and rest and enjoy the fruits of black womanhood all around."
Recinos is a writer in Los Angeles.
Get the latest news, events and more from the Los Angeles Times Book Club, and help us get L.A. reading and talking.
You may occasionally receive promotional content from the Los Angeles Times.