'My Favorite Murder' podcasters get even more personal in their new book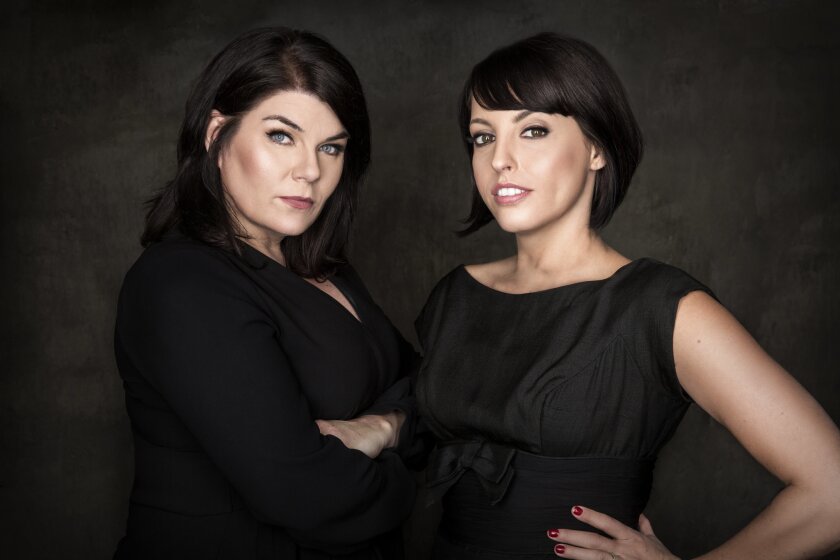 The room was filled with rare books, black balloons and Murderinos.
The die-hard fans of "My Favorite Murder," a true-crime comedy podcast, recently gathered at the Strand bookstore's Rare Books Room to celebrate the publication of "Stay Sexy & Don't Get Murdered," a combination memoir and advice volume written by the popular podcast's hosts, Georgia Hardstark and Karen Kilgariff. Hardstark, in a vintage-inspired blue dress, and Kilgariff, sleek in black to match her hair, thanked the crowd of around 100 in the classic New York venue.
"We had so many people who were looking out for us, and who believed in us," Hardstark said.
I think for women [true crime is] not fantasy and it's not fiction. There's something comforting in learning as much as I can about it.
— Georgia Hardstark
"We really lucked out," Kilgariff agreed, singling out the team at Forge, their publishers. "When I tell you we were hand-held through this process, we were held like little tiny babies."
A longtime fan of the podcast, editor Ali Fisher reached out to Kilgariff and Hardstark in 2016 to talk about the possibility of writing a book.
"What I'm most attracted to is that they're humorous and mirthful about all the dark stuff, whether that's true crime, or mental health issues, or victim advocacy," Fisher said. Once Forge acquired the project, she added, fellow MFM fans "just popped up out of the woodwork" at Forge.
"Ali identified many of their community within our company," added Forge's publisher, Linda Quinton. "We've always been attracted to properties we felt contributed a lot to a community of people." She gestured at the assembled Murderinos, many of them lined up to take selfies with Kilgariff and Hardstark.
It's been a heady time for the debut authors. Since its January 2016 launch, their podcast has frequently ranked among the top podcasts on Apple, garnering 30 million monthly downloads, according to their metrics on hosting platform Art19.
I think it was much more vulnerable than we ever get into on the podcast.
— Karen Kilgariff
This year, the pair introduced their own podcast network, Exactly Right, which produces not only "My Favorite Murder" but also "Jensen & Holes: The Murder Squad," "This Podcast Will Kill You" and longtime audio engineer Steven Ray Morris' "The Purrrcast," among others. The new book, whose title comes from the podcast's sign-off catchphrase — a kind of mantra, advice or prayer, take your pick — has appeared on lists of the year's most anticipated books by everyone from Cosmopolitan to Good Housekeeping.
Hardstark and Kilgariff's podcast takes on crime, death and other gory subjects, all filtered through the pair's subversive wit as they riff on life's craziness, often sharing details from their own mental health and substance abuse struggles. ("I'll never not be in therapy," said Hardstark, whose dedication in the book is to her late therapist.) This openness translates onto the page. A kind of life guide, with chapter titles like "Get a Job" and "Stay Out of the Forest," the book is just as funny as the podcast but often goes deeper into painful subjects.
"At first, I thought we were getting away with something, doing this book personal essay-style. Like, oh, that'll be easy!" said Kilgariff, a longtime stand-up comic and writer for shows including "Portlandia" and "Baskets." "But I think it was much more vulnerable than we ever get into on the podcast."
Hardstark, who has appeared on the Cooking Channel and Comedy Central's "Drunk History," agreed.
"Our incredible editor, Ali Fisher, forced us to go deeper than we initially intended," she said. "There are some stories in the book that I've told to people — they're not secrets — but here I've told parts of it that I never did before. It kind of opened up a lot more than I thought was going to happen when we started."
Reading parts of the book at live shows helped, said Kilgariff.
"I think we're always worried," she said. "It blindsided me entirely, how emotional it would make me feel to be reading it aloud. It's very connected and emotional, at least for me. It's not just comedy, and it's not just true crime. It's very directly us."
The podcast's audience skews female, and Kilgariff and Hardstark have a theory of why women are so fascinated by true crime.
"I think for women [true crime is] not fantasy and it's not fiction," said Hardstark. "For me, there's something comforting in learning as much as I can about it, because it makes me feel a little more in control of my life, in control of what happens to me."
Her co-author agreed.
"It's almost like running worst-case scenarios in a very real way and prepping yourself for what if this happened to me or someone in my family. That might be dark to some people," said Kilgariff.
Snapping selfies and chatting with their fans, Hardstark and Kilgariff seem to be in constant motion. They're having fun, but both are aware of the potential for burnout. Connecting with fans helps.
"The live shows are so exciting, and it's so fun to walk onstage and we get these amazing receptions from basically all our friends who wanted to see us," Hardstark said.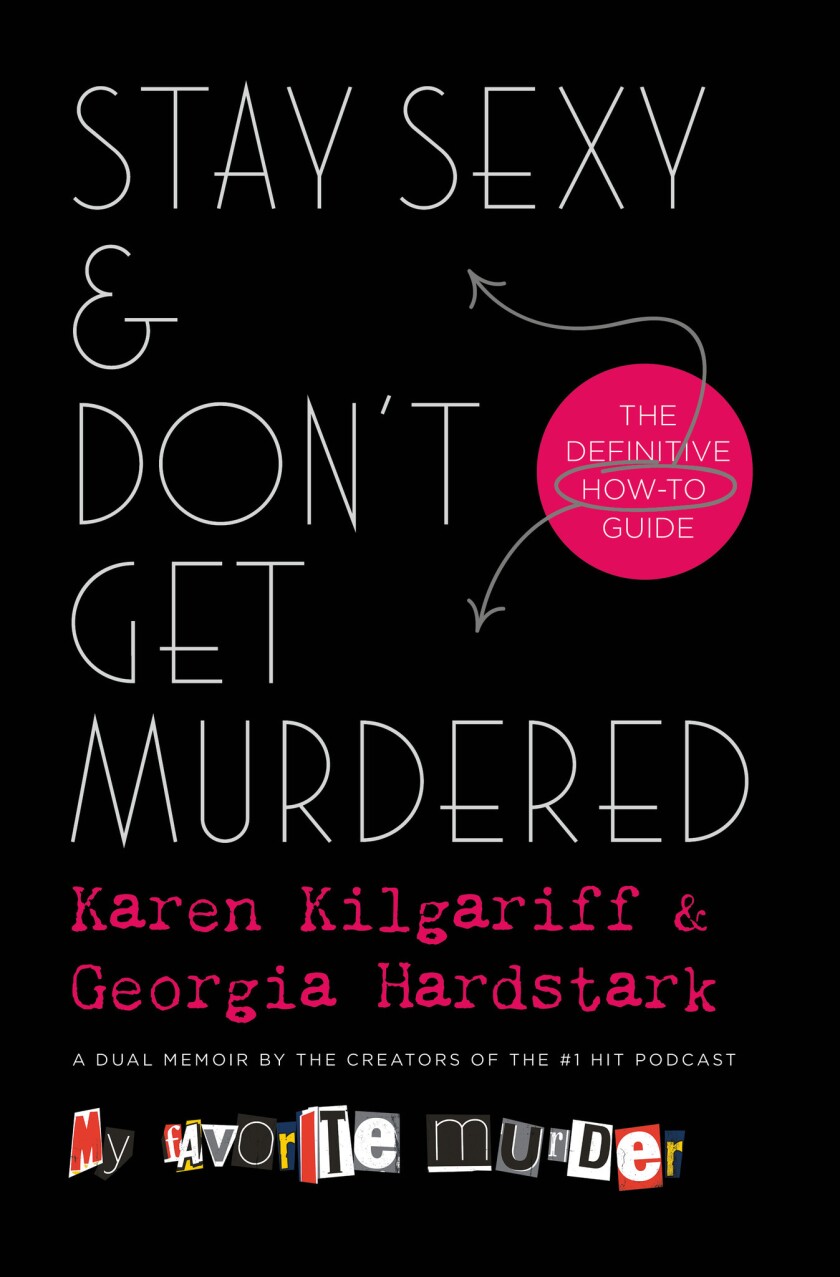 "It's very exciting to have a hit anything," Kilgariff said, "and it's also horrifying and a really high-pressure feeling sometimes. I feel like there's no end to the excitement and the freshness, because there's stuff happening every day. I think it's more like, within that whirlwind, how do you actually stay sane and keep your feet on the ground? And I'm not sure the answer to that."
Then Hardstark offered her own answer: "Xanax."
Kilgariff agreed. "Xanax and pedicures."
::
"Stay Sexy & Don't Get Murdered"
Georgia Hardstark and Karen Kilgariff
Forge Books, 304 pp., $24.99
Tuttle is a freelance book critic on the board of the National Book Critics Circle.
---
Get the latest news, events and more from the Los Angeles Times Book Club, and help us get L.A. reading and talking.
You may occasionally receive promotional content from the Los Angeles Times.