Jeffrey Fleishman's noir novel 'My Detective' unleashes a killer architect in downtown L.A.
L.A. Times Today airs Monday through Friday at 7 p.m. and 10 p.m. on Spectrum News 1. 
Jeffrey Fleishman is a career storyteller. In 1997, when he was a reporter for the Philadelphia Inquirer, the Pulitzer Prize board chose him as a finalist in feature writing, citing a vivid account of the flight of a group of Tibetan Buddhist monks and nuns fleeing Chinese soldiers (Fleishman traveled with them through the Himalayas). He's a longtime writer for the Los Angeles Times, where he spent many years as a foreign correspondent, serving as bureau chief in Cairo and Berlin, before moving to Los Angeles for the first time in 2014 to cover film, art and culture.
He published his first novel, "Promised Virgins: A Novel of Jihad," in 2009. "It was based a lot on my war correspondent experiences in Kosovo and was sort of autobiographical in that way," he says. But while he started in journalism, fiction was no whimsical detour. "I always wanted to be a novelist and I always wanted to be a correspondent. One came first, and the experience of being overseas and covering war became the seed for my first book."
His experience as a journalist has informed his craft as much as his subject matter: "The thing that translated for me was the accumulation of details," he says. "A thousand reporters can go to an event, but you bring your take to that event." But Fleishman has had to overcome some old habits to find his footing as a novelist. "The tough thing is to break out of the box, to break out of the barriers, and find that truth in fiction," he says. "In the journalist's mind, you have the inclination to stay and cleave right to the facts, but you can extrapolate. The boundaries are much wider and you can pull truth from outside of the notebook — the slipstream of thought, the way one character might look at a detail. So long as you have confidence and authority in your writing, you can take it anywhere you want to go."
The tough thing is to break out of the box, to break out of the barriers, and find that truth in fiction.
Jefferey Fleishman
"Promised Virgins" was a literary novel, as was his second, "Shadow Man," published in 2012, about a foreign correspondent with early-onset dementia. His third novel, "My Detective," is his first foray into crime fiction, as well as his first book set in Los Angeles — in the land of Raymond Chandler, this is not a coincidence. "Los Angeles is known as a place of noir, and nobody does noir better than Los Angeles," he says. "I thought, why don't I make my protagonist a detective and pit him against a killer whose life is invested in the remaking of downtown?"
Fleishman's hero is Sam Carver, a homicide detective in the hard-boiled tradition: smart, brave, dogged, and haunted by plenty of demons. "His father was a boxer, a misfit who kind of roamed around and died early in a very violent way," Fleishman says. "The first body Sam ever saw was his father's, when he was found beaten to death in Newport, Rhode Island. It's this thing in his head and his heart that's always there, this need to get the bottom of it." Fleishman notes that cops and journalists are somewhat alike: "They have similar temperaments. They're distilling and deciphering all the time."
But "My Detective" isn't just a hero's tale. Half of the novel is in Sam's point of view; the rest of it belongs to the killer, a woman named Dylan Cross. The two leads alternate chapters, speaking in first person and present tense. "I wanted to get into their heads and tissue and see what makes them tick," Fleishman says. There is no whodunit in this book — we meet Dylan in the act of killing, on the first page. She lets us watch her violence; she tells us about her romantic obsession with Sam, whom she stalks and refers to as "my detective." The thrill is in learning her motives and in seeing her lead her dance with Sam.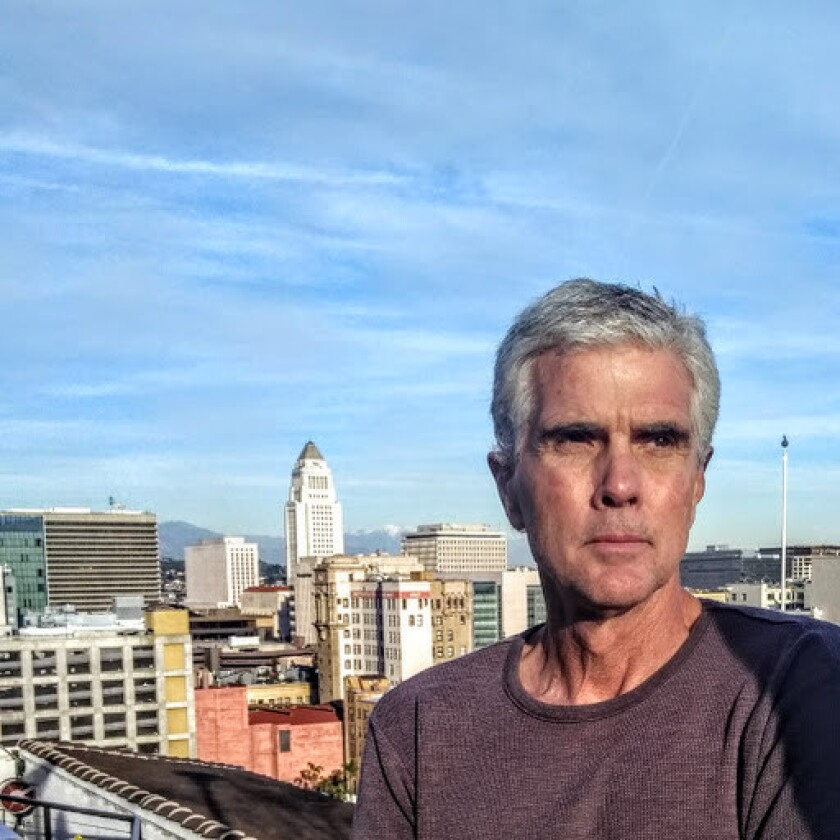 L.A. Times Festival of Books is back! Check out the lineup for our massive literary event launching April 13 and 14 at the USC campus. »
Dylan is an architect, one of the makers of the new Los Angeles. "That grew out of seeing the city changing, all these cranes swinging across the skyline, all these buildings going up — it was changing around me in very real time," Fleishman says. "I was putting together the fact that I wanted to write a noir novel and thought I wanted to make the architect a killer, and I wanted to make a comment on what was happening in L.A. aesthetically. Through the architect, we have beauty and purpose, we have the lines and angles that are making the city. Architecture is also one of the most discriminatory professions around." Fleishman's killer might agree; she seeks vengeance against a group of male architects.
Fleishman lives in downtown Los Angeles, across from the Grand Central Market. "In four years of living in downtown I became struck by how this city was changing at hyperspeed," he says. "It's a curious and fascinating social experiment because you have progressive politics, and you have developer money and the young sort of hipster crowd coming in — and then you have the homeless. I thought I would love to tell a story centered in this neighborhood."
"My Detective" is the first of a trilogy featuring Sam Carver. The second book, which will be out next year, also takes place in downtown Los Angeles — it centers on the murder of a famous Russian ballerina who lives on Spring Street. "I wanted to make Los Angeles its own character, and I wanted to do that because I'm not from L.A.," Fleishman says. "You hear so much about this city, you read so much about this city, its mythology, and now I'm here in it."
::
Jeffrey Fleishman
Blackstone Publishing; 288 pp., $25.99
Jeffrey Fleishman at the Los Angeles Times Festival of Books: Fleishman appears at 2:30 p.m. April 13 in conversation with Steph Cha, Lou Berney, Tod Goldberg and Joe Ide.
Cha is a novelist, editor and attorney. She has been a member of Mystery Writers of America since 2013.
---
Get the latest news, events and more from the Los Angeles Times Book Club, and help us get L.A. reading and talking.
You may occasionally receive promotional content from the Los Angeles Times.