5 things to know about Laila Lalami's 'The Other Americans'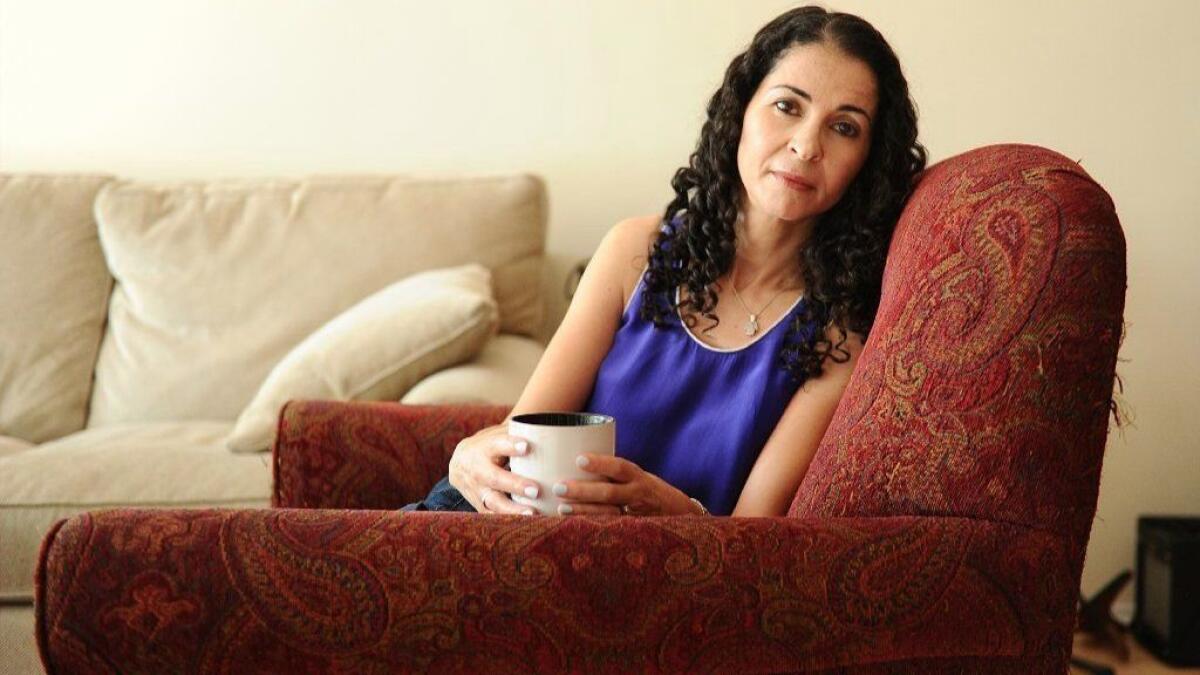 Laila Lalami's latest novel, "The Other Americans," is on one level a mystery about the death of a Moroccan American restaurant owner, set in a small town in the Mojave.
But Lalami, a professor of creative writing at UC Riverside, also has written an exploration of the struggles, tensions and regrets of two generations of an immigrant family. Their stories are intertwined with the inner lives of others — both native and foreign-born — who, in one way or another, are similarly alienated and struggling with various demons. The interactions set off a chain of events that expose both the town's hypocrisies and connections.
"The Other Americans" is the current selection of the Los Angeles Times Book Club, which hosts a July 30 evening with Lalami. Here are five things you'll want to know about the book.
1. It's a different view of the immigrant experience from what you've been reading in the news. The true-life dramas of Central American asylum seekers and refugees from war-torn Syria have dominated the headlines over the past few years. But Lalami tells a story that explores what has happened to an immigrant couple several decades after their arrival. Much of that saga is filtered through the perspective of the couple's daughter Nora, who disappointed her mother by becoming a jazz composer instead of a doctor. "For me, immigration is a timeless theme," Lalami says. "It's something that people have written about literally since the dawn of humanity."
2. It's a subject on which Lalami has a personal perspective. As the offspring of a working-class family in Morocco, she wrote her first story in French at age 9, before she eventually came to California to earn a doctorate in linguistics at USC. "I never expected to become an immigrant or to be writing fiction in English, but these two decisions have had a profound impact on my creative and critical thinking," Lalami says in an essay on her website. "My fiction frequently deals with themes of home, and my characters tend to be outsiders, people who don't quite fit in anywhere."
3. It's a story told from many points of view. "The Other Americans" has a complex structure, in which the story is told at various times by different narrators. In addition to Nora, readers get the perspective of her mother Maryam, her dead father Driss, and her sister Salma, a seemingly successful dentist who has her own secrets. Other parts are told by a high school classmate of Nora's who served a harrowing tour as a Marine in Iraq and is now a sheriff's deputy, and by the detective investigating the father's death. Still more voices include a Mexican immigrant in the country illegally, and a cantankerous bowling alley owner and his son. It's an approach that challenges readers to pay close attention, but it also allows them to see how differently the same event is perceived by various people.
4. The author found inspiration from an unexpected source. The seed for "The Other Americans" was planted while Lalami was on vacation in Wyoming. She told the Literary Hub website that she received a distressing call from her sister that their father was seriously ill in their hometown of Rabat, Morocco, and wasn't expected to survive. Being thousands of miles away in the midst of a family crisis is "every immigrant's nightmare," she said. She rushed to Morocco, where her father recovered. But the fear stuck with Lalami and moved her to contemplate what it would be like to live in a state of grief and sorrow.
5. "The Other" is a recurring theme in Southern California literature. In a region that's long been a magnet to immigrants — one in three residents of Los Angeles County are foreign-born — it's natural that writers would find drama in outsiders' struggle to fit in, or at least coexist here. "The Other Americans" has predecessors such as Hector Tobar's 2011 novel "The Barbarian Nurseries," which follows a Mexican live-in maid as she takes two children on a search for their grandfather. Viet Thanh Nguyen's "The Sympathizer," winner of a 2016 Pulitzer Prize, focuses upon the complex life of a communist agent posing as an aide to a South Vietnamese general and reluctantly following the subject of his spying to SoCal. Lalami's novel explores the lives of immigrants in a small desert town. As she explained in an interview in the Nation, she chose that setting instead of a big city, because "it was interesting to complicate the idea of these rural spaces that people think are isolated and monoethnic."
The Los Angeles Times Book Club welcomes author Laila Lalami
When: 7:30 p.m. on Tuesday, July 30
Where: Skirball Cultural Center, 2701 N. Sepulveda Blvd., Los Angeles
Tickets: $15 for general admission; $60 for VIP package including the book, author reception and reserved seating. Get tickets.
Info: latimes.com/bookclub
Sign up for our Book Club newsletter
Get the latest news, events and more from the Los Angeles Times Book Club, and help us get L.A. reading and talking.
You may occasionally receive promotional content from the Los Angeles Times.