Book Club: Diving into 'The Other Americans'
Good morning, and welcome to the L.A. Times Book Club newsletter.
Who gets to be an American? That's a question at the heart of Laila Lalami's "The Other Americans," our latest L.A. Times Book Club pick.
Lalami's novel is a mystery and a family saga set in a Southern California desert town. The story starts after a restaurant owner, a Moroccan immigrant, is run down in a darkened intersection.
Was his death an accident? Or a deliberate attack?
"The Other Americans" is a page-turner told from alternating points of view, including the victim's jazz-composer daughter, who returns to the town she thought she'd left for good. Readers also hear from the victim's widow, a neighbor, the daughter's friend, the police detective and the undocumented immigrant who witnesses the hit-and-run but is afraid to tell anyone.
Lalami's characters "are funny, cantankerous and affecting," says Hannah Giorgis in the Atlantic. "They keep secrets from one another and, most thrillingly, from themselves."
"'The Other Americans' manages to be many books at once: a gripping literary thriller, a complex love story and a sharp critique of an America wracked by war and hatred, divided against itself, constantly near a breaking point," says Michael Schaub in The Times.
Read along with the L.A. Times Book Club and join the conversation with Lalami on July 30 at the Skirball Cultural Center.
Enjoy a book excerpt here.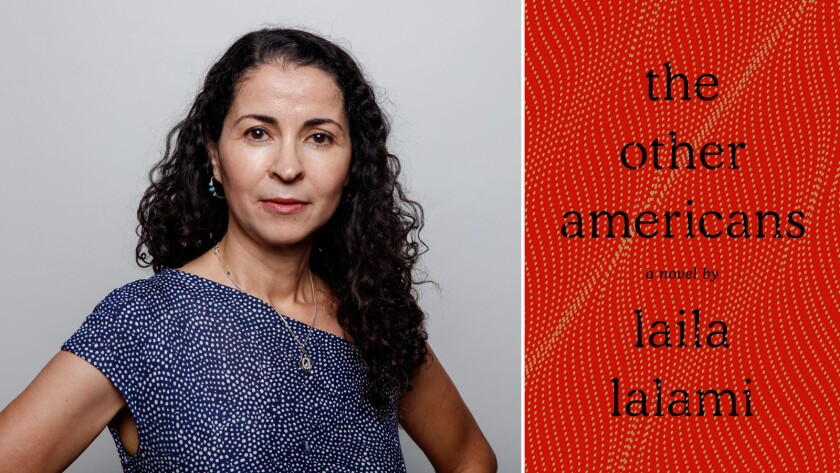 Launch party
Last week, we kicked off our community book club at a sold-out event with Susan Orlean, author of "The Library Book."
Here are three takeaways from the evening:
Local libraries will continue to thrive by embracing their "placeness." Libraries are increasingly essential in the sharing economy, Orlean says, noting that many young adults and others work from home and value communal spaces. It's what created coffee-shop culture. Also, libraries offer multiple ways of getting information⁠ — books, film, music, the internet, historical archives. Orlean says they remain the best one-stop portal to knowledge and information.
Columnist Steve Lopez shared a passage from Orlean's book" about libraries as de facto community centers for the homeless. Lopez told the audience he connected to the book because the homeless violinist featured in his book "The Soloist" used to read sheet music and scores at the Central Library. "And another reason the book connected with me is because I was married in a library ⁠— in nonfiction."
Susan Orlean writes, "Books are the last things that any human being can afford to do without." That spirit embodies the work of Access Books, our book club's community partner. The Los Angeles nonprofit is transforming school libraries and bringing desperately needed books to underserved communities. The Times' Reading by 9 fund is matching all donations up to $100,000.
Most popular books
Need more summer reading ideas? Here are the 10 most-requested books at Los Angeles County libraries this year:
"Becoming" by Michelle Obama
"Dark Sacred Night" by Michael Connelly
"The Reckoning" by John Grisham
"Crazy Rich Asians" by Kevin Kwan
"Educated" by Tara Westover
"Long Road to Mercy" by David Baldacci
"Past Tense" by Lee Child
"The Alchemist" by Paulo Coehlo
"Where the Crawdads Sing" by Delia Owens
"Nine Perfect Strangers" by Liane Moriarty
Read more and check out our handy interactive map to find out what your neighborhood library is reading.
Library stories
Thank you to all the Times readers who shared their own library stories this past month.
One of the most inspiring stories came from Patricia Sterne Evans, who was a city employee on April 29, 1986, when the Central Library Fire started. She raced to the library armed with a bullhorn and helped mobilize a massive, round-the-clock volunteer effort to save 3 million books.
Evans shared her story in the newspaper and stole the show onstage during book club night at the Barnsdall Gallery Theatre. "It really was the most extraordinary and inspirational thing I've ever been involved in," she says.
Join us
Our book club mission is to get people talking again by making your newspaper not merely something to read every day but something to experience. Something that regularly brings us together.
Read along. Attend events. Be part of the growing L.A. Times Book Club Facebook group. It's a great place to share your thoughts and compare notes with fellow book lovers.
Please share your suggestions for more books we should read together. You can reach me at donna.wares@latimes.com. And on Twitter: @donnawares
---
Get the latest news, events and more from the Los Angeles Times Book Club, and help us get L.A. reading and talking.
You may occasionally receive promotional content from the Los Angeles Times.