James Atlas' audiobook on Philip Roth shares tender memories from their 40 year friendship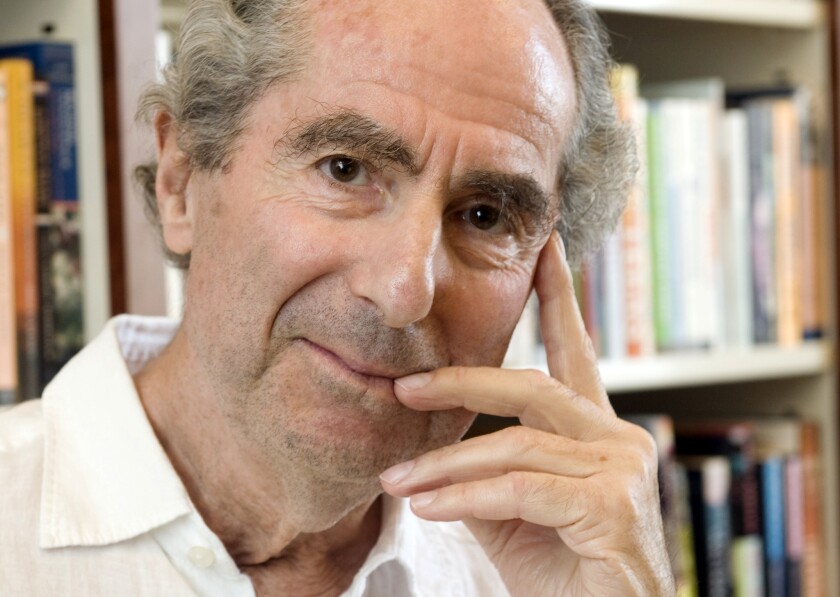 Somehow, it feels like Philip Roth has never left us.
He died last May, and his death spurred renewed interest in his huge collection of work. The same year, Lisa Halliday's debut novel, "Asymmetry," became an instant bestseller — largely because her main character was based on Roth, with whom she'd had a romantic relationship. Recently, the 92nd Street Y in New York presented a six-hour reading of Roth's "The Plot Against America," featuring Jon Hamm and other celebrities, and it is being discussed as a potential television project.
And now, "Remembering Roth" by James Atlas has been released by Audible. The memoir — spoken by the author — is based on the two men's decades-long friendship, which began when the former was just 28 and Roth wrote him a fan letter about Atlas' biography of poet Delmore Schwartz. The relationship lasted four decades and was not uncomplicated. But in the end, there was true affection.
Old age isn't a battle, it's a massacre.
Philip Roth
Even, or especially, for Roth enthusiasts, the book sheds new light on this enigmatic man who took us from the complaints of Portnoy to the ruminations of Zuckerman, whose tempestuous marriage to Claire Bloom ("I made a mistake falling in love with a British woman," he confessed to Atlas) led to nasty "he said, she said" published interpretations, and who, as Atlas says, "was the most charismatic man I ever met."
Atlas does not deny that Roth sucked the oxygen out of most every conversation, but asks, "What did it matter? You could breathe later." He also acknowledges that one never quite knew when Roth was kidding. "There was a sharp edge to his banter that could draw blood," Atlas says. He movingly shares his subject's profound sense of isolation, which, Roth told him, had led to a nervous breakdown at age 41: "I'd never have become a writer if I knew how lonely it was." After the breakup with Bloom, and some scathing reviews (to which the author was surprisingly sensitive), he checked into a mental institution for several weeks. He even asked Atlas at one point if there might be a job available for him on a copy desk of the New York Times. It seems preposterous to imagine.
Some of Roth's X-rated declarations come through in this memoir. Yet many years later, when the two had a catch-up lunch, Roth quickly announced, "By the way, I've gotten over sex. What a relief." Though Atlas steers clear of the "misogyny" claims that others attacked Roth for, he points out that only one of the author's many books — "Letting Go" — features a female protagonist.
The two writers' friendship was most tested when Atlas wrote a massive biography of Saul Bellow, with whom Roth was "both worshipful and competitive." Roth had suggested Atlas do the book, but became so anxious about offending Bellow with his own contributions that Atlas finally told him to "relax." Roth "denounced the book in colorful language" which was painful for Atlas, and fractured the relationship for a period.
The art of biography writing is perhaps the most interesting aspect of "Remembering Roth" — Atlas wrote his last book, "Shadow in the Garden" on the subject. Roth had a "deep mistrust of the genre," says Atlas, calling much of it "voyeurism and gossip." And yet in his final years, he was cooperating with another writer on one.
Atlas' last meeting with, and memories of, this towering author are touching. Roth had lost his wallet and asked Atlas to lend him some money. He also wanted to see how a Kindle worked. His life had clearly grown lonelier than ever. "Everyone I know is dead," he told Atlas, saying that his days consisted of watching Rachel Maddow, following the Yankees and dealing with physical decline.
"Old age isn't a battle," he said to his friend of 40 years. "It's a massacre."
Willens is a New York-based writer and theater commentator for an NPR-affiliated station.
---
Get the latest news, events and more from the Los Angeles Times Book Club, and help us get L.A. reading and talking.
You may occasionally receive promotional content from the Los Angeles Times.