Reading New Mexico — literature that reveals life at a cultural crossroads
Critic at Large
I'm in Albuquerque to visit the National Hispanic Cultural Center. There's an exhibit on chola culture that I want to consult for a new project. But really, I'll make any excuse to come back to this place, which has become part of my personal history.
The first time I visited Albuquerque was in 1992. I was living in the Bay Area, and a friend of mine had just enrolled in the MFA program at the University of New Mexico, where the great Chicano writer Rudolfo Anaya taught at the time. Not only did I demand the right to visit, I also pleaded with her to invite Anaya to lunch. I desperately wanted to meet him.
"When you book your flight," she suggested, "make sure you time it so that you can see the evening light over the Sandia Mountains."
Albuquerque always offers me the most glorious gifts
— Rigoberto González
Indeed I did. And as the plane began to descend, I did catch the reddish tint over the mountain range, which looked nothing like a watermelon slice — like the English translation of its Spanish name — but I understood. Then something else caught my eye. A red beacon in the middle of the city. Was this symbol some kind of welcome gesture to those flying in from afar? When the plane circled around once more, I craned my neck for a better view: it was the giant K in Kmart.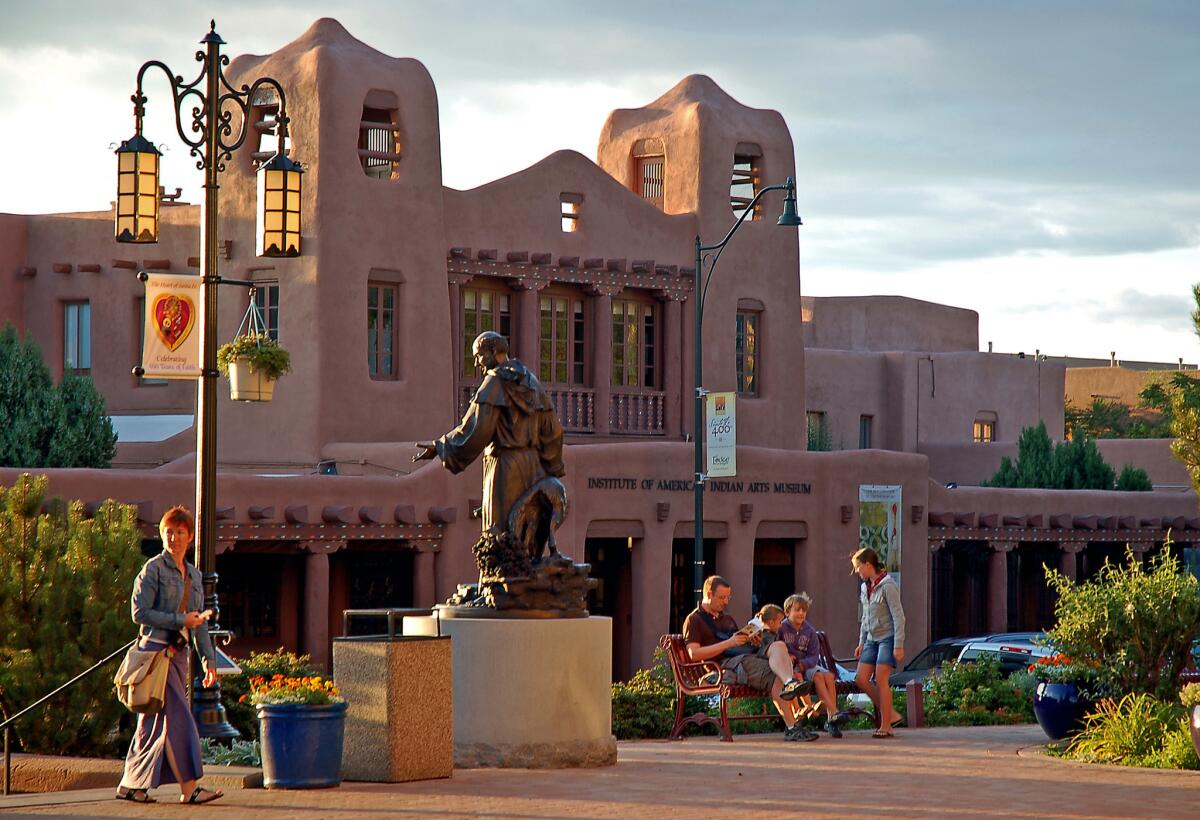 A few days later, lunch with Anaya at Garcia's Kitchen across from Old Town was much more memorable. He introduced me to sopaipillas and bizcochitos, and brought me a copy of his latest book, "Alburquerque," which honored the original spelling of the city that was named after the viceroy of New Spain, the 10th duke of Alburquerque. "It's a kind of mystery novel," Anaya explained.
I think I spent most of the meal star-struck by the author of the beloved novel "Bless Me, Ultima," which took place in 1940s rural New Mexico. This many years later, no other work set in the state has surpassed its popularity even though it continually lands on the most challenged books list. A few of the complaints include the presence of the golden carp and the curandera — paganism and witchcraft, apparently. There is another title that comes close, however: Leslie Marmon Silko's "Ceremony." Of Laguna Pueblo, Mexican and white ancestry, Silko was born in Albuquerque. She embodies the three cultures that shaped New Mexico even before it was added to the union in 1912.
Two years later, I was back in Albuquerque, this time in a rental car, headed up to Anaya's house to pick up keys. Anaya had founded a writers residency in Jemez Springs, just 60 miles north, and he invited me to be his guest. "Our people don't go into those fancy artist colonies in the east," he said. "Because they're too far from where we live and it's too expensive to get there." The guest house was nicknamed La Casita, and it was just down the street from yet another of Anaya's properties. "I'll be up there in a few days," he told me as he gave me directions to La Casita. "I won't bother you, I'll just come to water the plants."
Located within Santa Fe National Park, Jemez Springs is a breathtaking combination of red rock and forest. Its other claim to fame is the hot springs, but I didn't want to embarrass myself with my graduate student budget. So I stayed in the guesthouse the entire week, working on my thesis for Arizona State University.
On the second afternoon, there was a knock at the door. It was Anaya.
"Listen," he said, apologetically. "I just turned in my first murder mystery and I have no one to celebrate with. Mind if we have a toast?" He held out a bottle of whiskey.
We toasted into the evening. He read some of my work and gave me immediate feedback. I could tell he wasn't that impressed with my writing, though when the novel was published about a decade later, he graciously blurbed it.
I asked him about that mystery novel, and reminded him about "Alburquerque," but he told me that this was a whole new venture, with a New Mexican sleuth by the name of Sonny Baca. He had read a few of Tony Hillerman's whodunits, many set in Navajo country, to understand the basics. The series would follow the seasons and reference New Mexican cultural markers. The complete cycle became "Zia Summer," "Rio Grande Fall," "Shaman Winter" and, finally, "Jemez Springs."
The third time I drove into Albuquerque was to move in. This was the summer of 1997 and I had foolishly enrolled in a PhD program at the University of New Mexico, as an excuse to leave Arizona. I found housing on Vassar Street among a cluster of roads named after Ivy League colleges. I brought my dancing shoes and my two cats. One of the surprising details I had learned about UNM, whose buildings were all adobe, was that it offered flamenco classes. In fact, New Mexico was a hub for flamenco, which explained why many of the folks of Mexican descent I met referred to themselves not as Chicano or Hispanic but Spanish. After dance lessons I bolted to the Frontier Restaurant across the street to devour a bowl of green chile stew.
I remembered my flamenco days when I read Ana Castillo's "Peel My Love Like an Onion," which featured a flamenco dancer with a disability. At a presentation, a young Latina in the audience said during the Q&A that she couldn't relate to this novel because flamenco had nothing to do with Latino culture. Castillo invoked the famous dancer from Taos, María Benítez, who founded the Teatro Flamenco in Santa Fe.
Though Castillo did not set this novel in New Mexico, she set two others there: "So Far From God" and "The Guardians." The first has magical realist components that shape the tale of four sisters from the town of Tome, an unincorporated village in the Rio Grande Valley. The second is set in the fictional border town of Cabuche and also has four narrators, each shedding light on the dangers that permeate the borderlands, from the femicides to the undocumented crossings.
One New Mexico writer, however, who has built a career with her notable tragicomic novels is Denise Chávez. She was born in Las Cruces but spent her formative years in Mesilla, where she eventually founded a cultural center and the Border Book Festival. I once visited the center and was pleasantly surprised to see Chávez behind the cash register, selling books by Latino authors. I got to spend a few precious minutes with her formidable sense of humor, and I understood a little better the woman who had regaled me over the years with such books as "Face of an Angel," which is set in a Mexican restaurant, and "Loving Pedro Infante."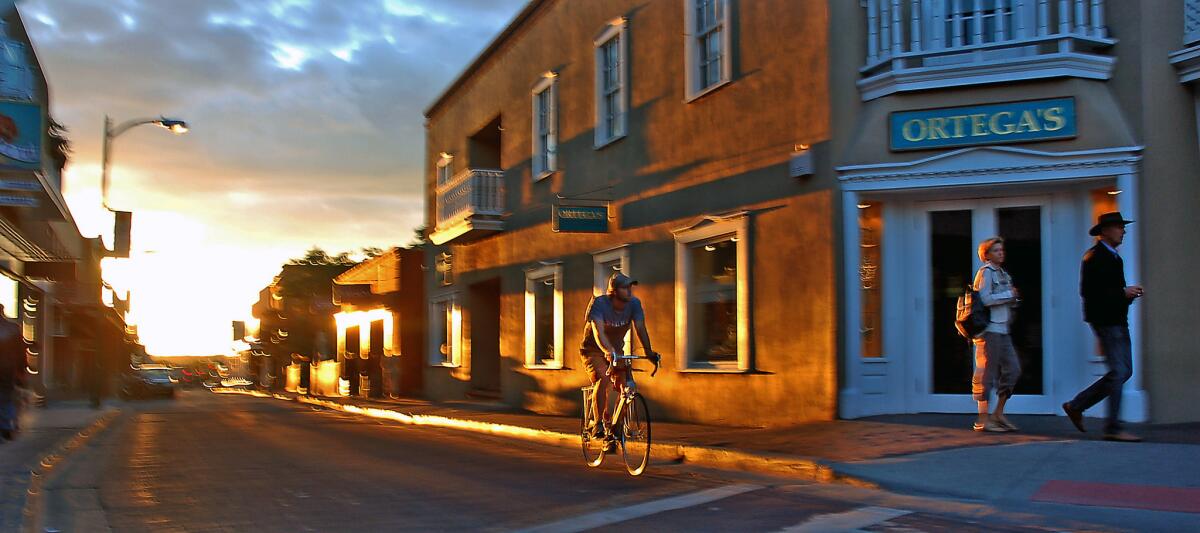 Albuquerque keeps asking me back. Once I returned to deliver the Rudolfo and Patricia Anaya Lecture on Southwest Literature, and another time to interview Anaya after he was named recipient (along with Luis Valdez and Sandra Cisneros) of the National Humanities Medal in 2015. Anaya was too weary to meet me in person, so we had to conduct the conversation by phone. I did get to stay in the top floor of a hotel in Old Town, and since it was Balloon Fiesta season, I saw the sky become even more dazzling as the hot air balloons ascended.
New Mexico literature too keeps pulling me back. One of my favorite story collections is "Night at the Fiestas" by Kirstin Valdez Quade. Her work reaches across the state's expansive geography and cultural history. And one of my favorite new poetry books is "Eyes Bottle Dark With a Mouthful of Flowers" by Jake Skeets, a Diné poet from Vanderwagen. His poems bring us an intimate portrait of Diné masculinity.
As I make a turn into the Barelas barrio, where the NHCC is located, I make a mental note to visit the famous eatery there to order menudo. I can't help but remember fondly that I once called this place home. And suddenly I'm seized by the pangs of regret: why did I drop out of that PhD program after one year? Why didn't I stay a bit longer?
Albuquerque always offers me the most glorious gifts. Like that time I was walking out of a UNM building after teaching a composition class. I saw something odd floating down from above. Before I could begin to speculate on its origin, one of my students called out, "Mr. González! It's snowing!" I stopped and stretched out my hands in order to embrace it because this was the first time snow and I had met.
---
A New Mexico Reader
Critic at Large Rigoberto González's recommended reads
"Bless Me, Ultima" by Rudolfo Anaya
"Eyes Bottle Dark With a Mouthful of Flowers" by Jake Skeets
"Night at the Fiestas" by Kirstin Valdez Quade
"Peel My Love Like an Onion" by Ana Castillo
"Face of an Angel" by Denise Chávez
---
Sign up for our Book Club newsletter
Get the latest news, events and more from the Los Angeles Times Book Club, and help us get L.A. reading and talking.
You may occasionally receive promotional content from the Los Angeles Times.