'Wild LA' is your guide to discover the vibrant nature around Los Angeles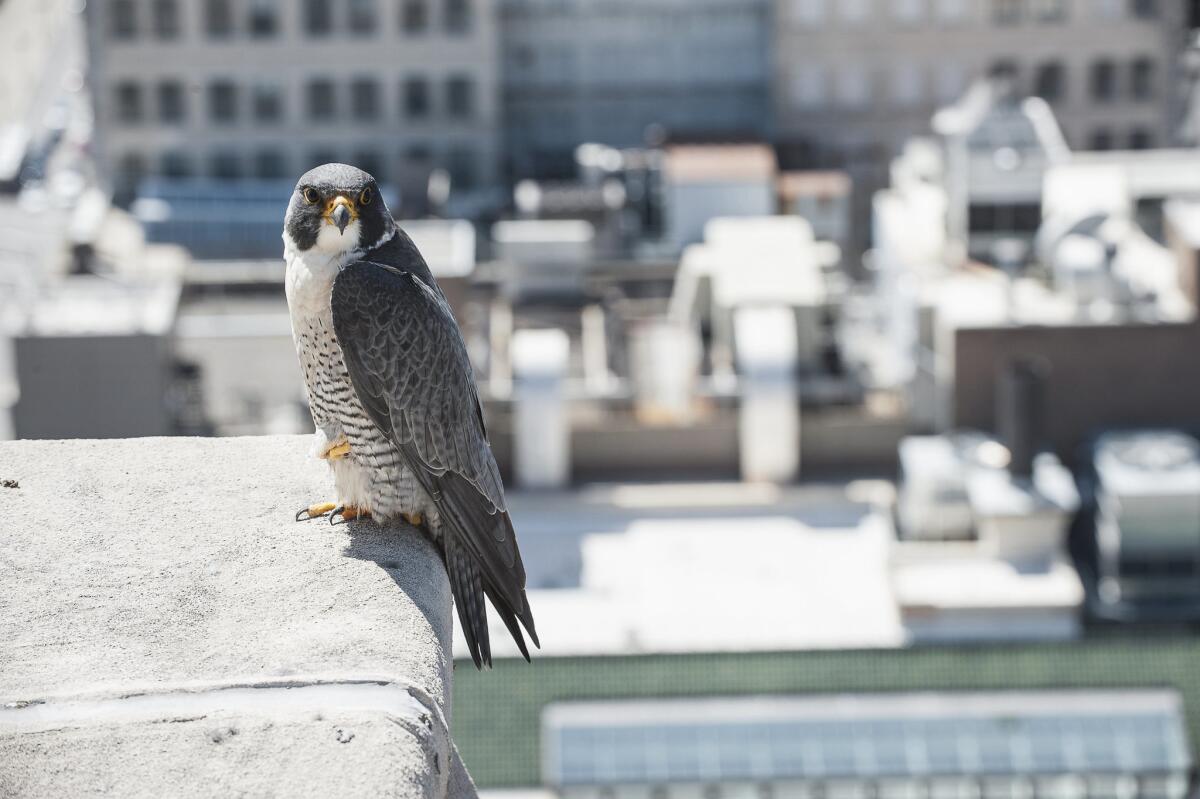 For Angelenos, it's easy to think of nature as something we visit. It's poppies blooming in Walker Canyon, tide pools along the coast, Joshua trees in the Mojave Desert. We might overlook what surrounds us: the lizard that crawls out of a San Fernando Valley garage, the strange-looking insect on a downtown sidewalk, the coyotes that roam so many L.A. neighborhoods. But that's all nature too.
In recent years, a big part of the mission of the Natural History Museum of Los Angeles County has been engaging community members with the nature that is a part of our day-to-day lives in the city.
It started with the development of the museum's Nature Gardens and continued with the growth of its Community Science Program — formerly known as the Citizen Science Program — that includes local residents in various projects, like the Spider Survey and Southern California Squirrel Survey.
The latest effort by NHMLA is the book "Wild LA: Explore the Amazing Nature in and Around Los Angeles," a guide to local nature released by Timber Press.
"It is the culmination of what we've been doing, in some ways the culmination," says NHMLA President and Director Lori Bettison-Varga, "but also the beginning because it's just another way of saying we are living with nature. We are a part of nature and appreciating what's around us is actually critical to our own health and to the health of our community."
You would be hard-pressed to find a group of people whose enthusiasm for nature is as infectious as the four authors of "Wild L.A."
On a recent afternoon at the museum, the authors are assembled. Lila Higgins is talking about Nature in L.A., the blog she launched for the Natural History Museum of Los Angeles County, and the kind of questions that the museum's staff often field from Angelenos.
A recent question on everyone's minds: "What's up with these butterflies flying through town?"
Higgins, the senior manager of community science for NHMLA, stops herself mid-sentence while looking across an office and through a window, to interject her own question: "Is that a red-tailed hawk?"
Co-author Charles Hood answers, "It's a Cooper's hawk."
This happens a lot during meetings, Higgins explains. "We're talking about something and we're like, wildlife — hold on!"
We do not live in some kind of desolated, post-apocalyptic nightmare ... nature is all around us.
— Charles Hood
Higgins, who has been with NHMLA for a decade, is also the co-founder of the annual event City Nature Challenge, where cities across the globe compete to see who can spot the most nature. Hood is a poet, writer and photographer, as well as an English professor at Antelope Valley College, who was mist-netting bats when he got an email from managing editor Kristin Friedrich asking if he wanted to be part of the project.
"One of the pleasures of working on the book is helping Los Angelenos appreciate that we do not live in a concrete wasteland," says Hood. "We do not live in some kind of desolated, post-apocalyptic nightmare, and instead nature is all around us and we have the privilege and right to interact with it as much as we want."
Co-author Greg Pauly, curator of reptiles and amphibians for the museum and co-director of NHMLA's Urban Nature Research Center, agrees: "You see nature when you choose to observe it."
The book's fourth co-author, Jason Goldman, a science journalist who has written for Scientific American and BBC Earth, joins us virtually by phone from the Peruvian Amazon, where he's leading a group of travelers through a jungle. He says they've seen jaguars, giant river otters and macaws. Amazing creatures, indeed, but that's not to overshadow the spectacular fauna and flora back home.
The museum's increased emphasis on its community nature programming coincides with a more general interest from Angelenos on local environmental issues. In some ways, that can be symbolized by P-22, the superstar mountain lion who has won hearts from his Griffith Park lair and subsequently brought to light the struggles of local big cats.
"What I think P-22 has done is elevated the status of nature in L.A. in other places," responds Goldman. "Almost everywhere I go, I find somebody who has heard of P-22 or knows about the famous Hollywood mountain lion, even in places as far away as here in Peru or Ecuador. I think that P-22 is a really strong symbol of urban nature as we try to spread that message to other places."
But the shift in urban nature awareness can also be seen as a happy consequence of smartphones and social media. These two developments have worked in tandem to assist scientists and help engage nonscientists in their surroundings. For the former group, it's made studying species possible in locations marked by lots of private property.
"We all have smartphones that are GPS-enabled, so we can observe, take photographs and upload it to a site like iNaturalist, and scientists can use that for their research," Pauly explains. Meanwhile, these technological advances have enabled nonscientists to easily contact experts with questions about what's living in their neighborhoods. "It's sort of this perfect partnership," says Pauly.
"Wild L.A." is divided into three sections. The first delves into both historic and modern local stories, including the events that reshaped Los Angeles' landscape and recent discoveries of species. The second section is a field guide that identifies more than 100 species, from native plants to the creatures who've made L.A. their adopted hometown. The third section suggests 25 field trips throughout the Los Angeles area.
The book is an uncommon project for a natural history museum but one that's reflective of both NHMLA's mission and Los Angeles' location in a biodiversity hot spot. As "Wild L.A." notes, the city is part of the California Floristic Province, which extends from southern Oregon to Baja California. That's one of only 36 biodiversity hot spots in the world, places that are designated as such for both the breadth of their unique plant life and the fragility of their environments.
A biodiversity hot spot is a title with an important caveat. As Pauly explains, "Here's this amazing biodiversity to explore, but there are also these threats, and we can think about making L.A. a friendlier place for wildlife."
As Bettison-Varga says, "We are the most invasive species."
::
'Wild LA: Explore the Amazing Nature in and Around Los Angeles'
Lila M. Higgins, Gregory B. Pauly, Jason G. Goldman, Charles Hood
Timber Press, 332 pp., $24.95
Get the latest news, events and more from the Los Angeles Times Book Club, and help us get L.A. reading and talking.
You may occasionally receive promotional content from the Los Angeles Times.