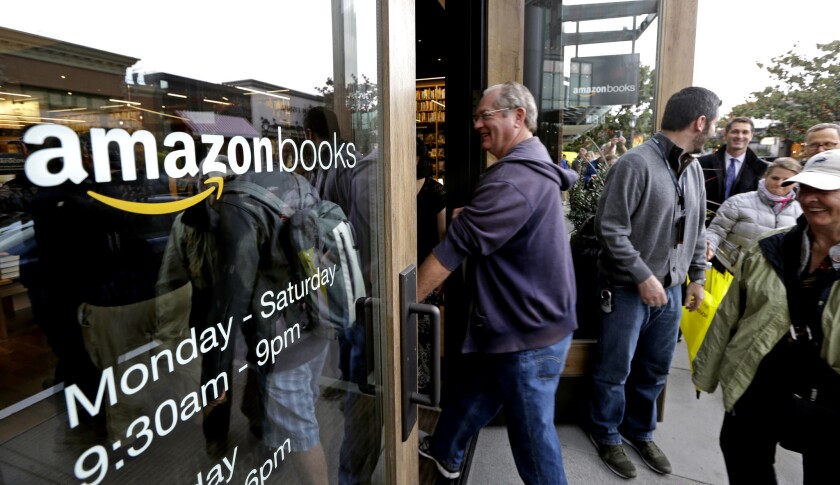 Public libraries should be replaced by Amazon stores, argued Panos Mourdoukoutas in an article published on Forbes' website Saturday — and removed on Monday.
"At the core, Amazon has provided something better than a local library without the tax fees," wrote Mourdoukoutas, an economics professor at Long Island University-Post. "This is why Amazon should replace local libraries. The move would save taxpayers money and enhance the stockholder value of Amazon all in one fell swoop."
At Gizmodo, journalist Tom McKay pointed out a few flaws in the professor's case, noting, "Mourdoukoutas writes that the government should stop funding libraries in part to save taxpayers a vague (and within the article, never quantified) amount of money." He also took apart its logic, noting in part, "Amazon does not have an 'online library.' It has an store. These are entirely different ways of providing access to things."
On Twitter, users wasted no time defending the purpose of public libraries:
While public libraries are simply an abstraction to some, for many of us they were & continue to be a sanctuary, a community, a public rejection of the notion that knowledge should be contingent on what you can afford, a place where no price can be placed on the access to ideas.

— Clint Smith (@ClintSmithIII) July 22, 2018
A library card is a passport for the mind. My son loves visiting the library just as much as I did when I was a kid (back before we had all this new-fangled inter-webby stuff ;) )
There is still a real need for the wonderful services libraries can offer!

— N J Crosskey (@NJCrosskey) July 23, 2018
That library thing is why people hate economists.

— The Dr. Tressie McMillan Cottom (@tressiemcphd) July 23, 2018
Writer Nick Kolakowski, who first engaged with Mourdoukoutas on Twitter, later posted a response on Medium. "Libraries provide more than just books, of course," he writes. "At my local library, just down the block, kids use the computers (and free Web access) to do schoolwork; adults consult with librarians to find out information about city services; people check out books and videos they might not be able to otherwise afford. It is a shining example of what we might call 'street level democracy,' or the ability of the collective to access what it needs to survive and prosper."
the fact that folks have had to spend valuable time and energy explaining and defending the function of libraries makes me sick

— wikipedia brown ||| abolish ICE. (@eveewing) July 23, 2018
---
UPDATES:
11 a.m. July 28: This article was updated with information that Forbes removed the story from its site.
This post was originally published at 12:05 p.m. July 23
---