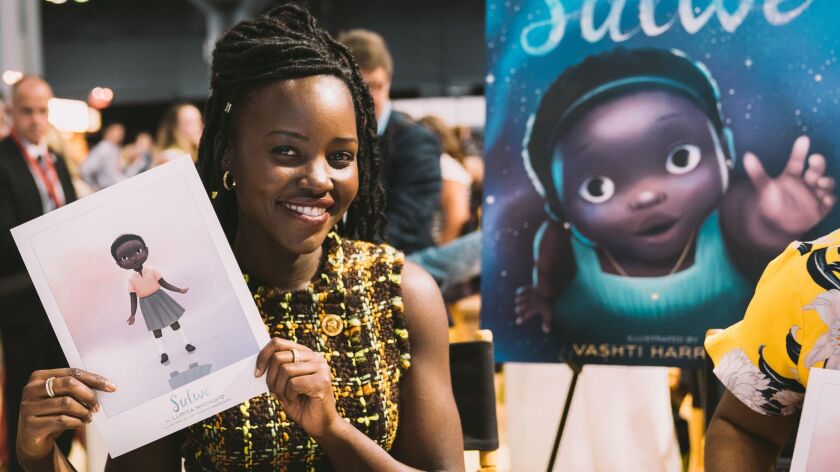 Reporting from New York —
For Renée Rettig, owner of Books on B in Hayward, Calif., her first visit to Book Expo America was a thrill: "I felt like Cinderella!" Rettig, whose bookstore is just under 2 years old, was one of 200 store owners brought to BookExpo America under a new grant program to introduce fledgling booksellers to the publishing industry's biggest conference.
A veteran bookstore employee but first-time owner, Rettig relished the opportunity to connect with other booksellers and to meet publicists, editors and authors at the splashy event.
BookExpo, which brings together publishers, authors, booksellers and librarians, kicked off at the Javits Convention Center in New York last week, and boasted 8,260 attendees, according to event organizers. It was succeeded by BookCon, the fan and consumer-based follow-up that takes over the floor after the publishing event ends. The big-five publishers — Hachette Book Group, HarperCollins, Macmillan, Penguin Random House and Simon & Schuster — were all in attendance, but others, such as Chronicle Books, Abrams Books, Houghton Mifflin Harcourt, and the much-buzzed-about Graywolf Press, didn't host booths this year at the Expo.
"There were a couple of publishers that decided to take a year off and evaluate, and that's something that we all are doing as trade shows change [and] as the industry shifts," said Jenny Martin, BookExpo's event lead.
The absences were noted, says Publishers Weekly Vice President Carl Pritzkat. "BookExpo is struggling to stay as vibrant as ever in a media and storytelling environment that has changed dramatically," Pritzkat said. He cited streaming networks, YouTube and Instagram as formidable competition in the fight for consumer attention and entertainment dollars. "BookExpo is geared toward booksellers. As booksellers are struggling to stay relevant in our society, so is BookExpo."
Under giant banners dangling from the ceiling that announced soon-to-be-released books by Julie Andrews, Ann Patchett and Lupita Nyong'o, various attendees mentioned industry woes — from the possible effect of new tariffs by the Trump administration to the recent news that distributor Baker & Taylor will soon stop wholesaling to retailers.
But books were still the main event.
On the reading stage, actor George Takei told a rapt audience about his family's experience as part of the internment of Japanese Americans during World War II. In the graphic memoir "They Called Us Enemy" (due out in July), Takei recalls being taken as a young child from his Los Angeles home and everything that came after. Talking to the BookExpo audience, Takei warned of the "endless cycle of cruelty and injustice" that stained American history.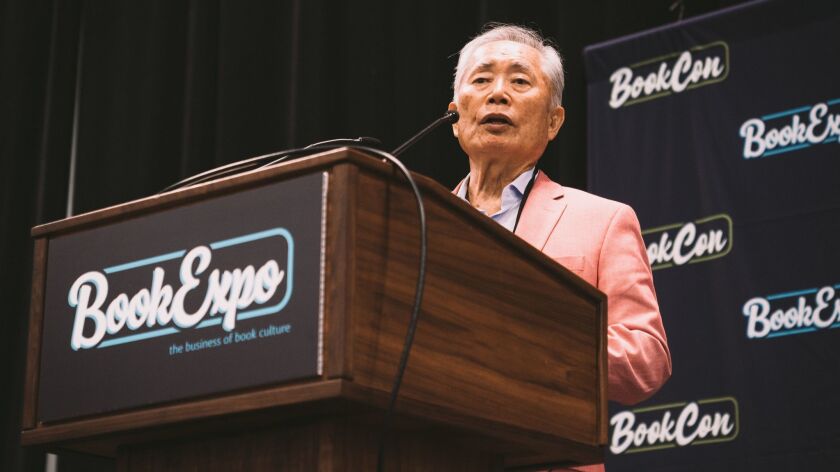 Among the forthcoming books touted at this year's Buzz Panel was "Uncanny Valley" (Farrar, Straus and Giroux), a memoir by San Francisco writer Anna Wiener about her experience working at a tech industry startup. Her editor, Emily Bell, called Wiener a "fierce observer" of the San Francisco scene and said that the book "should do for Silicon Valley what Michael Lewis' 'Liar's Poker' did for Wall Street." Another upcoming book discussed at the panel was Rob Hart's "The Warehouse" (Crown), a novel its editor, Julian Pavia, described as belonging "in the grand tradition of Orwell and Bradbury." Set at an enormous online retailer — unnamed but seemingly modeled on Amazon — "it's about what happens when Big Brother meets Big Business," Pavia said, adding that the film version of the book will be directed by Ron Howard.
Appearances by MSNBC's Rachel Maddow and Supreme Court Justice Sonia Sotomayor, both of whom have new books out this fall, were of interest to the Expo's newshounds. Another political book, published earlier this year, drew interest from attendees. Amid a crowded shelf of tomes by Democratic presidential contenders, Pete Buttigieg's "Shortest Way Home" has been an unexpected success; it's in its eighth printing, with 177,000 copies already sold. "He's a beautiful writer," said Liveright publisher Robert Weil. "He gives me the chills. I don't know how many candidates have written their own books, but he wrote every word himself."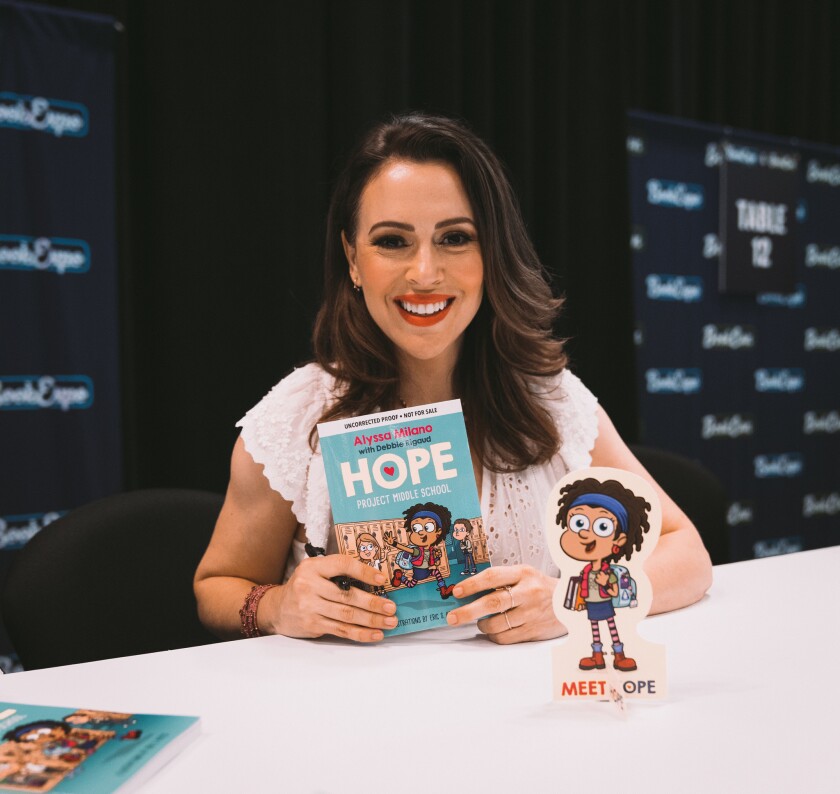 Unbound, BookExpo's show-within-a-show for what Martin called "bookish goods," received a new look this year. The show featured various items that booksellers use to complement book sales and keep customers engaged, everything from stationery and reading glasses to greeting cards and children's toys. Kip Weeks, whose company Eco-Kids sells non-toxic art supplies, helmed a booth filled with child-friendly products, including toys and books. "Everyone's diversifying," he said, "trying to bring a selection of sidelines that complement what bookstores already do, to find something unique that they're not going to find anyplace else."
Patti Stratcher-Lee, event director of Unbound, echoed the strategy. "Retailers are adding a lot of lifestyle products to their stores. Customers linger a little bit longer." For this year's BookExpo and BookCon, she added, pulling those products together into their own well-curated area of about 100 exhibitors just made sense. "The book industry is healthy; the book retail sector is healthy. It's one of the few independent retail brick-and-mortar sectors that are thriving, not just surviving," Stratcher-Lee said, "because people want to connect with stories, and they want that analog experience."
Wherever publishers offered signed advance copies of books, long lines snaked through the convention floor — though none were as overwhelming as the line for the recently departed Grumpy Cat, the undisputed star of BookExpo in 2014. Still, despite the mentions of an industry in flux and the absence of some regulars, for first-time attendees like Rettig, the Expo offered a sense of community. "At the heart of a bookstore is where you see the best in people," she added. "People who come out to a bookstore really want to connect; they see it as an essential part of the fabric of their community."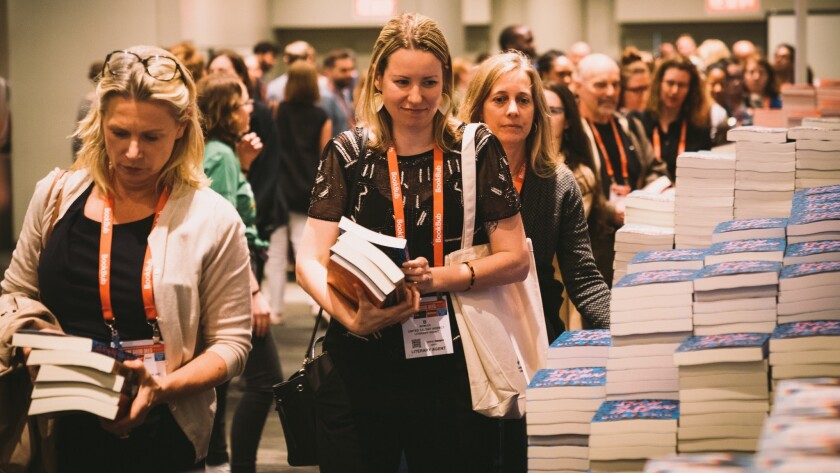 Rettig's BookExpo highlights included getting an autograph from Debbie Harry, whose memoir will be published in October by HarperCollins, as well as meeting the author Tomi Adeyemi, whose Africa-set "Children of Blood and Bone" is a favorite among YA fantasy readers. "When you actually get to meet the person who devoted so much craft into that work," Rettig said, "it becomes a moment I'm going to cherish for the rest of my life."
After walking long distances each day, a torture for the toes, Rettig said it was all worth it. "My face hurts more than my feet right now. I was just smiling so hard. It felt so good to be with that gathering of the tribe."
---