Books: David Mamet pens a gangster novel, 'Myra Breckinridge' turns 50 and more in books
Books Editor
Hi, I'm books editor Carolyn Kellogg, and this is what's going on in books this week.
THE BIG STORY
Known for his work as a playwright, David Mamet turns this time to fiction with his new novel, "Chicago." It's a classic gangster tale set in that city in the 1920s: there are hard-drinking newspapermen, dames, crooked cops and mobsters, of course. "Mamet's ear for the dark poetry of the American male id fuels 'Chicago,'" writes Karl Taro Greenfeld in his review. Considering novels versus screenplays, dialogue and American masculinity, Greenfeld writes, "In its scope and ambition, 'Chicago' feels like one of the great American male novelists of the late 20th century — Updike, Mailer, Bellow, Roth — trying his hand at writing a genre novel. But unlike those novelists' somewhat less sure-footed lunges — Mailer's 'Tough Guys Don't Dance' and Updike's 'Terrorist' come to mind — Mamet lands this with aplomb."
MYRA BRECKINRIDGE
50 years ago, "Myra Breckinridge," Gore Vidal's novel about an ambitious, secretly transgender woman who moves to Hollywood, became a huge bestseller. In it, Myra observes that young men are "quite totalitarian-minded, even for Americans, and I am convinced that any attractive television personality who wanted to become our dictator would have their full support." Prescient, playful and panned by critics; Mark Athitakis has our appreciation.
WOMEN AND TELEVISION
In "Stealing the Show: How Women Are Revolutionizing Television," former Los Angeles Times books and culture editor Joy Press tracks the history of women creating television shows. "Chapter by chapter, Press charts the peaks and valleys of the female gaze through the lens of TV in the last 30 years," writes Maris Kreizman in our review. "We see norms slowly change, from Vice President Dan Quayle questioning Murphy Brown's 'family values' for daring to have a child as a single mother, to [Shonda] Rhimes' staff inventing a fake word for 'vagina' ('vajayjay,' of course) because ABC would not let her use the anatomically correct word during her prime-time hospital drama 'Grey's Anatomy.'"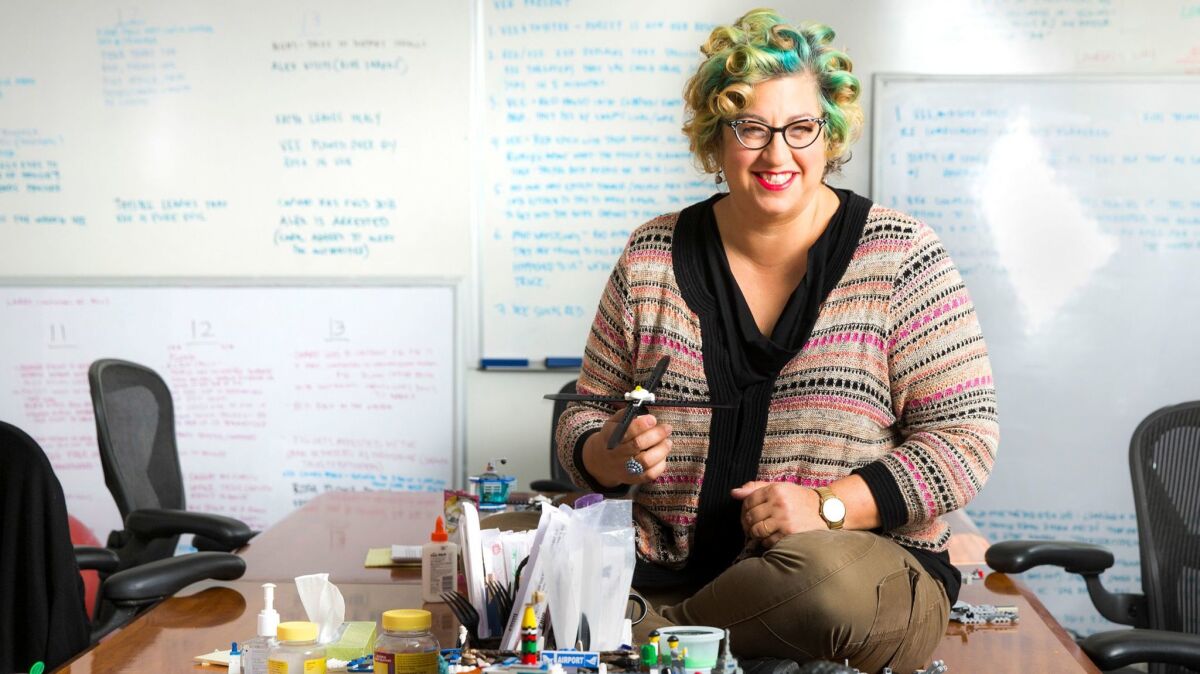 BESTSELLERS
Kristin Hannah blasts onto the fiction bestseller list this week with "The Great Alone," a family that hopes moving to Alaska will help soothe the troubles of the father, a Vietnam Vet and former POW. But his wife and 13-year-old daughter soon eventually discover they may be in peril. The book is our No. 1 fiction bestseller.
It's been in the top spot for six weeks running: Michael Wolff's book "Fire and Fury: Inside the Trump White House," the No. 1 L.A. Times bestseller in nonfiction again.
See all the books on our bestseller lists here.
A NEW YA TURN
Tahereh Mafi, in works like her "Shatter Me" series, has become known for writing richly-imagined fantasy worlds. In her next book "A Very Large Expanse of Sea" — which she announced with us this week — Mafi taps her own experiences to tell a realistic tale of a hijab-wearing Muslim teenager in America after Sept. 11. "I was a very angry teenager," she tells Agatha French. "I felt trapped, not just by the complexities of being a teenager, but because the world had already decided what kind of teenager I was."
L.A. TIMES BOOK PRIZE FINALISTS
This week we announced the finalists for the 2017 L.A. Times Book Prizes, which will be awarded at a ceremony on April 20 at USC. 50 finalists in 10 categories were announced, plus three special winners: John Rechy, whose 1960 novel "City of Night" was a groundbreaking work of gay fiction, will receive the Robert Kirsch Award for lifetime achievement, Well-Read Black Girl founder Glory Edim will take home the Innovator's Award and Benjamin Taylor is the winner of the Christopher Isherwood Prize for Autobiographical Prose for his book "The Hue and Cry at Our House." Read about all the finalists here.
---
Get the latest news, events and more from the Los Angeles Times Book Club, and help us get L.A. reading and talking.
You may occasionally receive promotional content from the Los Angeles Times.