Books: Leslie Jamison, Meg Wolitzer, 'Russian Roulette' and more in books
Books Editor
Hello readers! I'm L.A. Times books editor Carolyn Kellogg — welcome to this week's newsletter.
THE BIG STORY
With her last book "The Empathy Exams," Leslie Jamison proved herself to be one of our most interesting thinkers. Now she turns to a familiar topic in "The Recovering: Intoxication and Its Aftermath," but her sharp eye makes it new. "Jamison's book exists," writes David L. Ulin in our review, "between intoxication and its corollary, which is a world in which intoxication is not, could never be, enough."
BIG FICTION
In the new novel "The Female Persuasion," college student Greer Kadetsky meets charismatic feminist Faith Frank, who becomes her mentor. If Meg Wolitzer's coming-of-age tale is "a big, fat, delicious book about feminism and the power of female mentorship" writes Maris Kreizman in our review, it also directly addresses the complex state of feminism in a post-President Trump world.
BESTSELLERS
It's not letting go: Kristin Hannah's "The Great Alone" — about a family that finds itself in trouble after a move to Alaska — is the No. 1 L.A. Times fiction bestseller in its sixth week on our list.
Entering our nonfiction list this week is "Russian Roulette: The Inside Story of Putin's War on America and the Election of Donald Trump" by Michael Isikoff and David Corn. Their book digs into possible Russian involvement in the 2016 American presidential election, discusses tensions between the superpowers and examines the relationship between Putin and Trump. The co-authors will be coming to the Festival of Books, appearing Sunday, April 22, to talk about their book.
See all the books on our bestseller lists here.
MORE IN BOOKS
Sean Penn wrote a novel, "Bob Honey Who Just Do Stuff," and many people think he should not quit his day job.
Poet Li-Young Lee takes up issues of the body and spirit in his new collection, "The Undressing," writes Craig Teicher in our review.
Author Chelsea Johnson and musician and actor Carrie Brownstein talk about writing and Johnson's debut novel, "Stray City."
Just in time for Easter, Mike Pence's family rabbit, Marlon Bundo, appears in not one but two bestselling books. One is by his daughter; the other, by a writer on John Oliver's show, envisions Bundo as a gay bunny who meets his beloved and gets married.
L.A. writer Mark Sarvas talked to Agatha French about his new novel, "Memento Park." He'll be appearing at the L.A. Times Festival of Books on Saturday, April 21.
American author Jacqueline Woodson has been awarded the world's largest award for children's literature, the Astrid Lindgren Memorial Award. It comes with a prize of more than $600,000.
OTHER GREAT READS
Like, I suspect, other American readers, I came to Tom Cox's writing through his Twitter account @mysadcat. Now I read the former Guardian writer's stories — smart and un-cliched tales of England's wild places — on his website, and this week he posted this story about places he'd lived. His most recent book, "21st Century Yokel," is available in the U.S. via online book retailers.
Environmental magazine Grist has posted its annual list of the Grist 50, a group of mostly young, very diverse activists, entrepreneurs, chefs, scientists, farmers and one writer. That's Rahawa Haile, whose story for Outside magazine, about what it was like hiking the Appalachian Trail while black, is under contract to be expanded as a book.
The Beastie Boys' Mike D (Mike Diamond) has been working on a memoir with fellow band member Ad-Rock (Adam Horovitz). He sat down with NY Magazine's Vulture for a wide-ranging interview that talks about the evolution of the band, his life now, NY vs. LA — pretty much everything except for the book itself.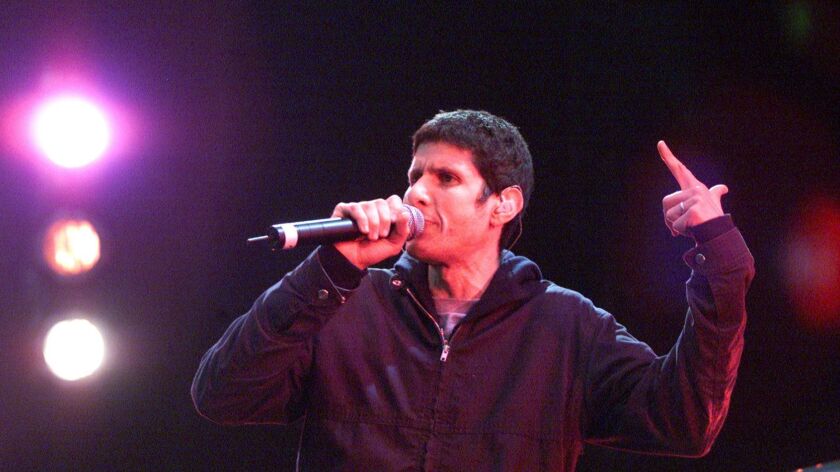 Thanks for reading!
---
Get the latest news, events and more from the Los Angeles Times Book Club, and help us get L.A. reading and talking.
You may occasionally receive promotional content from the Los Angeles Times.