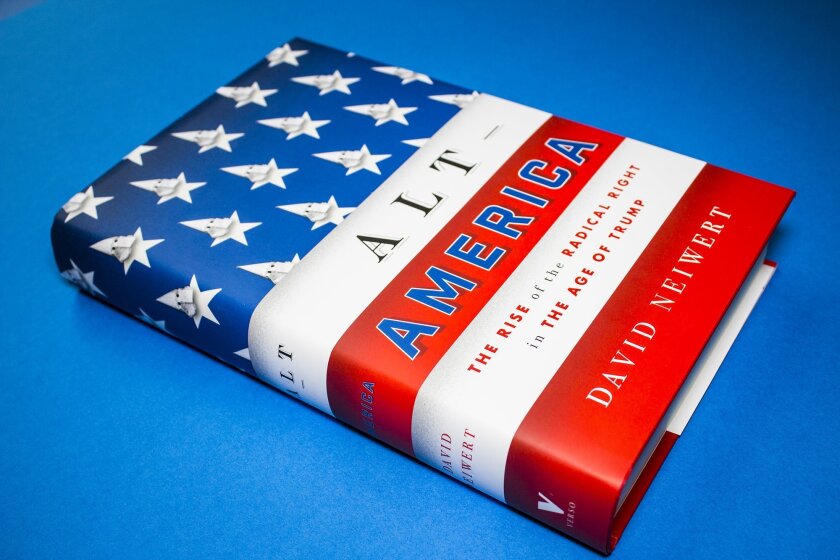 The author of a book about American right-wing extremism says he's been suspended from Twitter because his account featured an image from the cover of his book, which contains illustrations of Ku Klux Klan hoods.
David Neiwert, the author of the 2017 book "Alt-America: The Rise of the Radical Right in the Age of Trump," told the Daily Beast that Twitter decided the image ran afoul of its policy prohibiting "symbols historically associated with hate groups" on Twitter page headers.
The hardcover cover of "Alt-America," a section of which Neiwert used as his header image, features a stylized American flag with the white stars topped by hoods traditionally associated with the racist Ku Klux Klan.
As of Thursday morning, Neiwert's account was still suspended. Users who try to go to his account receive a message reading:"@DavidNeiwert's account is temporarily unavailable because it violates the Twitter Media Policy."
Neiwert said he has appealed Twitter's decision, and he sent the Daily Beast a copy of his message to the social media company.
"This book, 'Alt-America,' is a history of the rise of the radical right in the United States over the past 30 years," Neiwert wrote. "It naturally has an illustration featuring KKK hoods because that is its subject. I am one of the nation's leading experts on this subject, and it is insane that you would suspend my account because of this photo. I refuse to remove it on principle." Twitter declined to comment, according to the Daily Beast.
Neiwert's suspension was flagged on Twitter by progressive organizer and editor Melissa Ryan, who on Tuesday tweeted, "Twitter still can't bring itself to ban actual Nazis half the time, but apparently, they're suspending @DavidNeiwert, one of the best reporters covering the far-right out there."
"Twitter has suspended him over the use of his book cover for Alt-America," Ryan wrote in another tweet. "Which has been his cover image for ages but now they've decided is against their media policy. Insanity."
Neiwert addressed his suspension in a short piece for Daily Kos, the liberal website for which he's a reporter.
"It's still early, so hopefully Twitter will review my appeal and quickly reverse the suspension," he wrote. "I know Twitter is having difficulty trying to suss out how it handles the removal of extremist content from its site."
---